Vietnamese Style Lake Trout Salad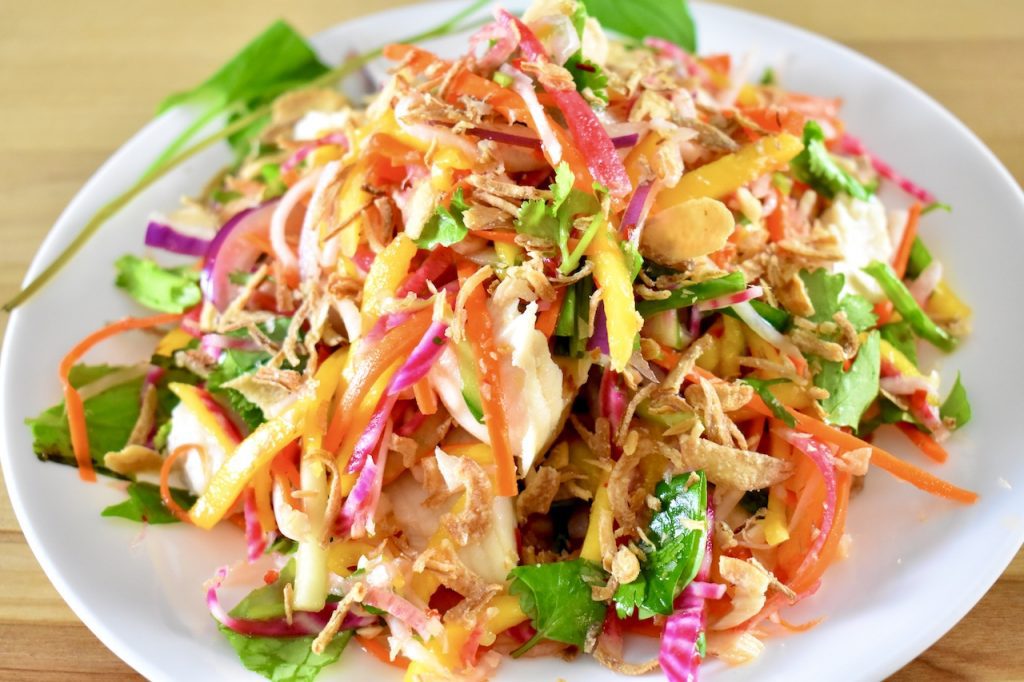 This vibrant salad was inspired by Vietnamese gỏi xoài, a dish usually made with mango and shrimp. 
The lake trout works wonderfully with the piquant nước chấm dressing; its strong taste shining through, without overpowering. 
Use a large assortment of colourful root vegetables and mixed fresh herbs to create a breathtakingly colourful salad that will impress everyone who sees it! 
Prep Time

55 min

Cook Time

5 min

Total Time

1 hr

Yield

2 large servings as a meal or 4 as part of a meal
Cuisine

Course

Cooking Method
1 cup (250ml) rice or white vinegar
1 cup (250ml) hot water
1/2 cup (100g) white sugar
4 cups (500g) julienned (cut into matchsticks) root vegetables (daikon radish, watermelon radish, carrot, turnip, red radish, rutabaga, parsnip, candy cane beet, golden beet, etc)
1/3 English cucumber, julienned (cut into matchsticks)
Kosher salt
12 oz (350g) boneless, skinless lake trout fillet(s)
1 large mango, peeled and julienned
1/2 small red onion, sliced thinly
2 cloves garlic, minced
1-3 Thai red chilies, minced (1 for mild, 3 for spicy)
2 tablespoons (24g) white sugar
2 tablespoons (30ml) fish sauce
2 limes, juiced
2 cups (32g) fresh herbs (cilantro, Thai basil, Italian basil, sawtooth herb, rau ram, mint, perilla, Vietnamese coriander, etc.), hand-torn
1/4 cup (20g) store-bought crispy shallots (optional)
1/4 cup (40g) roasted peanuts, chopped (optional)
Preparation
1
Add vinegar, sugar, and hot water to a large bowl. Mix well until the sugar dissolves. 
Add the julienned root vegetables and toss in the liquid. Soak for 20-30 minutes. 
After 15 minutes has elapsed, add the julienned cucumber to the marinade as well. 
After 30 minutes, drain the vegetables and squeeze and shake off most of the liquid. Reserve 2 tablespoons (30ml) of the liquid. 
2
Bring a pot of water to a boil. Add a big pinch of salt, then reduce to a bare simmer. 
Add the lake trout fillet(s), and poach for about 5 minutes, or until the thickest part of the fish flakes easily when pressed with a spoon or fork. 
Remove from the poaching liquid and let cool. 
Once cool, break into bite-sized pieces. 
3
Add the mango, onion, fish, and drained marinated vegetables to a large bowl. 
4
To make the dressing, add the garlic, chilies, sugar, fish sauce, lime juice, and the reserved marinade together in a small bowl. Mix until sugar dissolves. Set aside. 
5
Add the hand torn herbs to the bowl of veggies, then pour over the dressing. 
Toss everything together very well, making sure to remain gentle with the fish so it doesn't fall apart too much.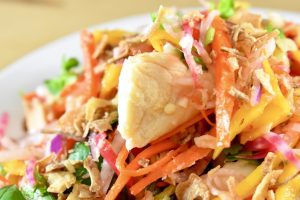 6
Transfer onto plates in a haystack-like pile. Sprinkle over crispy shallots and/or peanuts if using. Serve on its own, or as part of a larger SE Asian meal. Enjoy!