Lake Trout Burritos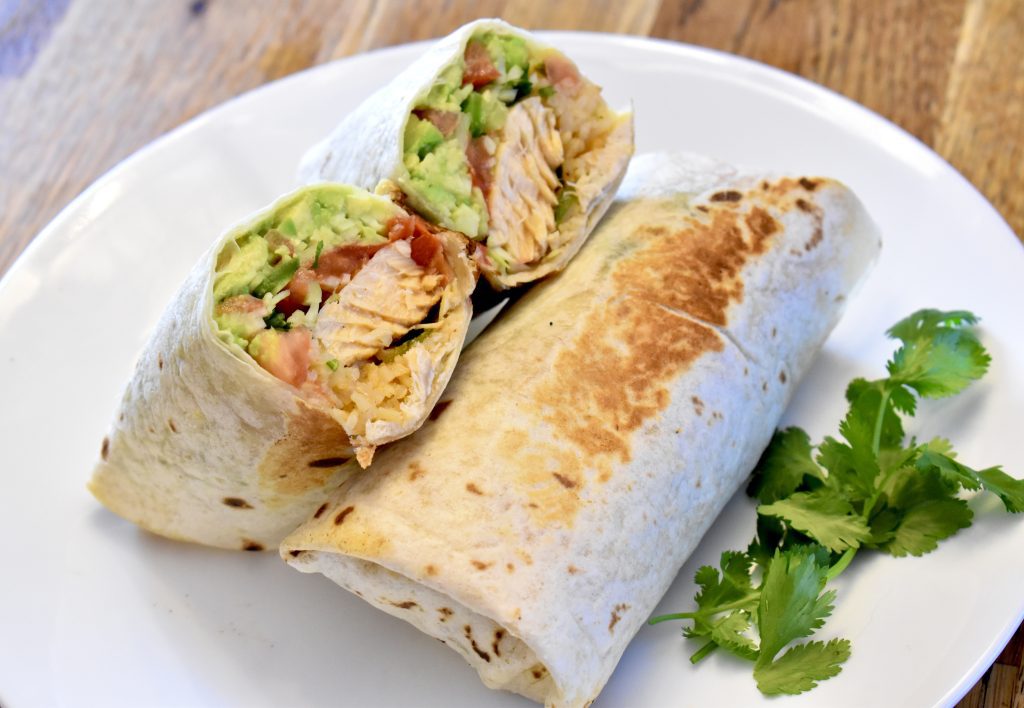 These lake trout burritos are an excellent change of pace from fish tacos and are the perfect vessel for the fillets from your big catch!
Prep Time

20 min

Cook Time

10 min

Total Time

30 min

Yield

4 burritos

Serving Size

1 burrito
Ingredients
For the Rice
1 cup (163g) basmati or long-grain rice
1/2 teaspoon (3g) kosher salt
1/2 teaspoon (1g) annatto powder (optional)
1 tablespoon (3g) chopped cilantro stems
1.5 cups (354ml) water
For the Fish
1lb (454g) boneless, skinless lake trout fillets
OR
Cumin powder
Smoked paprika
Garlic powder
Kosher salt
Black pepper
2 teaspoons (10ml) cooking oil or fat
For the Toppings
2 cups shredded cabbage
1/2 tomato, chopped
1 jalapeño, chopped
Kosher salt
2 limes
2 avocados, smashed
2 tablespoons (6g) chopped cilantro
1/2 cup (125ml) sour cream
4 large tortillas
Preparation
1
Rinse the rice under running water until water runs mostly clear. 
Add the rice to a pot along with the salt, annatto powder, and cilantro stems. 
Add the water and bring to a boil. Reduce heat to low and cover the pot. 
Cook for 20 minutes without disturbing or uncovering the pot. 
Let stand off of the heat for 10 minutes before uncovering the pot. Fluff the rice with a fork (you'll probably end up with extra rice).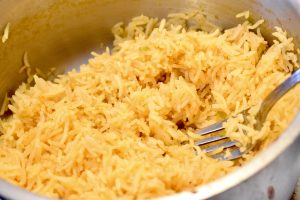 2
Cut the trout into pieces that will easily fit inside a burrito. 
Season generously with the cumin, paprika, garlic powder, salt, and pepper. 
Heat the oil or fat in a skillet over medium high heat. Add the seasoned fish and cook on both sides until just cooked through, about 5 minutes or so. 
3
Add the cabbage, tomato, and jalapeño to a bowl. Add a pinch of salt and the juice from half a lime. Toss and let sit for 5 minutes or so. 
In a separate bowl, smash the avocado and mix with a small pinch of salt and the juice from the other half of the lime. 
In another small bowl, mix the juice of one lime and the sour cream. 
4
Lay out the 4 tortillas. 
Top with rice, then the avocado, then the marinated vegetables, then the sauce, and then the fish. Sprinkle with chopped cilantro.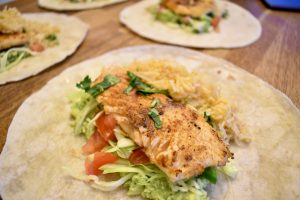 Roll into burritos by folding the sides in first, then rolling from the side facing you to the far side. 
5
Heat the skillet back up over medium heat and add the rolled burritos, seam-side down. 
Cook for 2-3 minutes, or until that side is golden and the seam has sealed. Flip and cook for 1 more minute. 
Serve immediately. Enjoy!
Notice how I didn't have you scroll through pages of mundane nonsense to get to the recipe? Notice that there were no annoying pop-ups or ads? That was on purpose!
I want finding and using my recipes to be easy for you, not frustrating. That does translate into a lot of lost income for me though. If you made this recipe and loved it, would you consider "buying me a coffee" and donating a buck or two through the Buy Me a Coffee app? It will help me keep pumping out recipes like this one!