Oven-Baked Vietnamese Fish Sauce Chicken Wings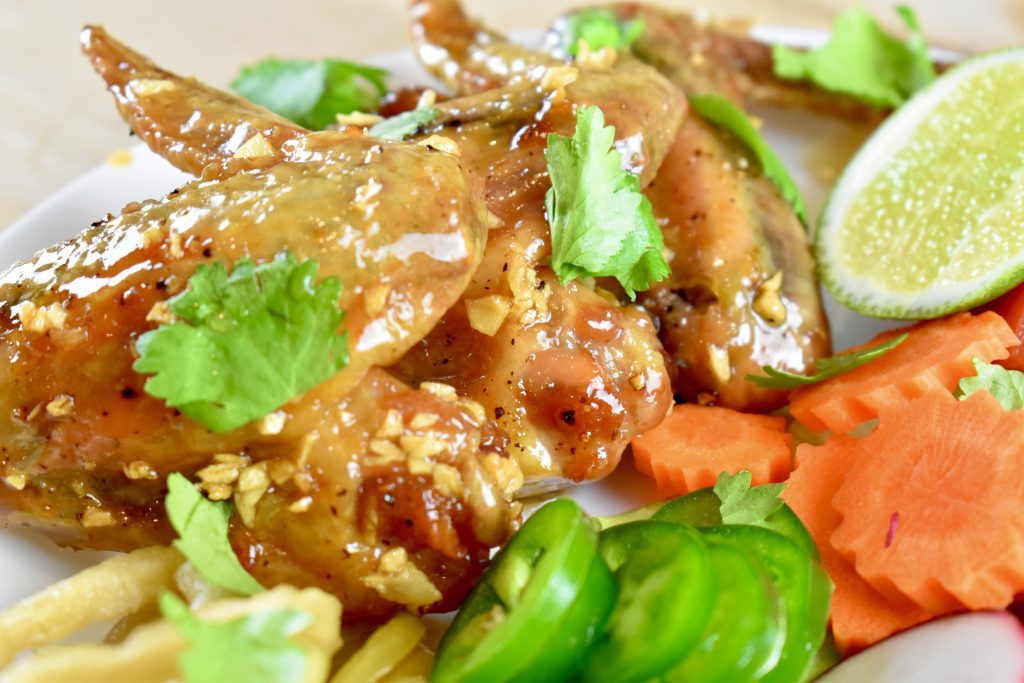 Made infamous by the Andy Ricker's Thai restaurant Pok Pok, I actually first tried these wings well before the hype at a little Vietnamese restaurant in Toronto called Pho Nho. Every week we would order pho or bun or other Vietnamese treats, but it would always come with an order of fish sauce chicken wings. There would be a small pile of salt and pepper into which you'd spritz a lime and then dip the already intensely flavoured wings to make them even more intense! The extreme umami flavour of these wings may not be for everyone, but I find them utterly delicious and addicting and count them as one of my very favourite foods. You could air fry or deep fry these wings, but I find they come out more than crispy enough in the oven. A word of warning: cooking the sauce for these wings creates a rather strong smell in the kitchen. I like the smell, but some find it overwhelming. 
Cook Time

1 hr

Total Time

1 hr

Yield

12-15 full wings

Serving Size

3 full wings
Cuisine

Course

Cooking Method
Ingredients
For the Wings
12-15 full chicken wings, drumette, flat, and wing tip attached
1 teaspoon kosher salt
1 teaspoon fresh cracked black pepper
1/2 cup neutral vegetable oil
1 whole head of garlic, about 0.1 lbs (60g) worth, minced
1/2 cup (125mL) fish sauce
1/2 cup (100g) white sugar
To Serve
1 teaspoon salt
1 teaspoon black pepper
1 lime
Lettuce, radish, tomato, carrot, cucumber, hot peppers, Vietnamese pickles, lime, and cilantro for garnish
Preparation
OPTIONAL (Night Before)
1
To make your wings even crispier, toss them in 2 teaspoons of baking powder mixed with 2 teaspoons of kosher salt. Arrange them on a rack over a dish so that they aren't touching and leave uncovered in the fridge overnight. 
This dries out the skin which will allow it to puff and crisp up even more when in the oven. 
Don't worry, your wings will still be nice and crispy without this treatment. 
Method
1
Preheat oven to:
Convection/Fan – 300°F (150°C, gas mark 2)
Normal – 325°F (165°C, gas mark 3)
Use the convection or fan feature in your oven if you have it as it will make for crisper wings. 
2
Arrange the chicken wings on a rack on top of a sheet pan lined with foil. Try to allow for space between the wings. 
If you haven't already done so (optional step above), season the wings with salt and pepper. 
Put the wings in the oven on the middle rack and let cook for 1 hour, flipping once halfway through. 
3
Meanwhile, heat up the 1/2 cup of vegetable oil in a small frying pan over medium low heat.
Add the minced garlic, and cook, stirring often, until the garlic becomes lightly golden brown, approximately 10 minutes or so. It should look like this: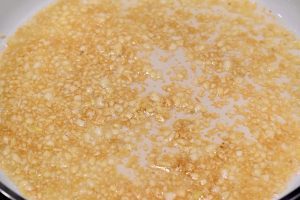 Once it is this colour, immediately take off the heat and strain the garlic out of the oil, as it will quickly burn once past this colour. 
Set aside the now deeply infused garlic oil and keep it for other uses (like fried rice, vinaigrettes, stir fries, etc.). Keep the fried garlic in a small bowl until you're ready to use it. 
4
Prepare the rest of your garnishes so that everything will be ready once the wings come out. 
Mix the salt and pepper together and pour a little pile onto each plate. Set a lime wedge beside the piles. Diners should spritz the lime over the salt and pepper, then dip the chicken wings into it. 
5
After an hour, check on the wings. If they haven't crisped up, increase the temperature to 425°F (220°C, gas mark 7) until they look nice and crispy. 
Once the wings are done, remove them from the oven to let rest for a few minutes. 
6
While the wings are resting, add the fish sauce to a small pot over medium high heat.
Add the sugar and bring to a simmer. 
DO NOT WALK AWAY FROM THIS POT! 
Because there is sugar in the liquid, it will quickly boil over once too hot. Keep a close eye on it and be ready to pull the liquid off the heat if it starts bubbling too much. 
Once it reaches a syrupy consistency, about 5 minutes, take it off the heat. 
7
Add the chicken wings to a large bowl along with the fish sauce syrup and 90% of the fried garlic. Toss well so that all of the nooks and crannies in the wings get covered with sauce. 
Garnish the wings with the last of the fried garlic and some cilantro leaves. You can use the lettuce leaves as utensils, filling them with garnishes and chicken wings, to keep their fingers clean, or you can get messy and eat them as is! Enjoy the wings hot!