Wild Mushroom Boscaiola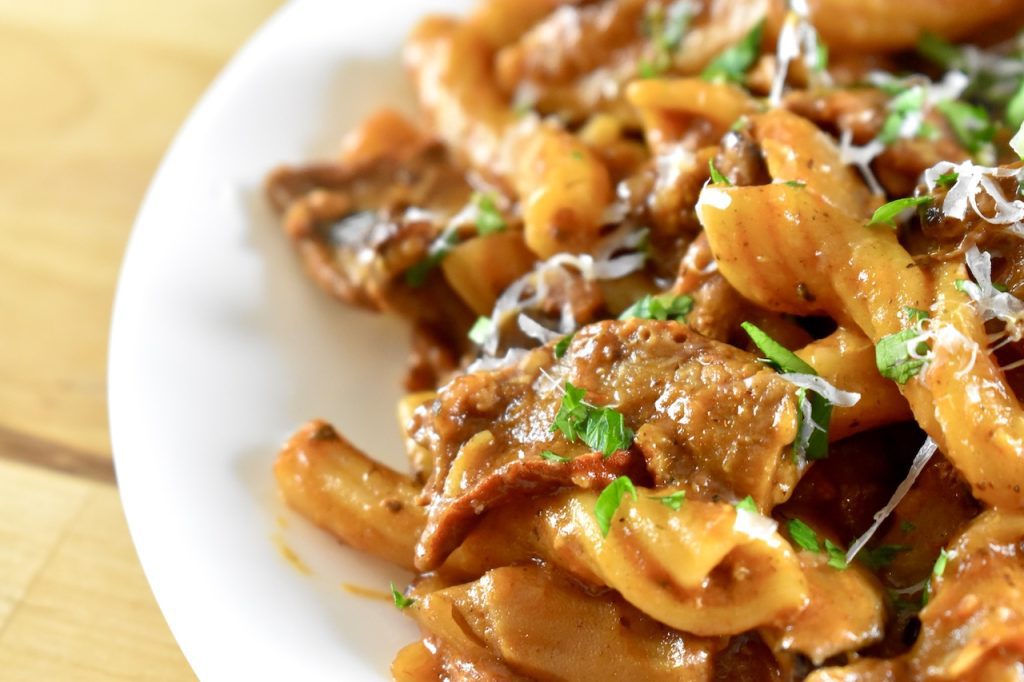 This delicious, smokey, and woodsy pasta is an amazing way to use up a mixed haul of wild mushrooms, though it would taste great with a mixed bag of store bought mushrooms too! 
If using store bought, I'd go with dried porcini, as well as fresh cremini, portabello, shiitakes,  and oysters if you can find them.
Prep Time

30 min

Cook Time

1 hr

Total Time

1 hr 30 min

Yield

4 servings

Energy

160 cal
Cuisine

Course

Cooking Method
Ingredients
1 lb (454g) mixed wild and/or store bought mushrooms, fresh or dried (I used black trumpet, chanterelle, lobster, hen of the woods, puffball, and porcini)
8oz (225g) pancetta or bacon, cut into bite-sized pieces
1 large onion, chopped
4 cloves garlic, minced
1 teaspoon fresh thyme leaves
1 tablespoon fresh sage leaves, chopped
1/2 teaspoon (1g) black pepper
1/2 teaspoon (3g) smoked salt OR regular kosher salt
1/4 cup (60ml) dry vermouth OR dry white wine
24 oz (720ml) passata OR crushed tomatoes
1 lb (454g) dried pasta (torchietti, penne, rotini, etc.)
1/2 cup (125ml) cream
1/4 cup (23g) grated Parmesan cheese
1 tablespoon (14g) butter
Chopped fresh parsley to garnish
Preparation
1
If using any dried mushrooms, cover them in 2 cups (500ml) hot water and let sit for at least 30 minutes. 
Take out the mushrooms and reserve the water. 
Chop your fresh and/or dried mushrooms into different sizes and shapes, being sure that they are all bite-sized. 
2
In a large skillet over medium heat, cook pancetta or bacon until crispy, about 10 minutes. 
Transfer to a bowl, leaving behind a few tablespoons of the fat to cook in. 
3
Cook the mushrooms in the bacon fat over medium high heat until golden, about 10-15 minutes. 
Add the onions and cook for 5 more minutes. 
Add the garlic, herbs, pepper, and salt and cook for 2 minutes. 
Add the vermouth or wine and cook until most of the liquid has evaporated, 2-3 minutes. 
Add 1/2 cup (125ml) of the reserved mushroom soaking liquid if you have it, as well as the passata/crushed tomatoes. 
Add the cooked pancetta/bacon back to the skillet. 
4
Cook the sauce on medium low while you cook the pasta.
Bring a large pot of water to the boil over high heat. Add a big pinch of salt.
If you still have mushroom soaking liquid leftover, you can use that to add to the water for pasta. 
Add the noodles and cook until still quite al dente (a little crunchy when you try a noodle). 
Use a slotted spoon to transfer the noodles over to the sauce. 
Add a cup (250ml) of the pasta cooking water to the sauce as well. 
5
Cook the sauce over medium heat, stirring often, until the noodles are cooked to your desired texture (I like mine slightly al dente). 
Add the cream and 1/2 of the Parmesan cheese and cook for 1 more minute. 
Take off the heat and stir in the butter. 
6
To serve, spoon onto plates, then sprinkle with the rest of the Parmesan cheese and chopped fresh parsley leaves. Enjoy!