Wild Pork and Green Tomato Stew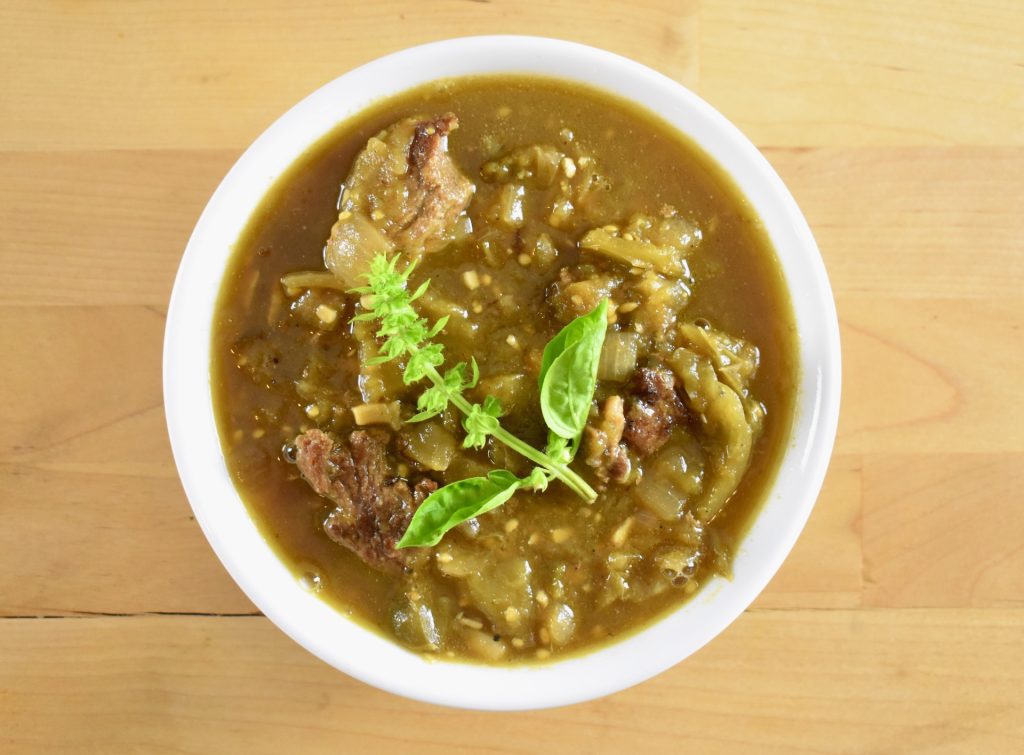 Anyone who grows tomatoes will likely end up with quite a few green ones at the end of the season that never got the opportunity to ripen. 
We've probably all heard of fried green tomatoes, but that isn't the only way you can use them up.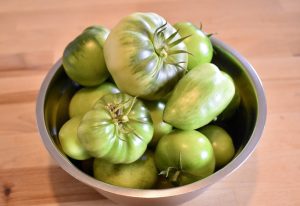 Green tomatoes can be hard on the digestive system if eaten raw, but when cooked down into a stew like this one, they transform into something delicious and easily digested. 
Feel free to use domestic pork shoulder in place of the wild pork shoulder I used for this recipe. 
If you can't get a hold of green tomatoes, you can sub in tomatillos instead. 
Prep Time

10 min

Cook Time

2 hr

Total Time

2 hr 10 min

Yield

4 servings
Ingredients
1.5lbs (700g) wild or domestic pork shoulder
2 tablespoons (30ml) oil or lard
2 medium onions, chopped
4 cloves garlic, chopped
1 jalapeño or serrano chili, chopped
3 anchovies (optional)
Kosher salt
Black pepper
1 bay leaf
2 lbs (900g) green tomatoes, stemmed and roughly chopped
2 cups (500ml) pork or chicken stock
1 small bunch fresh basil
Preparation
1
Cut the pork shoulder into bite sized cubes. 
Heat the oil in a Dutch oven over high heat. 
Add the pork cubes and cook for 10 minutes, flipping so that all sides get nice and browned.
Add the onions and cook for about 5 minutes, or until beginning to brown.
Add the garlic, jalapeño, and anchovies, and cook for 2 more minutes. 
2
Add a pinch of salt and pepper, the bay leaf, the chopped green tomatoes, and the stock. 
Bring to a boil, then reduce to a simmer. 
Cover and cook for 1 hour. 
3
Take the lid off and cook for another 30-60 minutes, or until desired stew-like consistency is achieved. 
4
To serve, ladle into bowls and garnish with a handful of fresh basil leaves. Enjoy!