Yu Xiang Wild Pork with Amber Jelly Roll Fungus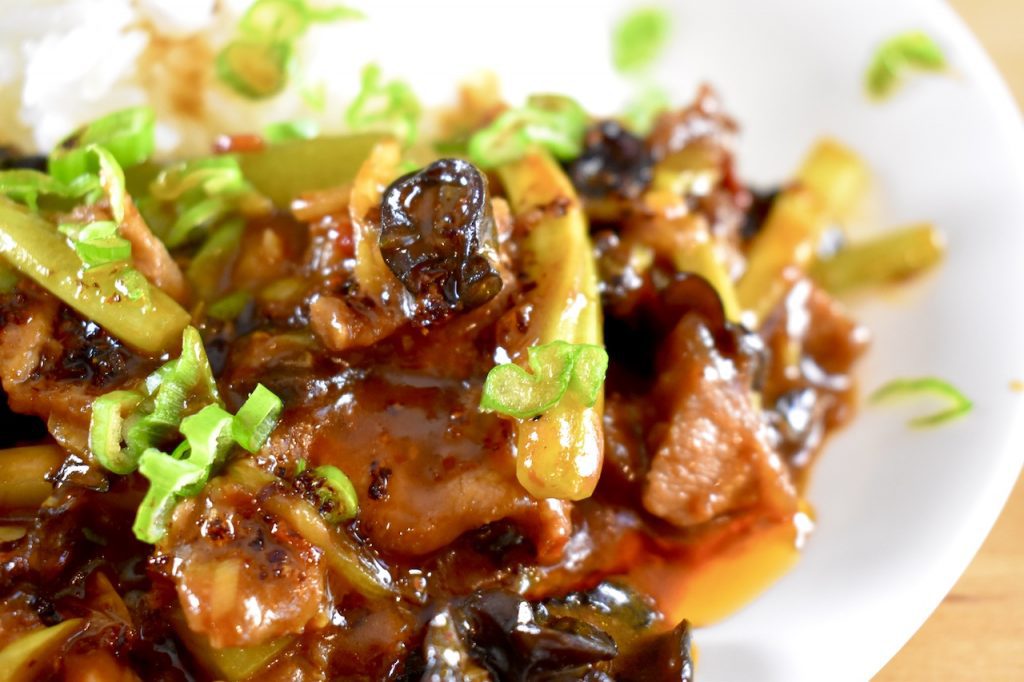 Yu Xiang pork is a very popular dish in Sichuan province, China. Its name means "fish fragrance pork" or "fish flavoured pork slices". This is due to the fact that the sauce was traditionally used to cook fish, not because there is any fish in the dish. 
The pork stir fry comes out sweet, salty, spicy, and sour, with crisp veggies and is absolutely delicious. 
I love using foraged amber jelly roll fungus, which can be found clinging to fallen oak branches in the spring, but you could use any foraged or store bought woodear/black fungus. 
The chili-bean paste (aka doubanjiang) is a very important element to this dish and should be sought out. It can be found in any Asian grocery store, and in many well-stocked regular grocery stores in the international aisle. 
This dish can be made with store bought pork, but I like how the flavour of wild pork stands up to the sauce and adds its own distinct tastiness! 
Prep Time

40 min

Cook Time

20 min

Total Time

1 hr

Yield

4 servings with rice
Cuisine

Course

Cooking Method
Ingredients
For the Marinade
8oz (250g) wild pork loin
2 tablespoons (30ml) soy sauce
1 tablespoon (15ml) Shaoxing wine (or sherry)
1 teaspoon (5ml) sesame oil
1 tablespoon (7g) cornstarch
1/4 teaspoon (0.5g) white pepper
For the Sauce
1 tablespoon (15ml) soy sauce
1 tablespoon (15ml) black Chinkiang vinegar
1 teaspoon (5ml) Shaoxing wine
2 tablespoons (8g) white sugar
2 teaspoons (2.5g) cornstarch
For the Stir Fry
3 tablespoons (45ml) vegetable oil or lard
1 heaping tablespoon (18ml) chili-bean paste/doubanjiang
2 cloves garlic, minced
1 thumb ginger, thinly julienned (tiny slivers)
1 tablespoon (15ml) chopped pickled chilies, or chili garlic paste (sambal oelek)
1 cup fresh or rehydrated amber jelly roll fungus, or woodear fungus (to rehydrate, soak in hot water for 20 minutes)
3 spears celery (or 1 celtuce), cut into matchsticks 
2 scallions, sliced
Preparation
1
Slice the pork loin thinly, then cut the slices into strips. This is easier if you partially freeze the loin beforehand. 
Combine the marinade ingredients in a bowl and toss the pork strips in. 
Let marinate on the counter for 20 minutes. 
2
Combine the sauce ingredients in a bowl and set aside. 
3
Heat 1 tablespoon of oil in a wok or large skillet over medium high heat. 
Add the marinated pork strips, leaving behind the liquid (I usually add the leftover liquid to the bowl of sauce).
Let the pork sear for a minute or two before stirring, so it develops a nice brown exterior. Cook for about 5 minutes, or until the strips are browned. 
Transfer back to their bowl (you'll be cooking them again) and set aside.
4
Wipe out the wok. 
Add 2 tablespoons (30ml) of oil over medium low heat. 
Add the chili-bean paste and cook for about 5 minutes, infusing the oil and turning it bright red. 
Add the garlic, ginger, and pickled chilies/chili paste and cook for 3 more minutes. 
5
Turn up the heat to high and add the mushrooms, celery/celtuce, pork strips, and sauce (stir the sauce before pouring it in). 
Cook everything for another 1-3 minutes, or until the sauce thickens up into a clinging, thick sauce. 
Add the scallions, reserving a pinch of the greens for a garnish. 
6
Serve the stir fry immediately with white rice. Garnish with the reserved scallion greens. Enjoy!