This is a really fun and easy meal that I had once while working for Amish friends on their farm in Aylmer, Ontario.
I met E. and K. while working in a market, then spent a summer working for them two days a week, ploughing with horses, cultivating the soil, harvesting vegetables, processing livestock, and working in their small cannery (the water bath canner was massive and was run by wood fire!).
While E. and I worked outside, K. would be cooking up a storm on the ancient wood cook stove, preparing everything from scratch. The Amish tend to eat light breakfasts and suppers, but enjoy large, long lunches; typical of many farming families. Coming in from the field, we'd be treated to freshly baked bread or buns, sausages, freshly killed chicken, bbq'd or fried, salads, freshly picked fruit, some sort of pudding, and no less than three pies to choose from (I chose all of them obviously). These epic meals would feed myself, their growing family, and often neighbours and friends from the community.
K. was such a great cook, and I always looked forward to lunch and her fabulous cooking, even as I dreaded going back to hard labour afterwards with an over-stuffed belly.
One day the whole family was working in the fields, picking beans, so she had no time to make the usual ridiculously involved lunch. Instead, she had me run into town for some Hickory Sticks (and popsicles, a rare and special treat for the kids) and whipped up haystacks.
Haystacks are popular with the Amish and other religious groups, like Mormons, Adventists, and Mennonites. Probably originating as a Mexican tostada, haystacks have been adjusted to local ingredients and each region boasts a slightly different form. Some are made with saltines, fritos, cheese, pineapple, beans, salsa, etc. But all of them consist of easy, piled ingredients, resembling a haystack.
I made mine like my Amish friends did: with rice, lettuce, tomatoes, peppers, onions, ground beef, hickory sticks, and homemade buttermilk ranch dressing. Delicious!
Amish Haystacks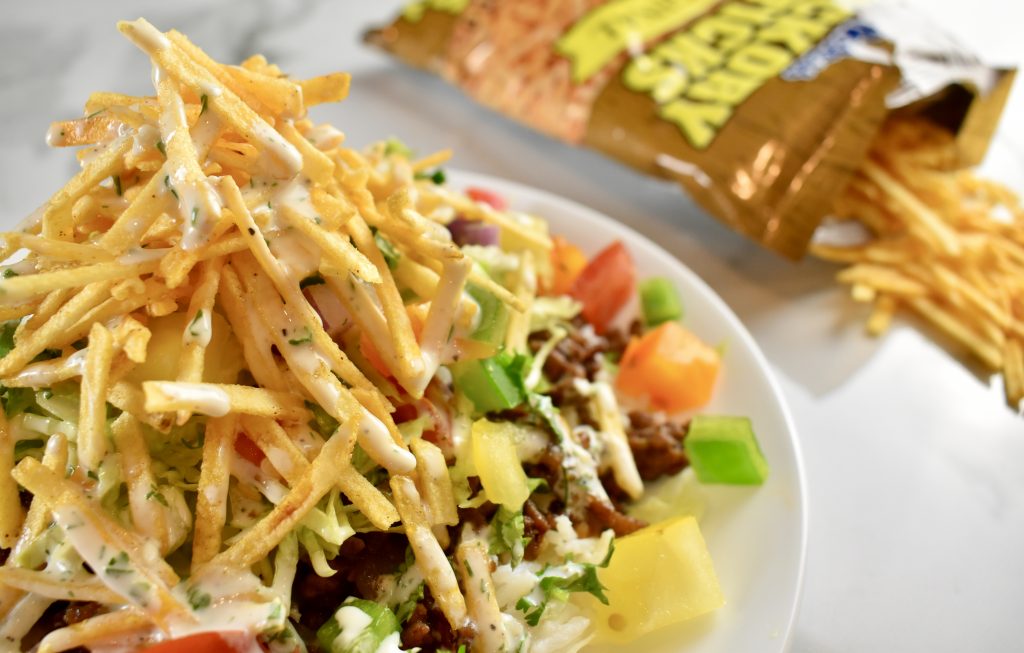 I used ground beef for this particular haystack, but ground venison, or any ground meat or meat substitute for that matter, would work wonderfully. Use different coloured tomatoes and peppers to make this dish more vibrant and colourful, and feel free to customize in any way you like; try adding radishes, shredded cheese, or replacing the Hickory Sticks with corn chips or Fritos. 
Prep Time

15 min

Cook Time

30 min

Total Time

45 min

Ready in

30 min

Yield

4 servings
Ingredients
Haystacks
1 cup uncooked white rice
1 tablespoon (15mL) neutral oil
1 medium brown onion, chopped
1 lb (0.5kg) ground beef
3 cloves garlic
1/2 teaspoon (2.5mL) Worcestershire sauce 
2 teaspoons (10mL) chili powder or paprika
Kosher salt
Freshly cracked black pepper
1 large tomato, chopped
1/4 red onion, chopped
1/2 green bell pepper, chopped
1/2 red bell pepper, chopped
1 handful fresh parsley or cilantro, chopped
1/4 head iceberg lettuce, finely shredded/sliced
1 individual-size bag Hickory Sticks
Ranch dressing, homemade or store bought
Buttermilk Ranch Dressing
4 tablespoons (60mL) of buttermilk, or milk with 1 teaspoon (5mL) of lemon juice
2 tablespoons (30mL) Greek yogurt
2 tablespoons (30mL) mayonnaise
1 small clove of garlic, crushed into a paste
1/8 teaspoon (0.5mL) Worcestershire sauce
1 teaspoon (5mL) white or white wine vinegar 
1 teaspoon (5mL) Louisiana style hot sauce
1/2 tablespoon (8mL) finely chopped fresh parsley, flat or curly
1/2 tablespoon (8mL) finely chopped fresh dill, or 1/2 teaspoon (2.5mL) dried
1/2 teaspoon (2.5mL)  freshly cracked black pepper
Preparation
For the Dressing
1
Mix all of the ingredients together very well in a medium bowl. 
If you'd prefer it thicker, add more Greek yogurt. If you'd prefer it thinner, add more buttermilk. 
For the Haystacks
2
Cook the rice as per the package instructions. 
3
Heat the oil in a frying pan over medium heat and add the onion. 
Cook for 2 minutes, then add the ground beef, garlic, Worcestershire, chili powder, salt, and pepper. 
Cook for about 15 minutes, or until the meat is cooked through and beginning to brown. 
4
Meanwhile, chop all of the vegetables. 
Shred or slice the lettuce into long threads. 
5
Once everything is done cooking, either:
Put the ingredients in separate bowls and bring to the table for diners to build their own haystacks.
OR
Build the haystacks by evenly portioning out ingredients onto plates in this order – rice, meat, 1/2 veggies, lettuce, other 1/2 veggies, Hickory Sticks, ranch dressing.
Enjoy!