Bacon and Chanterelle Cake Salé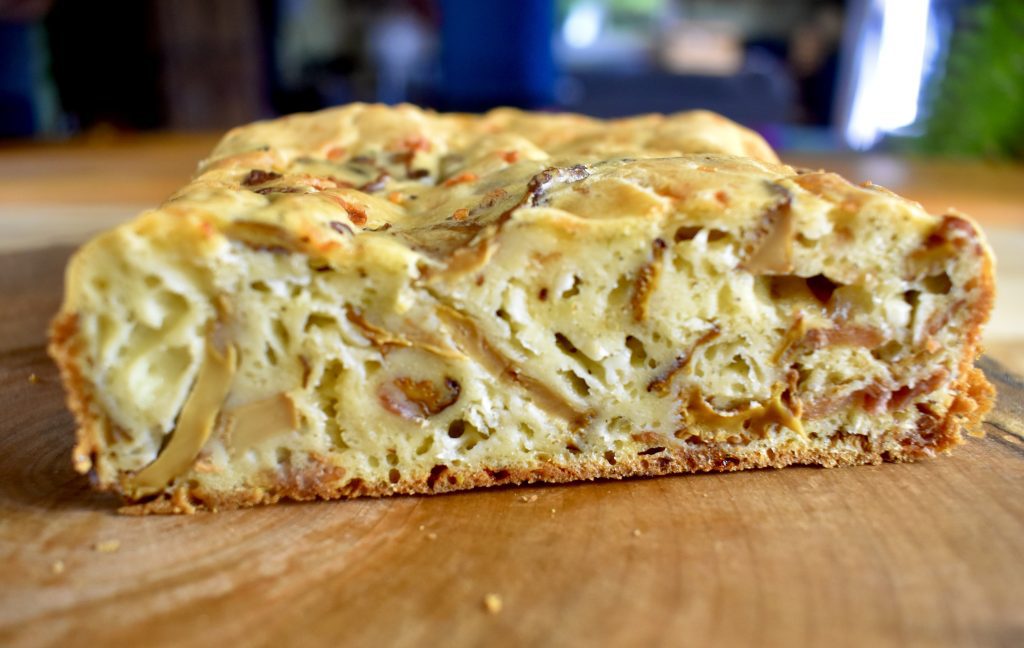 This bacon and chanterelle cake salé is a delightful Provençal treat that's savoury instead of sweet. Serve as lunch or a snack!
Feel free to use any wild mushroom along with your favourite cheeses. 
Prep Time

15 min

Cook Time

1 hr

Total Time

1 hr 15 min

Yield

1 loaf
Ingredients
4 slices thick-cut bacon (or 6 thin), chopped into lardons (1″x1/2″ pieces)
5oz (150g) chanterelle mushrooms, chopped
4 eggs
1/2 cup milk
1/2 teaspoon kosher salt
1/4 teaspoon black pepper
1/4 teaspoon dried thyme leaves
1/2 tablespoon baking powder
1 cup all-purpose flour
3 tablespoons of olive oil* (or use leftover bacon grease)
3/4 cup grated cheese (I used provolone, Parmesan, and mozzarella)
Preparation
2
Add the bacon bits to a skillet over medium-high heat and fry until crispy. 
Transfer the bacon to a bowl or plate and discard all but 1 tablespoon of the bacon grease (*unless you'd like to save it to replace the olive oil later on in the recipe), leaving the heat at medium-high.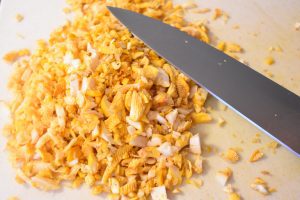 Add the mushrooms and sauté for 8 minutes. 
3
Meanwhile, add the eggs and milk to a large bowl. Whisk until smooth. 
Add the salt, pepper, thyme, and baking powder and whisk them in.
Slowly whisk in the flour until a smooth batter forms. 
4
Add the cheese, olive oil (*or bacon grease), bacon bits, and mushrooms and fold them into the batter with a spatula. 
Generously grease a rectangular baking pan with bacon grease or olive oil, then pour the batter into the pan. 
5
Put the cake into the oven and cook for 45 minutes. 
Serve on its own, or warmed with butter. Enjoy!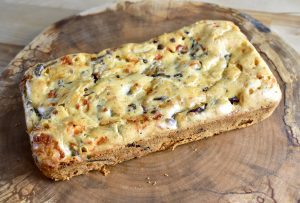 Notice how I didn't have you scroll through pages of mundane nonsense to get to the recipe? Notice that there were no annoying pop-ups or ads? That was on purpose!
I want finding and using my recipes to be easy for you, not frustrating. That does translate into a lot of lost income for me though. If you made this recipe and loved it, would you consider "buying me a coffee" and donating a buck or two through the Buy Me a Coffee app? It will help me keep pumping out recipes like this one!