Bacon and Chanterelle Pierogi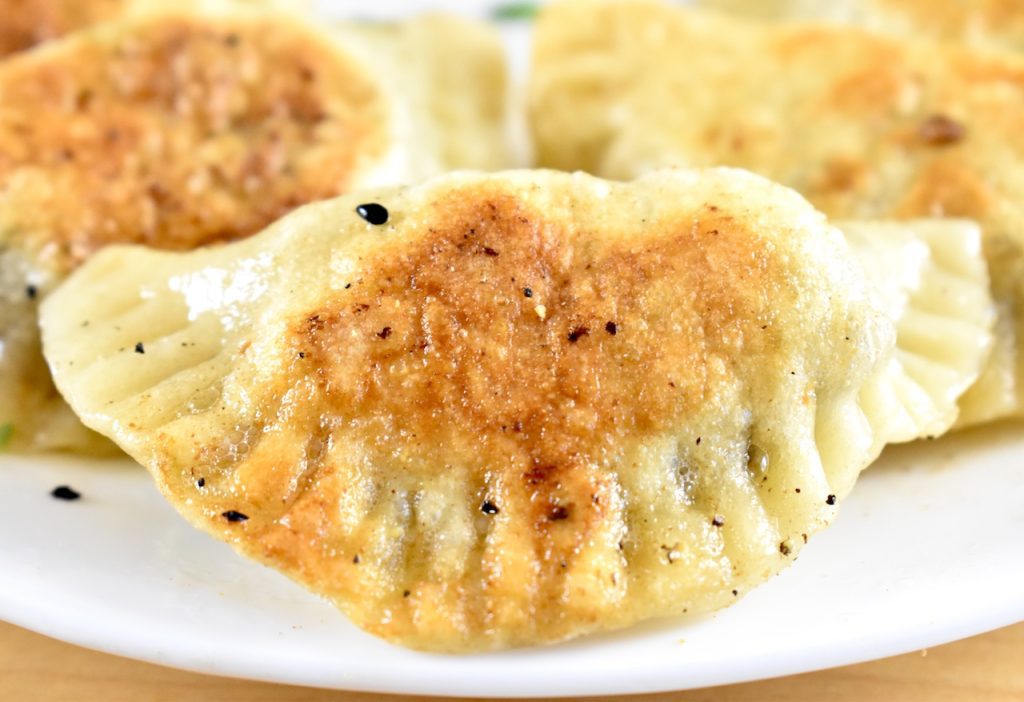 These pierogi are an exceptional treat if you're lucky enough to find a big batch of chanterelles at the market or in the wild. 
The recipe can easily be halved, just make half of the Simple Pierogi Dough, and half of this recipe to end up with about 25 pierogis. 
Prep Time

1 hr 30 min

Cook Time

30 min

Total Time

2 hr

Yield

Approx. 50 pierogi
Cuisine

Course

Cooking Method
Ingredients
1 batch Simple Pierogi Dough
1lb (454g) fresh chanterelles, roughly chopped
8 slices thick-cut bacon, chopped
Salt and pepper
1 teaspoon (1g) dried thyme leaves
2 cloves garlic, minced
Preparation
2
Meanwhile, add the chopped bacon to a cold skillet and turn on medium low heat. 
Cook until bacon becomes crispy. Use a slotted spoon to remove the bacon from the pan, leaving the bacon grease behind. 
3
Increase heat to medium high. Add the mushrooms to the bacon grease and fry for 5 minutes. 
Add a pinch of salt and pepper and add the thyme, cook for another 2 minutes. 
Add the garlic and fried bacon bits and cook for 3 more minutes. 
Take the skillet off of the heat and let cool.
4
Break off a handful of dough and put the rest of the dough ball back under the towel. 
Put the piece of dough on a floured surface and roll it out very thin. 
Use a cookie cutter, jar, or large glass to cut circles out of the rolled dough, about 3″ in diameter or so. 
Place about a tablespoon of the bacon/chanterelle mixture into the middle of each circle and fold them over into half moons. 
Use your fingers or a fork to pinch the edges together. I used a fork for these pierogi.
Place the pierogi onto a floured baking sheet while you work, being sure they don't touch. 
Repeat until the dough is used up.
5
If you'd like to freeze some, put them onto a sheet pan, making sure none of them are touching, and put the pan in the freezer overnight. Dump the frozen pierogi into a labelled ziplock bag and keep frozen up to 6-9 months. 
6
To cook, bring a pot of water to the boil. 
Add the fresh or frozen pierogi and simmer, 5 minutes for fresh, 8 minutes for frozen.
Eat them as-is, or fry them until crispy. To fry:
Melt a knob of butter, lard, or oil in a skillet over medium heat. Use a slotted spoon to transfer the pierogi from the water to the skillet. 
Fry for 15 minutes or so, or until golden brown, flipping the pierogi and moving them around the pan. 
7
Serve with sour cream or yogurt and/or sautéd onions. Enjoy!