Japanese Style Mushrooms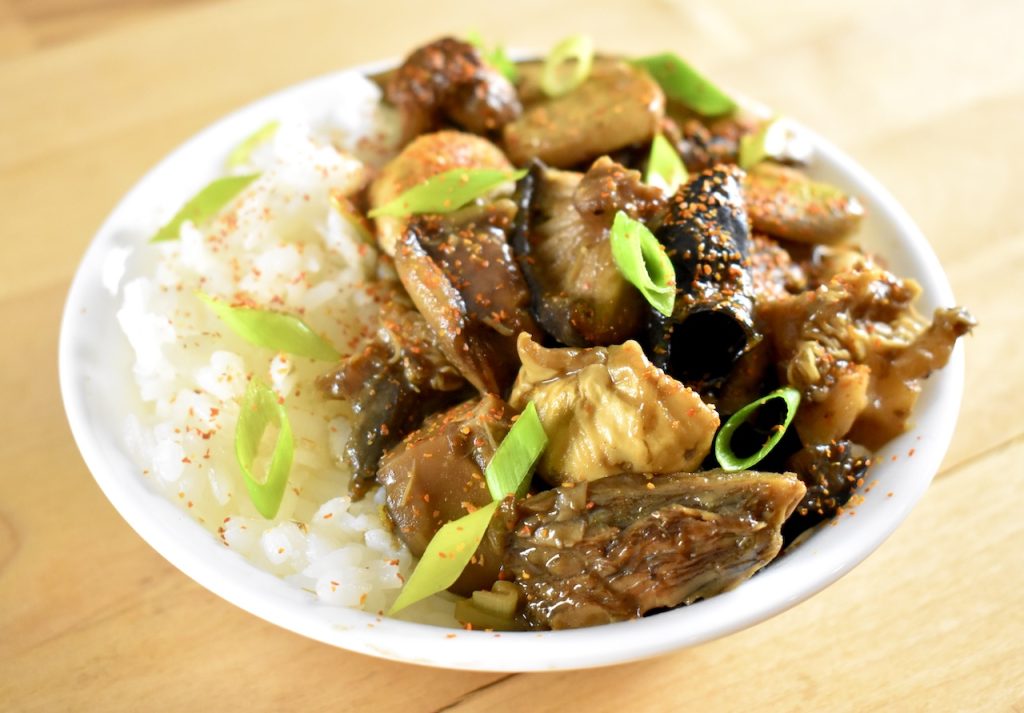 This dish was inspired by Japanese seasoning and gentle cooking methods. 
Use any mix of wild and/or store bought mushrooms. I like to use both fresh and dried to make for extra textural contrast. 
If using store bought, try to visit an Asian grocery store to find shiitake, wood ear or black fungus (dried), enoki, king trumpet oysters, chestnut, and/or cremini mushrooms.  
Prep Time

10 min

Cook Time

15 min

Total Time

25 min

Yield

2 servings for a meal, 4 servings as a side
Cuisine

Course

Cooking Method

Suitable for Diet
Ingredients
1.5 lbs (680g) mixed mushrooms (I used puffball, saffron milk caps, porcini, woodear, matsutake, shiitake, suillus, boletes, hericium)
1 Chinese/Japanese leek, sliced (or white sections from 3 scallions)
2 tablespoons (28g) butter
1/4 cup (60ml) sake
1 tablespoon (12g) brown sugar
2 tablespoons (30ml) Japanese soy sauce
1 tablespoon (17g) white miso paste
1/4 cup (60ml) mushroom stock or water
Kosher salt
1 scallion, sliced
Shichimi Toragashi (Japanese chili powder) for garnish
Sticky rice to serve
Preparation
1
Cut or tear the mushrooms into large bite sized pieces with irregular shapes. 
If using dried mushrooms, soak in warm water for 30 minutes. Save the soaking liquid to use in the recipe where it says mushroom stock. 
2
Melt the butter in a skillet over high heat. 
Add the leek and the mushrooms and fry for 2 minutes. 
Add the sake, sugar, soy, miso and mushroom stock, bring to a strong simmer. 
Reduce heat to medium low, cover, and cook for 10 minutes. 
3
Uncover and raise heat to medium. 
Simmer until liquid reduces into a thick sauce. Taste and add salt if necessary.
Serve on white rice, garnished with shichimi toragshi and sliced scallion. Enjoy!