Brothy Icelandic Wolffish with New Potatoes and Chanterelles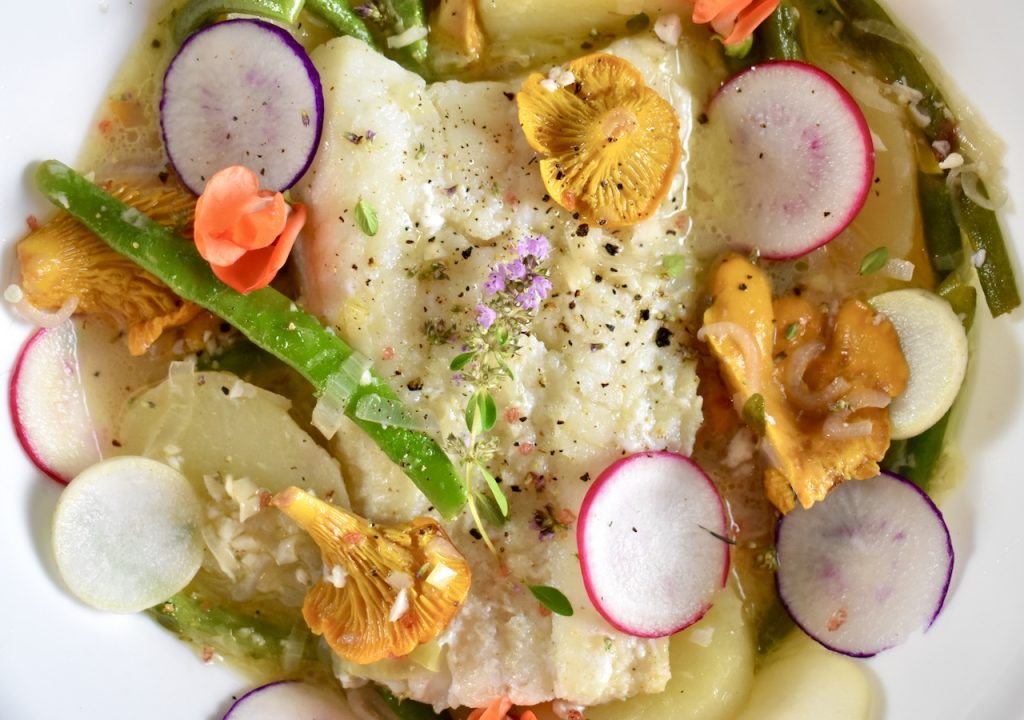 This is a gorgeous and delicious way to eat one of my favourite white fish, Icelandic wolffish. 
This recipe could be make with any firm fish, like cod, pike, monkfish, or even salmon. 
Use different coloured radishes and garnish with edible flowers for an extra beautiful meal. 
Prep Time

25 min

Cook Time

15 min

Total Time

40 min

Yield

2 servings (double recipe for 4)

Serving Size

1 fish fillet
Cuisine

Course

Cooking Method
Ingredients
8 new potatoes
2 tablespoons (28g) + 1 teaspoon (5g) butter
2 shallots, sliced
2 cloves garlic, minced
5oz (130g) fresh chanterelles
3 sprigs lemon thyme or regular thyme
3.5oz (100g) green beans, trimmed
1/2 cup (125ml) white wine
3/4 cup (175ml) fish stock
1/4 teaspoon (.5g) white pepper
2 boneless, skinless wolffish fillets
3 radishes, sliced thinly
Flaky salt and black pepper to garnish
Preparation
1
In a medium pot, cover potatoes with water and a pinch of salt. Bring to a boil, then reduce to a strong simmer. 
Cook until a fork can easily pierce the flesh. 
Remove potatoes from the water and let cool. 
Slip off skins with your fingers and discard. 
2
Meanwhile, melt the 2 tablespoons of butter in a pan or skillet over medium low heat.
Add the shallots and garlic and cook, stirring, for 5 minutes. We're not looking for any browning here, so reduce heat if necessary. 
3
Add the chanterelles and green beans. Strip the thyme leaves from the stems and add the leaves to the pan as well. 
Cook for 3 minutes. 
Add the white wine, fish stock, and white pepper and bring to a simmer. 
Nestle in the 2 fish fillets so they're mostly covered by broth. 
4
Put on the lid, turn heat down to low, and cook for 5 minutes. 
Carefully remove the fish fillets, then add the teaspoon of butter to the liquid and stir it in. 
5
To serve, split the potatoes between two bowls. Place the fish fillets on top. 
Spoon over the mushrooms, beans, and broth, then scatter radishes over both bowls. 
Sprinkle with flaky salt and pepper and serve immediately. Enjoy!