Canada Goose Curry Buns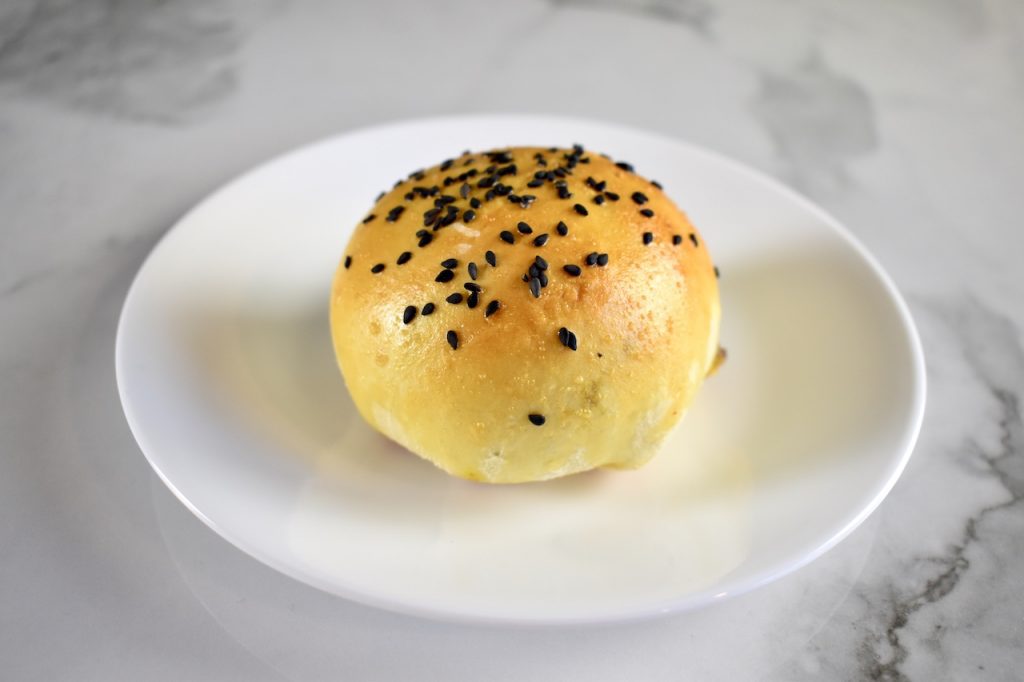 Have you ever been to a Hong Kong or Chinese bakery? The walls are lined with sweet and savoury buns, which are highly addictive. 
I always bee-line to the curry buns, which are by far my favourite. 
I decided to replicate those buns with ground goose instead of the usual beef, and they turned out even tastier! 
If you don't have goose, feel free to use ground beef, venison, moose, elk, duck, or pork. 
Prep Time

3 hr

Cook Time

30 min

Total Time

3 hr 30 min

Yield

10 buns
Cuisine

Course

Cooking Method

Special Equipment
Ingredients
For the dough
1/2 cup (125ml) warm milk
1 teaspoon (3g) active dry yeast
1 teaspoon (4g) white sugar
2 eggs, beaten 
1 tablespoon (15ml) duck/goose fat or sunflower oil
2 cups (240g) all purpose flour
1/2 teaspoon (3g) kosher salt
White or black sesame seeds for garnish
For the filling
1lb (454g) goose breast (skin on or off)
1 large onion, minced
3 cloves garlic, minced
3 tablespoons (18g) curry powder
1 teaspoon (2g) turmeric powder
2 teaspoons (8g) white sugar
1 teaspoon (5g) kosher salt
1/2 teaspoon (2g) black pepper
1 tablespoon (9g) cornstarch
1 tablespoon (15ml) soy sauce
1 tablespoon (15ml) duck/goose fat, or sunflower oil
Preparation
1
Add the warm milk (around 110°F, 43°C) to a medium bowl. Add the yeast and sugar and let sit for about 5 minutes, or until the yeast foams up.
Stir in 1/2 of the beaten eggs (reserving the other half for eggwashing the buns) and the fat or oil, and mix well. 
2
In a large bowl, add the flour and salt and mix well. 
Add in the liquid ingredients and mix with a wooden spoon until it has become a shaggy mass.
Switch over to your hands and form a ball out of the dough. If it's too dry and crumbly, add just a touch of milk until it will form a ball. If it's too greasy and wet, add a touch of flour. 
Knead the dough in the bowl for about 5 minutes. 
Leaving the dough in the bowl, cover with plastic wrap or a damp towel and leave to let rise in a warm place for 1 hour. 
3
Meanwhile, cut the goose breast into chunks that will fit into the meat grinder. I like to grind my meat half frozen. 
Feed them once through the grinder on a medium die/plate. I like to send a small onion in after them to push out any meat that's hanging out in the auger chamber. 
4
Add the ground goose and the rest of the filling ingredients other than the fat/oil to a large bowl and mix very well. 
5
Add the fat/oil to a skillet over medium heat and add the goose mixture. 
Cook, stirring regularly, for about 5 minutes, or until the goose has mostly turned brown. 
Add 1/2 cup (125ml) water and cook, stirring, until all of the water has been cooked out and the goose has the consistency of sloppy joes (saucy, but not runny).
Dump the goose into a clean bowl and put it in the fridge. This allows it to set and firm up, making it easier to stuff into the buns. 
6
Preheat the oven to 375°F (190°C, gas mark 5).
7
Dump the ball of dough out onto a lightly floured surface and shape/roll into an approximately 12″ (30cm) log.
Cut the log into 10 pieces, then use your hands to roll each of those pieces into balls. 
Cover the balls with plastic wrap or a damp towel, and let rest for 1 hour. 
8
Using a rolling pin, flatten each ball and roll it into a 5-6″ (15cm) in diameter circle.
Divide the cold goose mixture between all of the circles. Taking one of the circles, fold over 1/6 of the edge of the dough to the top-middle over the goose mixture, then continue with the next 1/6, roughly pleating and pinching the edges together so they eventually form a seal over the goose. 
Put the bun, pleated/pinched side down, onto a baking tray. Repeat with the rest, spacing them out as much as possible. 
9
Brush the buns all over with the rest of the beaten egg.
Sprinkle with sesame seeds. 
Put into the oven for 20 minutes.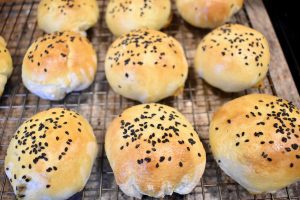 10
Serve hot, or cold; either way is delicious. Enjoy!