Portuguese Canned Sardine Pasta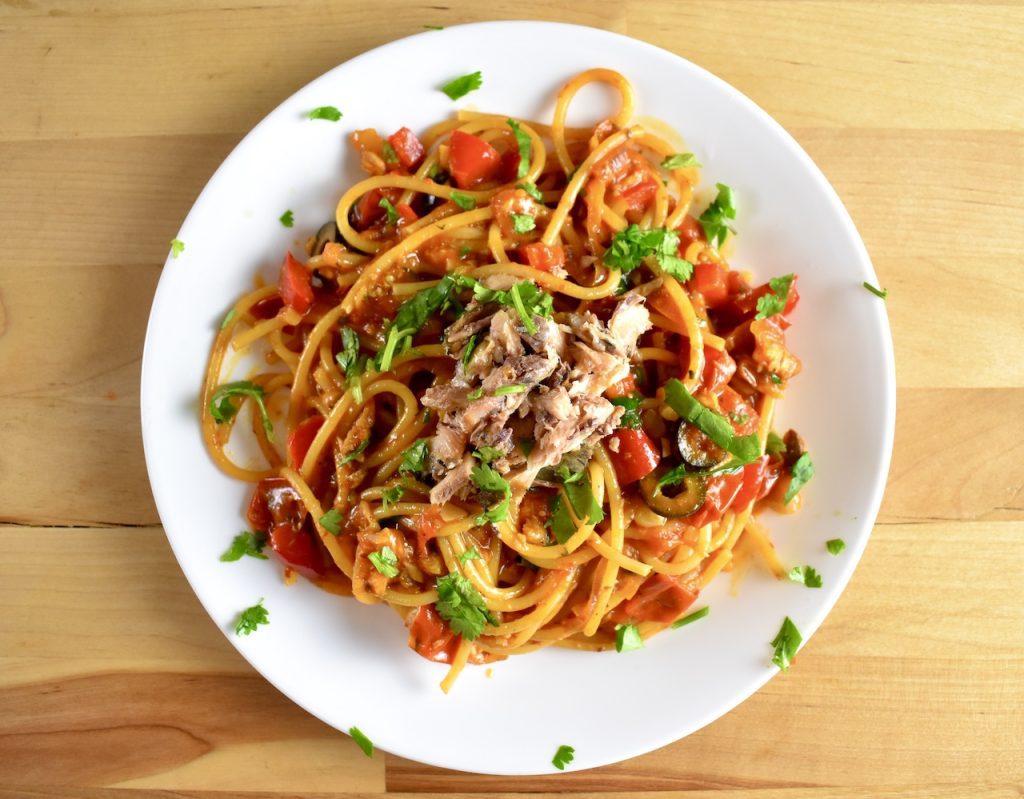 This dish was inspired by our friends Bob and Melissa's trip to Portugal after they brought me back some beautiful canned sardines. I knew I had to come up with something special to use them in, and this Portuguese inspired pasta was born.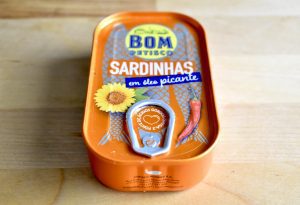 Feel free to use any sardines, preferably packed in oil instead of water. 
Portuguese pimento paste (sweet or hot) can be found in many grocery stores and at any Portuguese, Spanish, or Italian grocer. It's not completely necessary for the dish, but definitely adds a lot, so find it if you can! 
Prep Time

10 min

Cook Time

20 min

Total Time

30 min

Yield

2 servings
Ingredients
7oz (200g) dried spaghetti noodles
Kosher salt
2 tablespoons (30ml) olive oil
1/2 red onion, sliced
1/2 red bell pepper, chopped
4 garlic cloves, minced
2 tablespoons (30ml) tomato paste
3 tablespoons (45ml) Portuguese sweet pimento paste (optional)
1/4 cup sliced black olives
1 handful cherry tomatoes, halved
1 can sardines packed in oil (Portuguese if possible!)
1 teaspoon (7g) butter
Cilantro or parsley leaves to garnish
Preparation
1
Bring a large pot of water to a boil. Add a big pinch of salt. 
Add the spaghetti and cook until very al dente (soft on the outside, but still hard in the middle). 
2
Meanwhile, heat the olive oil in a skillet over medium heat. 
Add the onions and peppers and cook, stirring, for 3 minutes. 
Add the garlic and tomato paste, cook for 2 more minutes. 
Add the pimento paste, olives, and cherry tomatoes. 
3
Transfer the noodles to the sauce in the skillet, along with 1 cup of the pasta water (reserve some more just in case). 
Add 3/4 of the can of sardines as well. For a slightly more fishy pasta, add the sardine oil from the can, for less fishy, omit it (I added it).
Cook over medium high heat, stirring often, until the noodles soak up the sauce and become soft but slightly al dente and the sauce becomes thick enough to coat the noodles.
Add more pasta water if necessary to achieve this. 
4
Take off the heat and stir in the butter. 
To serve, pile the pasta onto plates and garnish with the cilantro or parsley leaves, as well as the rest of the sardines. Enjoy!