The Intrepid Eater's Top Five Fish Sandwiches
There was no question as to why I had so many fish sandwich recipes… they're incredible!
Fish tends to collapse under a bite, so it makes for a natural base for sandwiches. The pieces of fish don't pull out as you eat the sandwich, and the fish and toppings meld together better than many meat- or veggie-based sandwiches.
Another benefit is that any fish can be used to make a sandwich. As long as you can get the bones out, you can use any white, flaky, pink, firm, oily, wild-caught, or store-bought fish. You can even grind or mince the fish!
It was impossible to pick an actual favourite out of my top five picks, so here they are in no particular order:
1) Lemongrass Bluegill Banh Mì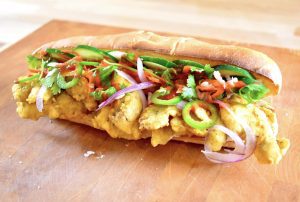 This incredible sandwich (secretly my favourite out of the bunch) was based on the French-influenced Vietnamese banh mì sandwich, which is usually made with pâté and cold cuts. I replaced those with bluegill (caught off the dock) fillets, tossed in lemongrass, turmeric, spices, and rice flour, and then fried until crispy.
I stacked the fried fillets onto Vietnamese sub buns, then topped them with lightly pickled carrots, cucumbers, chilies, red onion, cilantro, and sriracha sauce. Yum!
2) Nashville Hot Pike Sandwich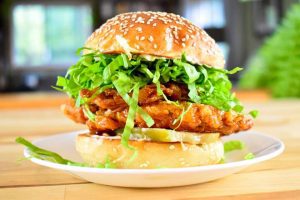 Okay, this one is probably my actual favourite if I reeeeeally had to choose. To make this sandwich, I dipped thick pike (caught through the ice on my lake!) fillets in flour, then in an egg and buttermilk mixture, then BACK into flour, for extra crunch. I then fried them in oil until crispy before tossing them in a Nashville-style hot sauce made with some of the cooking oil.
Homemade pickles, mayonnaise, and shredded sorrel (a bright, tart, and acidic lettuce), and the fried saucy and fiery fish all went onto a sesame studded brioche bun for one hell of a tasty lunch.
3) Moroccan Style Lake Trout Burger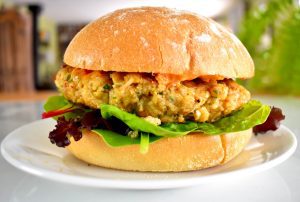 Burger? Sandwich? Stuff slapped between two pieces of bread sure sounds like a sandwich to me!
The aforementioned stuff was actually hand-minced lake trout, seasoned with Moroccan spices and homemade preserved lemon, before being seared in a pan.
Garlic, lemon juice, harissa (North African hot sauce), mayonnaise, and mesclun lettuce joined the fish patties on soft pillowy buns for a delicious meal!
4) Walleye Reubens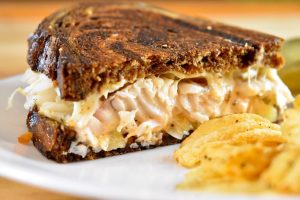 Oh wait… maybe this one's my favourite. Ohhh the indecision!!!
These spectacular sandwiches were inspired by the grouper Reubens I heard about while in Florida. I then discovered that some places in the mid-west also served walleye Reubens. I one-upped them all by butter poaching my walleye fillets along with the spices normally associated with corned beef or pastrami, then slapping them onto marbled rye bread with butter, Swiss cheese, sauerkraut, and a homemade dressing. I then crisped them up in a cast iron pan like grilled cheese sandwiches. Daaaaaaaang.
5) Garlic Butter Panfish Sandwich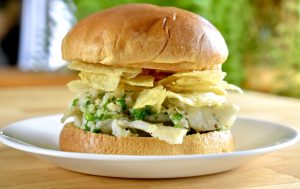 Last, but certainly not least, is this sumptuous garlicky stud of a fish sandwich. Panfish fillets (usually a mix of perch, bluegill, sunfish, and rock bass, which we catch off of the dock) get gently cooked in butter along with lots of garlic, scallions, and parsley.
After being spritzed with lemon juice, the fish fillets get stacked onto cheap squishy hamburger buns, then get topped with the buttery garlic sauce and a big handful of chips.
There is nothing, NOTHING, more satisfying than gently pushing down on top of squishy bread with chips underneath. Well, maybe other than EATING said chippy bread; especially if there's garlicky, buttery fish in there too!
Be sure to check out my other fish sandwich recipes too!