Moroccan Style Lake Trout Burger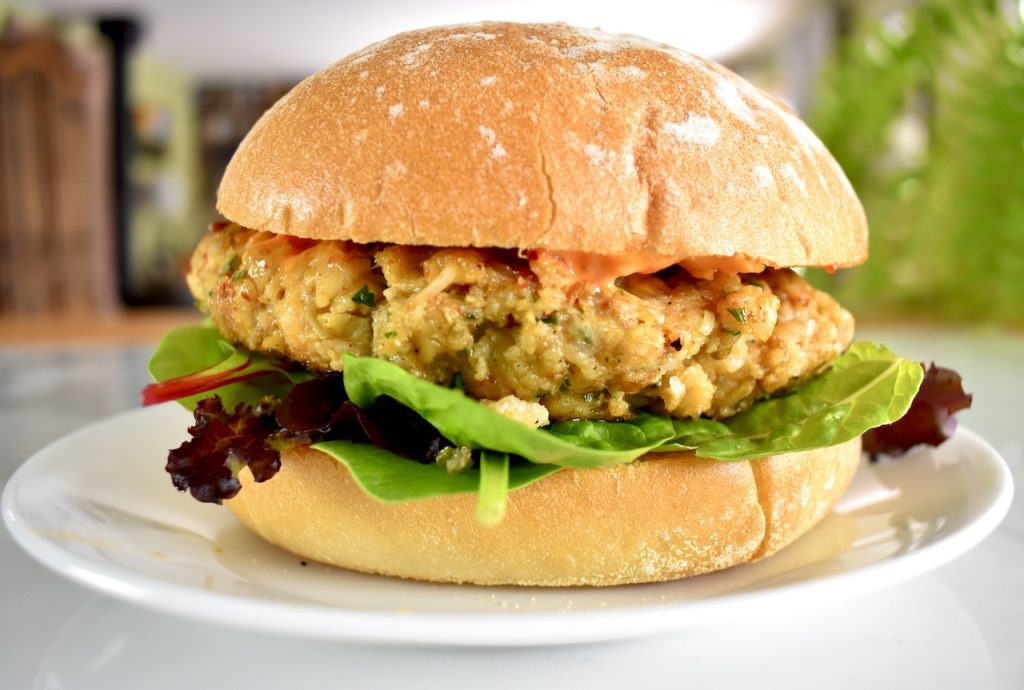 These delicious lake trout burgers are the perfect thing to make with some of your big catch. 
By creating chopped trout, and trout paste, then combining them with some breadcrumbs, you can achieve a wonderful burger texture without the use of other binders like egg, which create a strange texture. If you find it very hard to form patties, mix in some more breadcrumbs and try again.*
Since the colour of flesh changes from lake trout to lake trout, your burgers may be pinker or paler than mine. 
If you don't have access to lake trout, these could be made with any salmonid, like steelhead, rainbow trout, lake whitefish, char, or any salmon.
Harissa can be found in most grocery stores these days. Make sure you try some before adding it to the sauce to evaluate how spicy it is. I've found the heat levels of different brands of harissa vary wildly. 
Preserved lemons may be harder to find. You'll be able to find them at any Middle Eastern or North African grocer, or you could follow an online recipe to make your own. Just keep in mind that they do take several weeks to make. If using, scrape off the inside flesh of the lemon and only use the peels. Though they are an optional ingredient in this recipe, I find they add so much amazing flavour, they're well worth searching for! 
I made two very large burgers with this recipe to match the large buns I happened to have kicking around, but you could make 4 smaller patties and serve them on normal sized hamburger buns too. 
Prep Time

20 min

Cook Time

10 min

Total Time

30 min

Yield

2-4 burgers (2 large or 4 regular)
Ingredients
For the Burgers
1lb (454g) skinless, boneless, lake trout fillet(s)
1 shallot (or 1/2 small onion), finely minced
1 clove garlic, finely minced
2 tablespoons (7g) fresh parsley, finely minced
1 teaspoon (2g) ground coriander
1/2 teaspoon (1g) ground cumin
1/2 teaspoon (1g) black pepper
1/2 teaspoon (1g) Aleppo chili flakes (or 1/4 tsp regular chili flakes)
1 teaspoon (5ml) honey
1 teaspoon (5ml) lemon juice
1 teaspoon (5g) Moroccan preserved lemon peel, chopped (optional)
1/2 cup+ (60g+) breadcrumbs *see intro*
Kosher salt 
1 tablespoon (15ml) olive oil
For the Toppings
4 tablespoons (60ml) mayonnaise
1 teaspoon-+ (5ml-+) harissa paste (more or less if you like it spicier, or less spicy)
1 clove garlic, finely minced
1 teaspoon (5ml) lemon juice
2-4 soft buns
Lettuce
Preparation
1
Chop the lake trout fillet(s) into 1/4″ or 1/2cm tiny cubes. 
Put 2/3rds of the chopped trout into a mixing bowl, leaving the other 1/3 on the cutting board. 
Run your knife through the remaining 1/3 over and over, repeatedly chopping it into smaller and smaller pieces. You basically want to create a paste. 
Use the flat of the blade to scrape the minced trout across the cutting board a few times to break it down even further. Add to the rest of the trout in the bowl 
2
Add the rest of the ingredients except for the salt and oil (adding salt too early in this process can cause an unwanted change in texture) and mix very well. 
3
In a small bowl, mix together the mayo, harissa paste, garlic, and lemon juice. Set aside. 
4
Add the tablespoon of olive oil to a non-stick or cast iron pan over medium low heat. 
Form the chopped trout into 2 large or 4 small patties. Unlike ground meat, these patties won't shrink, so match the size to the buns you're using.
Season the patties with a pinch of salt just before adding them to the pan. 
Carefully add the patties to the pan. They'll be a little hard to handle, but they'll firm up. 
5
Cook for about 5 minutes on one side. Carefully flip over and cook for another 4-5 minutes. 
These burgers are relatively delicate. If one falls apart a bit, it's no big deal, just stuff it into the bun when it's done. 
6
Spread the sauce onto buns, add the lettuce, then add the trout patty. 
Serve immediately. Enjoy!