Miso-Milk Braised Wild Pork Tenderloin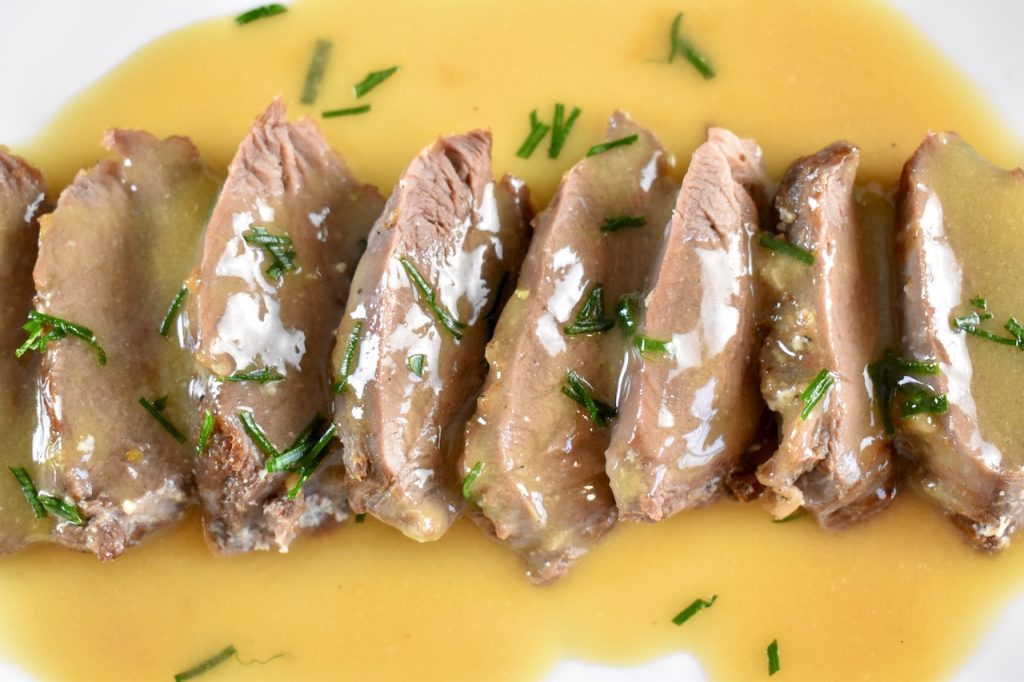 It can sometimes be hard to bring wild pork to the proper temperature to kill potential trichinella parasites (the ones that cause trichinosis and can be found in some wild pigs and many bears) without drying out the meat. 
The solution? Braise it!
Braising in milk makes for deliciously tender meat, and adding miso paste to the mix adds a ton of flavour and complexity. 
The garlic chives are totally optional, but I love the mild garlic flavour they infuse into the sauce. You could use regular crushed garlic instead. 
Prep Time

15 min

Cook Time

25 min

Total Time

40 min

Yield

2 servings or 4 as part of a larger dinner
Ingredients
2 wild pork tenderloins, or 1 regular pork tenderloin
Kosher salt 
Freshly cracked black pepper
1 tablespoon (15ml) pork or duck fat (or oil)
2 cups (500ml) milk
1 teaspoon (5ml) white miso paste
1 tablespoon (4g) fresh garlic chives, sliced (optional)
1 teaspoon (2.5g) cornstarch
Preparation
1
Remove any silverskin and connective tissue from the tenderloin(s) with a very sharp knife. 
Season generously with salt and pepper. 
2
Melt the lard/fat/oil in a skillet over medium high heat.
Add the tenderloin(s) and sear for about 5 minutes, or until browned all over. 
3
Reduce the heat and add the milk, miso, 3/4 of the garlic chives and simmer on low for about 20 minutes. 
Remove the tenderloins and increase the heat to medium. Reduce the braising liquid by about half. 
4
Pass the liquid through a fine mesh strainer into a small bowl. 
Pour the strained liquid back into the wiped out skillet. Mix the cornstarch with a tablespoon (15ml) of water to create a slurry and add it to the braising liquid. Bring to a simmer over medium heat and cook for about 1 minute or until it thickens into a silky sauce. 
5
Slice the pork tenderloin(s) into bite-sized disks about 1/2″ (1cm) thick. 
Lay them onto plates, then spoon the thickened braising liquid over them. Sprinkle with the reserved garlic chives and serve immediately. Enjoy!