Canada Goose French Onion Soup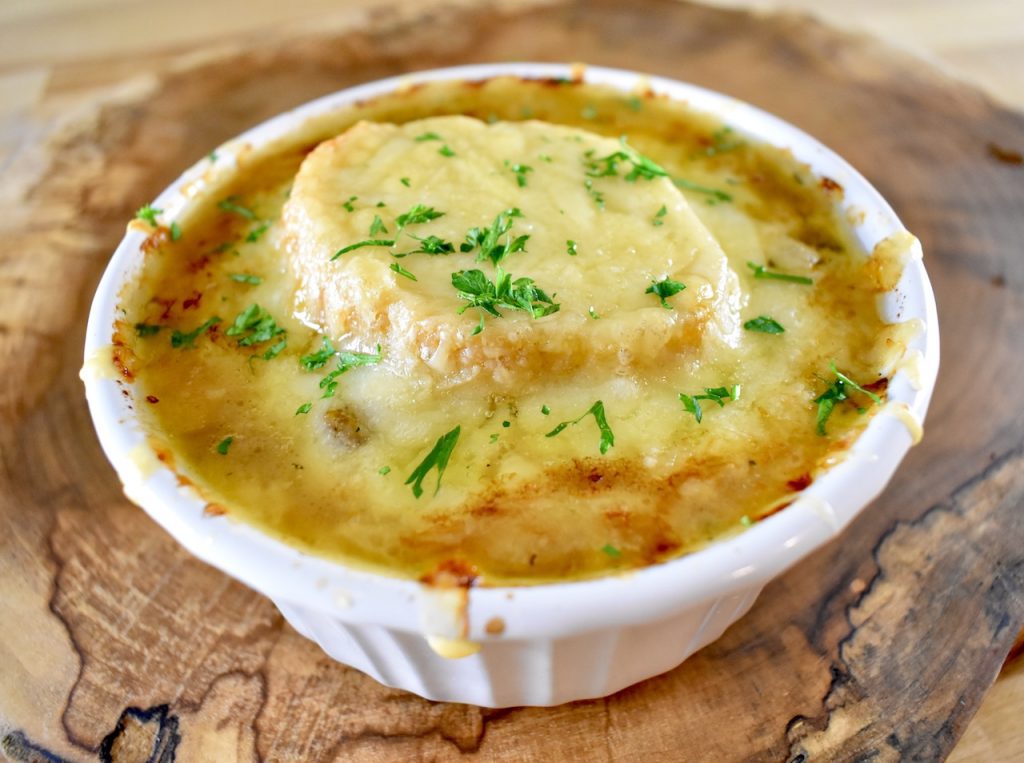 What could be better than a steaming bowl of French onion soup? A steaming bowl of French onion soup with delicious pulled goose leg meat, that's what!
Braising goose legs until the meat falls off the bone leaves you with a deliciously rich goose stock, which is the perfect medium for stewing caramelized onions in this take on the classic French onion soup. 
This is an all day affair and should be. Cutting corners will only leave you with an insipid onion soup. Properly caramelizing onions takes well over an hour, and that's that. If you want big, rich flavours, you need to put in the time! 
Snow goose or duck legs would also work great for this dish. 
Prep Time

30 min

Cook Time

6 hr 30 min

Total Time

7 hr

Ready in

4 hrs 30 min

Yield

4 servings (with leftovers)
Ingredients
2 Canada or snow goose legs
Kosher salt
1 tablespoon (15ml) goose fat or vegetable oil
1 carrot
1 stalk celery
3 cloves garlic, whole
1/2 leek (optional)
Bay leaf
5 peppercorns
3 tablespoons (43g) butter
2 tablespoons (30ml) goose fat (or use 5 tablespoons (70g) butter total)
3 lbs (1.4kg) onions, thinly sliced (I like to use a mix, but standard yellow or brown onions are fine)
Kosher salt and black pepper
1/4 cup (60ml) alcohol (I used whisky, feel free to use wine, vermouth, port, cider, beer, etc.)
2 teaspoons (10ml) Worcestershire sauce or fish sauce
1 teaspoon (5ml) sherry or cider vinegar
1/2 teaspoon dried thyme leaves
4 thick slices (2″) baguette or rustic bread
5oz (150g) Gruyère cheese, grated
2 tablespoons (6g) fresh parsley, chopped (for garnish)
Preparation
For the goose legs
1
Season the goose legs generously with kosher salt. 
Heat the fat or oil up in a Dutch oven over medium high heat. 
Sear the goose legs until browned and crispy, about 5-7 minutes per side. 
Add the carrot, celery, garlic, and leek and 8 cups (2L) of water. 
Bring to a strong simmer, then lower to a very low simmer. Cover and cook for 4 hours, or until the meat is ready to fall off of the bone. 
Alternatively, you can put the legs in a crock pot/slow cooker over night on low. 
2
Reserving the broth, remove the goose legs and vegetables/spices. 
Shred the meat and discard the bones and spent vegetables. 
Decant the broth into a container and store in fridge until ready to use. 
For the onions
3
In a Dutch oven, melt butter over medium high heat. 
Add onions (I add them as I chop them to help make space on the counter) and cook, stirring, for 5 minutes or so. 
Lower heat to medium-low and cook for 1.5 to 2 hours, reducing heat if onions are looking like they may burn. Stir every 5-10 minutes. 
Any recipe that tells you to caramelize onions in 15 minutes is lying to you. Doing this properly takes a lot of time, but it is well worth it!
4
Once the onions are reduced to a fraction of their size and look richly brown (not dark or black!), it's time to deglaze. They should look like this: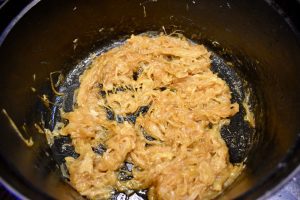 5
Add a pinch of kosher salt and black pepper and the alcohol. Turn up the heat to medium high and cook, stirring, until most of the alcohol has burned off. 
Add 4 cups (1L) of the reserved goose broth to the pot. If you don't have enough, top it up with water. Add the shredded goose, Worcestershire, vinegar, and thyme as well. 
6
Bring to a strong simmer, then reduce to a soft simmer and cook, uncovered, for another 30 minutes. 
Taste soup and add more salt if need be. 
7
Meanwhile, toast the slices of bread or baguette in a low oven or toaster oven for 15 minutes, or until quite hard. 
Take the bread out of the oven and set aside. 
Raise oven temperature to 450°F (230°C, gas mark 8). 
8
Ladle soup into oven-safe bowls or ramekins. Stuff a piece of bread into the middle so the soup comes partway up the sides. 
Pile on grated cheese, dividing it equally between the ramekins. 
Put into the oven for 15 minutes, or until cheese is melted and browned.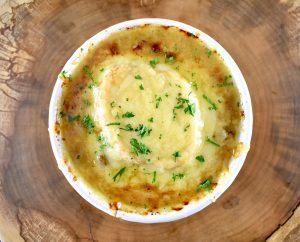 9
Scatter with parsley and serve immediately. Enjoy!