Spruce Tip Pickled Pike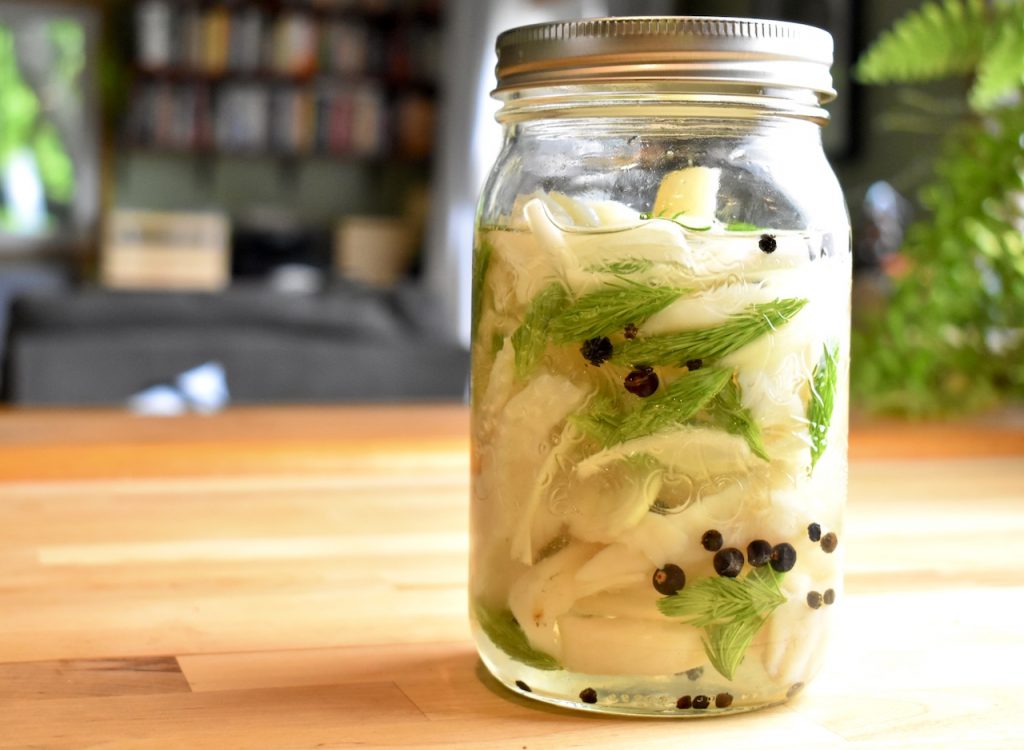 Pickled pike is not only delicious, it is also a great way to enjoy the fish without worrying about those pesky 'Y' bones that people like to choke on. Through the curing process, those 'Y' bones actual just dissolve away!
This preparation is perfect for pike under 5lbs (2kg) that you can easily fillet. For pike over 5lbs, follow my guide here to fillet in such a way that you avoid all of the bones. 
Other fish like carp, catfish, walleye, bass, and panfish can be pickled as well using the same process, but I like doing it with pike best. 
WARNING: PIKE SHOULD ALWAYS BE HELD IN THE DEEP FREEZE FOR SEVERAL DAYS BEFORE MAKING PICKLED PIKE. THIS HELPS TO ELIMINATE ANY NASTIES IN WHAT IS ESSENTIALLY RAW LAKE FISH. 
Ready in

4-5 days

Yield

1 Jar
Ingredients
1 cup (280g) kosher salt 
4 cups (1L) water + 1/2 cup (125ml) water
Approx. 1lb (454g) previously frozen pike fillets, skin-off, 'Y' bones left in, cut into bite-sized pieces
White vinegar
3/4 cup (150g) white sugar
1 small onion, thinly sliced or several ramp leaves
1/2 cup (60g) tender spruce tips (I used white spruce)
1 teaspoon (2g) whole peppercorns
1 teaspoon (3g) wild or store bought juniper berries
2 tablespoons (30ml) gin (optional)
Preparation
1
Add the salt and water to a large mason jar or sealable container. 
Shake until salt dissolves. 
Add the pike chunks and refrigerate for 24 hours. 
2
Pour off the brine (don't rinse off the pike). 
Cover the pike in white vinegar and put it back into the fridge for another 24 hours. 
3
Reserve a cup (250ml) of the soaking vinegar and discard the rest. 
Put the cup of vinegar in a pot and add the sugar and the 1/2 cup (125ml) of water. Bring to a boil and stir until the sugar is completely dissolved. Let cool completely. 
4
Alternate layers of pike, onions, spruce tips peppercorns, and juniper berries in the spruce jar, then pour the cooled vinegar back over everything. Add the gin as well. 
Give the jar a gentle shake. 
5
The pike is ready right away, but will taste much better after 2-3 days in the fridge.
It will last a long time, but try to eat it within a month for the best flavour. 
Serve on buttered rye bread, crackers, or just eat it right out of the jar. Enjoy!