Creamy Miso Udon with Wild Pork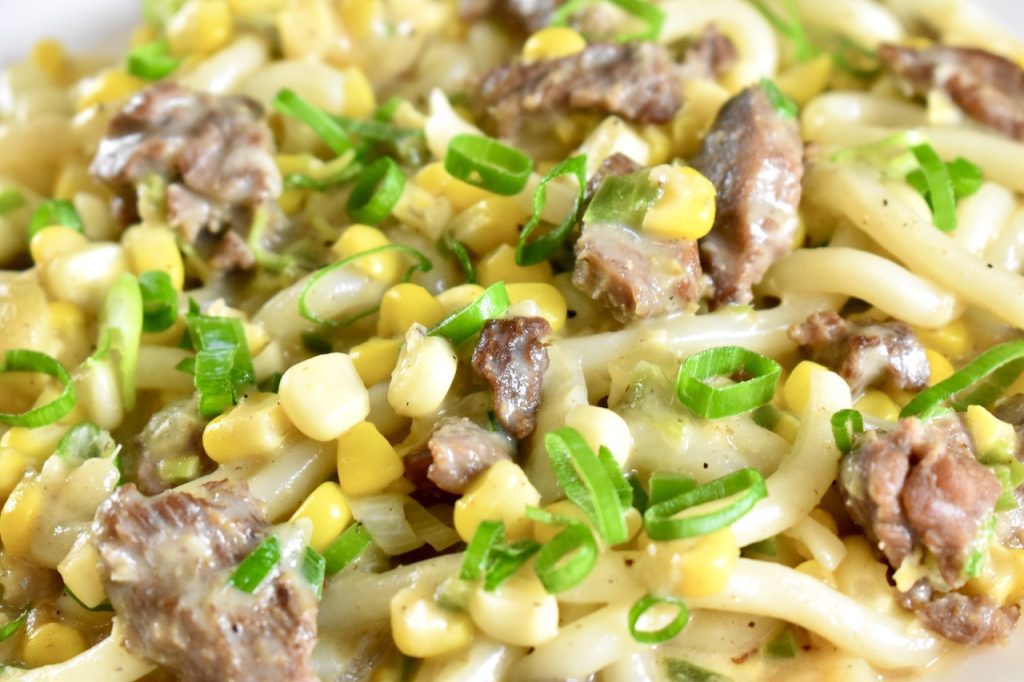 Wild pork just goes so well with the flavour of miso. This dish is just another example of that!
Rich, creamy udon noodles with melting pork… what more could you ask for?
I used fresh vacuum sealed udon noodles that you can find on the shelf. If you are using dried or frozen udon, follow the package directions to cook, then add them in at the end. 
To make your own dashi stock, follow the recipe here. 
Prep Time

15 min

Cook Time

45 min

Total Time

1 hr

Yield

4 light servings
Ingredients
2 tablespoons (30ml) lard or vegetable oil
1lb (454g) wild or domestic pork shoulder, cut into thin strips
Kosher salt
Black pepper
1 onion, chopped
2 cloves garlic, minced
2 corn on the cob
2 cups dashi stock or pork stock or chicken stock or water
1.5 tablespoons (22ml) white miso paste
1/4 cup (60ml) heavy cream
1 jalapeño, minced
2 packets fresh udon noodles
2 scallions/green onions, sliced
Preparation
1
Heat the lard or oil in a deep skillet over high heat. 
Add the pork strips and season with a pinch of salt and pepper. 
Cook for 5-8 minutes, or until well-browned. 
Add the onions and garlic, and cook for 2 more minutes. 
2
Cut the corn kernels off of the cobs and set aside. 
Cut the 2 cobs in half with a heavy knife. 
Add the cobs to the skillet. 
Add the dashi or stock and bring to a boil. Reduce to a low simmer, cover, and cook for 30 minutes. 
3
Remove the corn cobs from the skillet and discard. 
Add the corn kernels, miso paste, heavy cream, and jalapeño to the skillet. Mix well. 
Add the udon noodles, and cook for 5 minutes, breaking the noodles apart (they tend to stick together), so they cook evenly.
Continue cooking until the sauce thickens and clings to the noodles and the noodles are cooked, 30 seconds to 2 minutes. 
4
Serve immediately, garnishing with the scallion. 
Enjoy!