Butter-Soy Yellow Bolete Pasta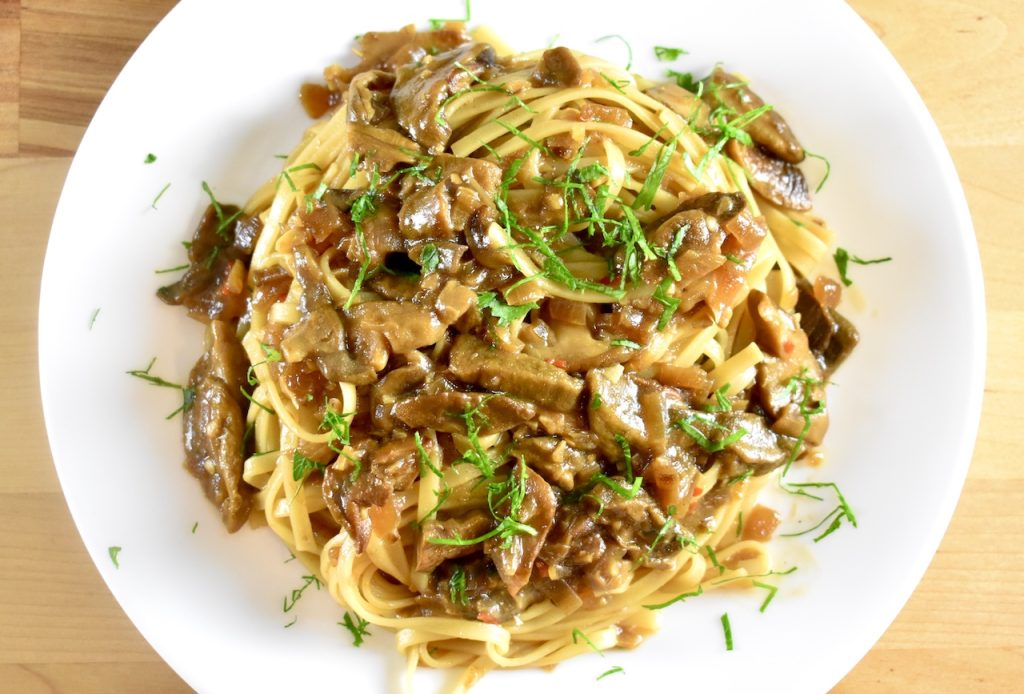 This butter-soy yellow bolete pasta is a delicious and addictive way to enjoy fresh or dried yellow boletes (Hemileccinum subglabripes).
If using fresh, be sure to pick young, firm caps and to cook them within a day or two of picking. 
I used tagliatelle noodles for this dish, but you could use soba, spaghetti, udon, or any other Asian or Italian noodle. 
Remember, always be 100% sure of what you're harvesting. Always thoroughly cook wild mushrooms. If it's your first time trying a particular mushroom, eat only that type and don't eat much of it. Many non-toxic mushrooms don't react well with certain people and can cause stomach upset. 
Prep Time

15 min

Cook Time

30 min

Total Time

45 min

Yield

2 servings (can be doubled)
Cuisine

Course

Cooking Method

Suitable for Diet
Ingredients
1lb fresh yellow boletes (Hemileccinum subglabripes) OR 1 ounce dried and reconstituted
3 tablespoons butter
1 onion, finely chopped
1 tablespoon minced ginger
2 cloves garlic, minced
1 red chili, minced
2 teaspoons brown sugar
2 tablespoons light soy sauce
1 tablespoon dark soy sauce OR 3 tablespoons total regular soy
3/4 cup water OR mushroom stock
Italian or Asian noodles to serve
Preparation
1
Slice the mushrooms into bitesized pieces, discarding the stems. 
2
Melt the butter over medium-high heat in a skillet. 
Add the mushrooms and cook for 5 minutes. 
Add the onions and cook for another 5 minutes. 
Add the ginger, garlic, and chilies and cook for 1 more minute. 
Add the brown sugar, soy sauce(s), and water/stock. Bring to a strong simmer, reduce heat to low, and cook for 20 minutes, stirring occasionally. 
3
Meanwhile, prepare the noodles. 
Add the noodles, along with a 1/2 cup of cooking water to the mushroom mixture. Increase heat to medium-high and toss until the noodles are coated with sauce. 
Serve immediately. Enjoy!
Notice how I didn't have you scroll through pages of mundane nonsense to get to the recipe? Notice that there were no annoying pop-ups or ads? That was on purpose!
I want finding and using my recipes to be easy for you, not frustrating. That does translate into a lot of lost income for me though. If you made this recipe and loved it, would you consider "buying me a coffee" and donating a buck or two through the Buy Me a Coffee app? It will help me keep pumping out recipes like this one!