Venison Neck Chili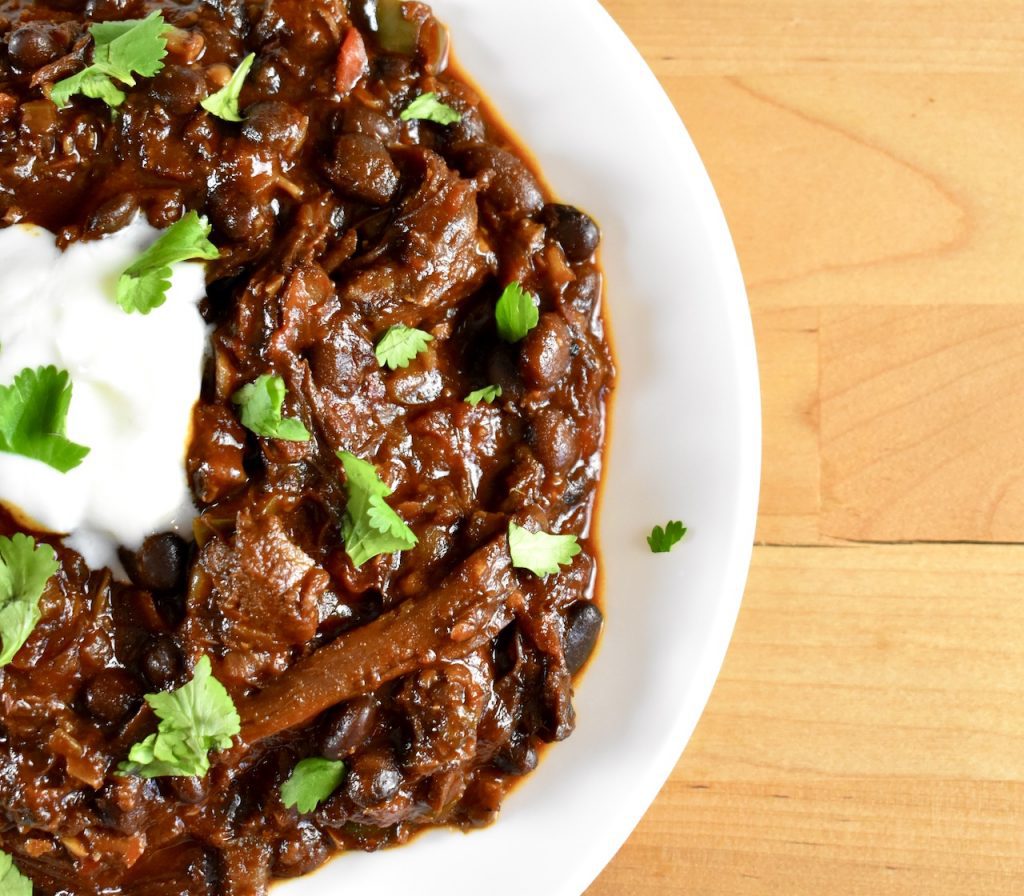 This chili utilizes meat from the head and neck, which is extra rich and delicious. If you live in a CWD area, you could use a boneless neck roast, or just use shanks. 
If using shanks or a neck roast, follow step 1 in this Venison Shank Slider recipe, saving the resulting broth, then carry on with the rest of the chili recipe. 
I like beans in my chili. If you don't, stop whining about it and just omit them! 
If you don't have a spice grinder or mortar and pestle, feel free to just use ground spices instead of whole. 
Sure, there are simpler chili recipes out there with less ingredients… but they don't taste as good as this chili! 
Prep Time

15 min

Cook Time

6 hr

Total Time

6 hr 15 min

Yield

4 servings
Cuisine

Course

Cooking Method

Special Equipment
Ingredients
1/3 cup (80ml) dry black beans

or

1 can of black beans, rinsed
1 pinch of kosher salt
1 skinned deer head and neck

or

1 neck roast or 2 shanks
2 ancho or pasilla chilies 
2 guajillo chilies 
2 arbol chilies
1 chipotle chili
1 tablespoon (6g) whole cumin seeds
1 tablespoon (6g) whole coriander seeds
1/2 cup (125ml) brewed coffee (optional)
1/2 tablespoon (7ml) fish sauce
2 tablespoons (30ml) tomato paste
1 teaspoon (5ml) Worcestershire sauce
2 tablespoons (30ml) vegetable oil or lard
2 onions, chopped
3 cloves garlic, minced
1/2 red pepper, chopped
1/2 green pepper, chopped
1 jalapeño pepper, minced
1 teaspoon (2g) oregano
2 teaspoons (4g) smoked paprika
1/2 teaspoon (1g) black pepper
16oz (500ml) canned chopped tomatoes
1 tablespoon (12g) brown sugar
1 teaspoon (5ml) cider vinegar
Sour cream or yogurt to garnish
Cilantro to garnish
Preparation
1
If using dried beans, pour the beans into a large bowl and cover with several inches of water. Let soak for 6-8 hours or overnight. 
Dump the water and rinse off the beans, then pour them into a pot. Cover with water, add a big pinch of salt and bring to a simmer. 
Simmer until the beans are creamy and soft, but not splitting. This will likely take an hour or so, but will depend on how old the beans are. Drain and set aside until ready to use in the recipe. 
2
Preheat oven to 400°F (200°C, gas mark 6).
Put the head and neck onto a sheet pan and roast in the oven until golden brown, about 30-40 minutes. 
Put the head and neck into a large stock pot and cover with water. Bring to a simmer and cook gently for 3-4 hours, or until the meat falls off of the bone. Replenish the water if need be. 
Pull out the neck and head and set aside to cool.
Raise the temperature of the pot so that the liquid is on a low boil. Let the it reduce until there are about 2 cups (500ml) left. Set this aside.
3
Once the head and neck are cool enough to handle, pull off all of the usable meat. You'll find most around the neck, base of the skull, cheeks, and lower jaw. 
Discard the bones and shred the meat. 
4
Remove the stems and seeds from the dried chilies by breaking them open and pouring them out. Discard them.
In a dry pan over medium heat, toast the chilies until they smell rich and toasty, about 5 minutes. Be sure they don't burn. 
Set them aside and add the cumin and coriander seeds to the pan. Toast until they smell rich and toasty, then grind them in a spice grinder or mortar and pestle. 
Add the toasted chilies back to the pan and pour in the 2 cups (500ml) of venison stock you set aside earlier. 
Bring to a simmer and cook for about 5 minutes, or until the chilies are softened. 
5
Let the liquid cool, then add it and the chilies to a blender. 
Add to the blender the coffee, fish sauce, tomato paste, and Worcestershire sauce. 
Blend on high until very smooth. 
6
In a large pot, add the oil or lard over medium high heat. 
Add the onions and cook for about 5-8 minutes, or until they're translucent. Add the garlic, peppers, oregano, paprika, black pepper, and the ground cumin and coriander. 
Cook, stirring often, for another 5 minutes. 
Add the chili purée from the blender, the can of tomatoes, the beans (or can of beans), and the shredded meat. 
Cook on low for 45-60 minutes. Add the brown sugar and vinegar and cook for 5 more minutes. Taste for salt and add more if necessary. 
7
To serve, ladle into bowls and top with a dollop of sour cream or yogurt and a smattering of chopped cilantro leaves. Enjoy!