Ukrainian Pampushky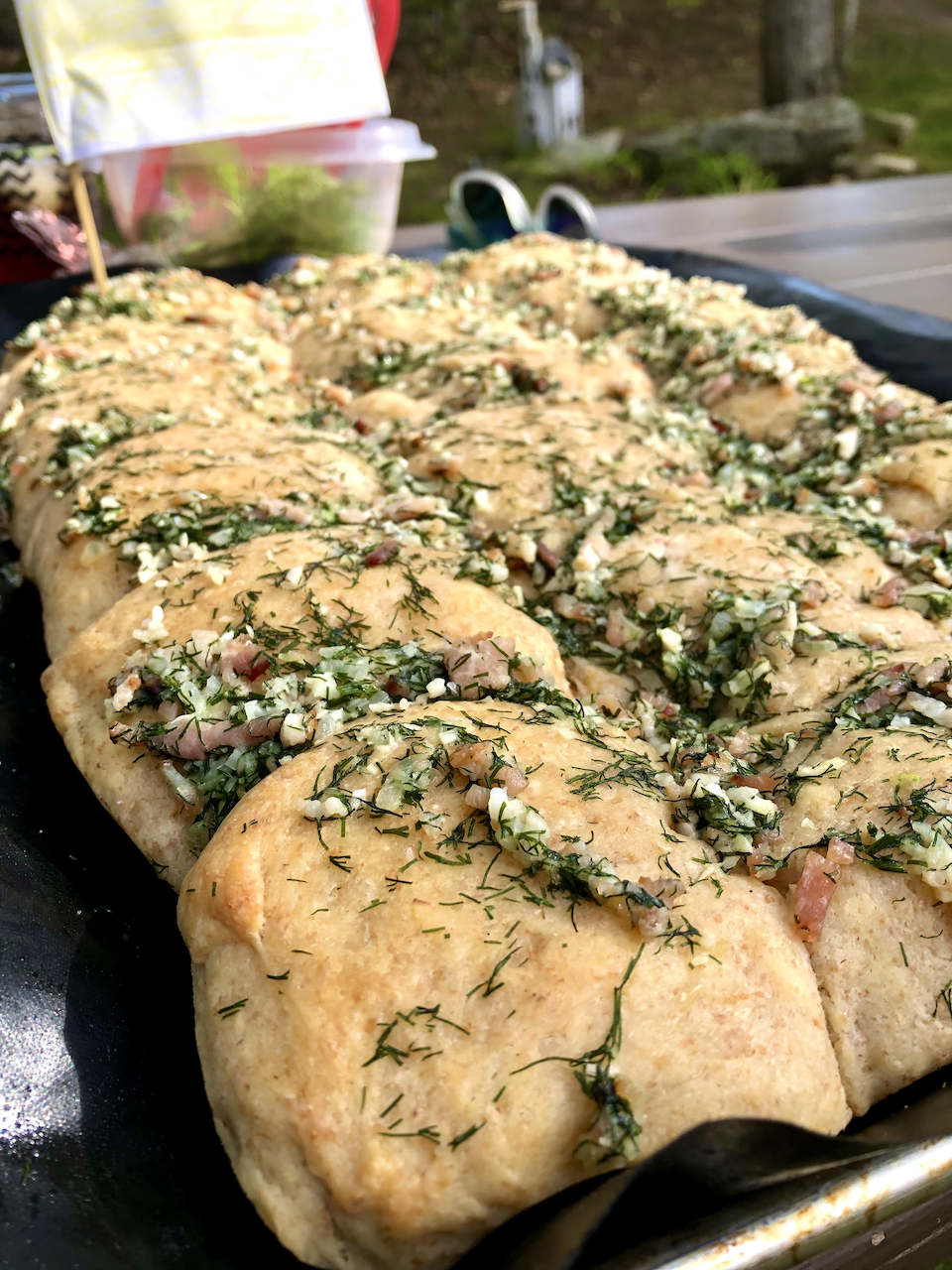 These delicious savoury doughnuts are ubiquitous in the Ukraine and commonly served with borscht, the famous Ukrainian beet soup. 
Traditionally made with salo, a cured pork fat product, I ended up making them with bacon instead, which turned out fantastic. 
I made mine for a neighbourhood party where everyone brought a themed dish and cocktail. We served them with a beet and vodka cocktail reminiscent of borscht! 
Prep Time

1 hr 30 min

Cook Time

30 min

Total Time

2 hr

Yield

8-16 buns, depending on size
Ingredients
For the Pampushky
0.8 cup (200ml) warm whole milk (or 100ml water and 100ml cream)
2 teaspoons (6g) active dry yeast
1 teaspoon (3g) kosher salt
2 tablespoons (28g) white sugar
2 large eggs
3/4 cup (180ml) melted butter
2 cups (300g) white flour
1 cup (120g) spelt flour (or use 3 cups white flour)
For the Topping
1 slice bacon, finely minced
1/2 small onion, finely minced
2 cloves garlic, minced
3 tablespoons (45ml) melted butter, lard, or oil
Pinch of kosher salt
1/2 bunch of dill, chopped finely
Preparation
1
Stir together warm (not hot!) milk and yeast in a large bowl. 
Let sit for 10 minutes. 
2
Beat together eggs, sugar, and salt in a small bowl. Add it to the yeast/milk mixture and mix well. 
Stir in the melted butter, then begin to add flour gradually, stirring it in with a wooden spoon. 
When it becomes too hard to mix, switch to clean hands. 
3
Dust a surface generously with flour and turn out the dough. Knead for about 2 minutes. The dough will probably be quite sticky at this point, that's okay. 
Wash out the bowl and dry it, then grease it with oil or butter. Put the dough back in the bowl, cover it with plastic wrap or a damp towel and leave it in a very warm place until doubled in size, about 1 hour or so. 
4
Preheat oven to 400°F (200°C, gas mark 6).
Set an oven proof dish full of water on the lowest rack. This will help steam the buns. 
5
Once the dough has doubled, remove plastic wrap and set aside to use later. 
Grease a sheet pan with butter and grease your hands as well. 
Form 8 balls out of the dough (for large standalone pampushky) or 16 balls (for smaller pull-apart pampushky).
If making standalone pampushky, keep the dough balls quite separate. If making pull-apart ones, you can nestle them right up against each other. 
Cover the sheet pan with the plastic wrap and let sit for another 15-30 minutes. 
6
Remove plastic (you will be potentially using it one more time) and put the sheet pan of pampushky in the oven. 
Bake for 30 minutes, or until light golden brown. 
7
Meanwhile, make the topping. 
Fry the bacon over medium heat until the fat begins to render (you don't want it to brown or be crispy).
Add the onions and fry for 5-7 minutes or until the onions are soft (once again, you don't want them to brown). 
Take off the heat and immediately stir in the garlic, letting the residual heat cook it a little bit. 
Let it cool a bit, then add the melted butter, salt, and dill and stir it in together. 
8
Pull the pampushky out of the oven and immediately pour and brush on the topping, making sure it is split evenly between the tops of all of the buns.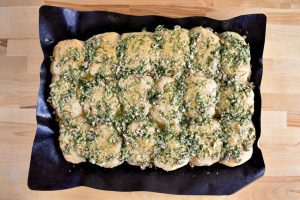 If you prefer a softer pampushky, you can drape the plastic wrap back over the buns and let them cool like that. 
9
Once the buns are cool enough to eat, serve. Great served alongside borscht. Enjoy!