Chinese Goose Leg Noodle Soup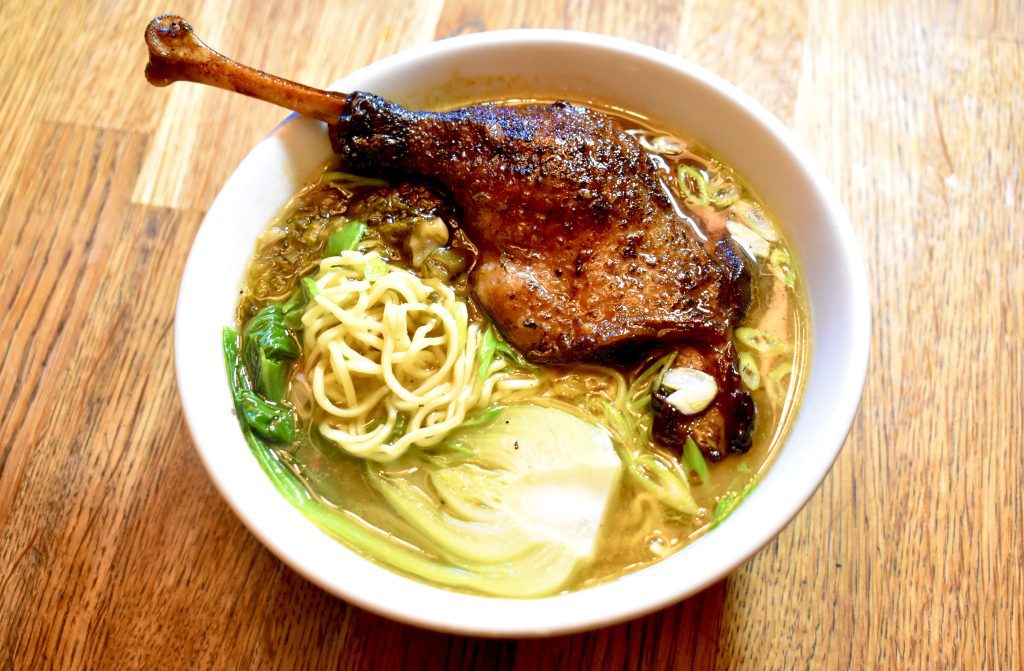 This Chinese goose leg noodle soup will change the way you look at wild goose legs forever! Rich, tender, delicious, and easy to make!
Use homemade or store-bought chicken stock for the base, or even better, use this recipe for goose wing broth!
Chinese mustard greens can be found chopped in packets, or vacuum-sealed whole in brine in any Chinese grocery. Ditto for Sichuan peppercorn, star anise, Shaoxing wine, and oyster sauce. 
Prep Time

2 hr

Cook Time

6 hr

Total Time

8 hr

Yield

4 servings
Ingredients
For the Goose Legs
4 goose legs, skin on
Kosher salt
1 teaspoon ground Sichuan peppercorn
1 tablespoon oil or goose fat
3 thick slices ginger
3 peeled cloves garlic
3 scallions, trimmed
1 star anise OR 1 teaspoon Chinese 5-Spice powder
1 dried chili

 

1/4 cup Shaoxing wine
2 cups water OR goose stock
1 tablespoon oyster sauce
2 tablespoons light soy sauce
1/2 teaspoon sesame oil
For the Soup
1 gallon (4L) chicken stock, game stock, or goose wing broth
2 bok choy
1 package fresh or dried chow mein noodles
2 scallions, thinly sliced
1 cup preserved mustard green, chopped (optional)
Preparation
1
Sprinkle goose legs with salt and Sichuan peppercorn. Let sit, uncovered, in the fridge for a couple of hours up to overnight. 
2
Preheat oven to 350°F.
Heat the oil or goose fat in an oven-proof skillet over medium-high heat.
Add goose legs skin side down to sear. After 2 minutes, reduce heat to medium. Sear for 5 minutes then flip. Cook for another 5 minutes, pour off the fat (keep for other recipes), then add the rest of the Goose Legs ingredients.
Bring to a simmer, then transfer uncovered to the oven. 
Roast 3-6 hours until tender (cooking time will vary with the age and type of bird), adding more liquid if necessary and basting with the liquid in the pan every hour or so. 
3
Add the goose, game, or chicken stock to a pot and heat it up gently. 
4
Fill another pot with water and bring it to a boil. Slice the bok choy in half lengthwise, then add it to the pot. Boil for 1 minute, then transfer to a bowl of cold water. 
Add the noodles to the pot and boil for 1 minute or per package directions. 
Drain noodles, then split them between 4 bowls. 
5
Put a goose leg, 1 halved bok choy, 1/4 of the mustard greens and a pinch of sliced scallion on top of the noodles. Ladle hot broth over everything, filling the bowl. Serve immediately. Enjoy!
Notice how I didn't have you scroll through pages of mundane nonsense to get to the recipe? Notice that there were no annoying pop-ups or ads? That was on purpose!
I want finding and using my recipes to be easy for you, not frustrating. That does translate into a lot of lost income for me though. If you made this recipe and loved it, would you consider "buying me a coffee" and donating a buck or two through the Buy Me a Coffee app? It will help me keep pumping out recipes like this one!