Dandelion Salade Lyonnaise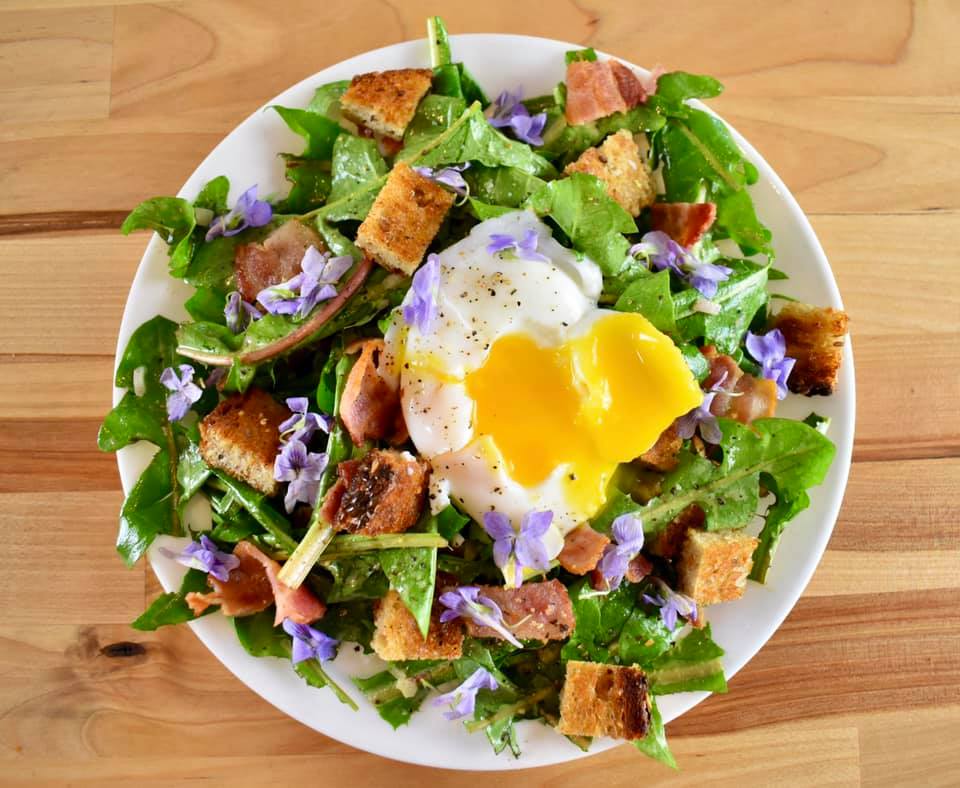 This Dandelion Salade Lyonnaise is a spin on the bistro classic from Lyon, France, where it is usually made with curly endive or frisée.
Dandelion greens make an excellent substitution though, as they mimic the slight bitterness of the endive. 
Harvest the dandelion leaves in the spring, before flowering, when they are at their least bitter. Be sure to harvest in a place where you know there is no pesticides, fertilizers, or pet waste and wash them well! 
Prep Time

10 min

Cook Time

15 min

Total Time

25 min

Yield

2 servings as a meal, 4 servings as a side
Ingredients
1 teaspoon vegetable oil
5 slices of bacon
1 clove of garlic, peeled 
1 slice of bread
1 egg per diner
1 large or 2 small shallots, minced
2 tablespoons (30ml) red wine vinegar
1 tablespoon (15ml) Dijon mustard
1 teaspoon (4g) white sugar
Kosher salt and black pepper
2 tablespoons (30ml) olive oil
1 tablespoon (15ml) bacon fat
3.5 ounces (100g) dandelion leaves
Wild flowers like violets to garnish 
Preparation
1
Fill a medium pot 2/3s with water and bring it to a very low simmer. 
2
Meanwhile, add the oil to a frying pan and then add the bacon strips. Fry over medium heat until crispy. 
Remove from the pan and drain on paper towels. 
3
Using the flat of a knife blade, smash the garlic clove, then add it whole to the oil/bacon fat. Cook for a minute or two, then add the slice of bread and cook until toasted and crispy on both sides. 
4
When the water has reached a very low simmer (barely bubbling) you can poach the eggs.
Start by cracking an egg into a sieve over the sink. This will get rid of all of the stringy bits. Slide the egg into a ramekin or small bowl, then slide it from there into the hot water. Repeat with the rest of the egg(s). 
Cook in the water for about 5 minutes, or until the white is set, but the yolk is still soft. Remove from the water with a slotted spoon and set aside for the time being. 
5
Make the vinaigrette by whipping together the shallots, vinegar, mustard, sugar, a pinch of salt and pepper, the olive oil, and a tablespoon of the warm bacon fat in a small bowl.
6
Chop the bacon into bits and the toasted bread into cubes. You can also mince the browned garlic clove and add it to the salad if you wish. 
7
Dump the dandelion leaves into a large salad bowl and add the croutons, bacon bits, and garlic. 
Toss it all with the vinaigrette, then pile it onto plates. 
Top with a poached egg, some more pepper, and flowers (if using). Serve immediately.
8
Diners break open the poached egg, and the yolk should intermingle with the salad dressing. 
Enjoy!