Middle Eastern Venison Wraps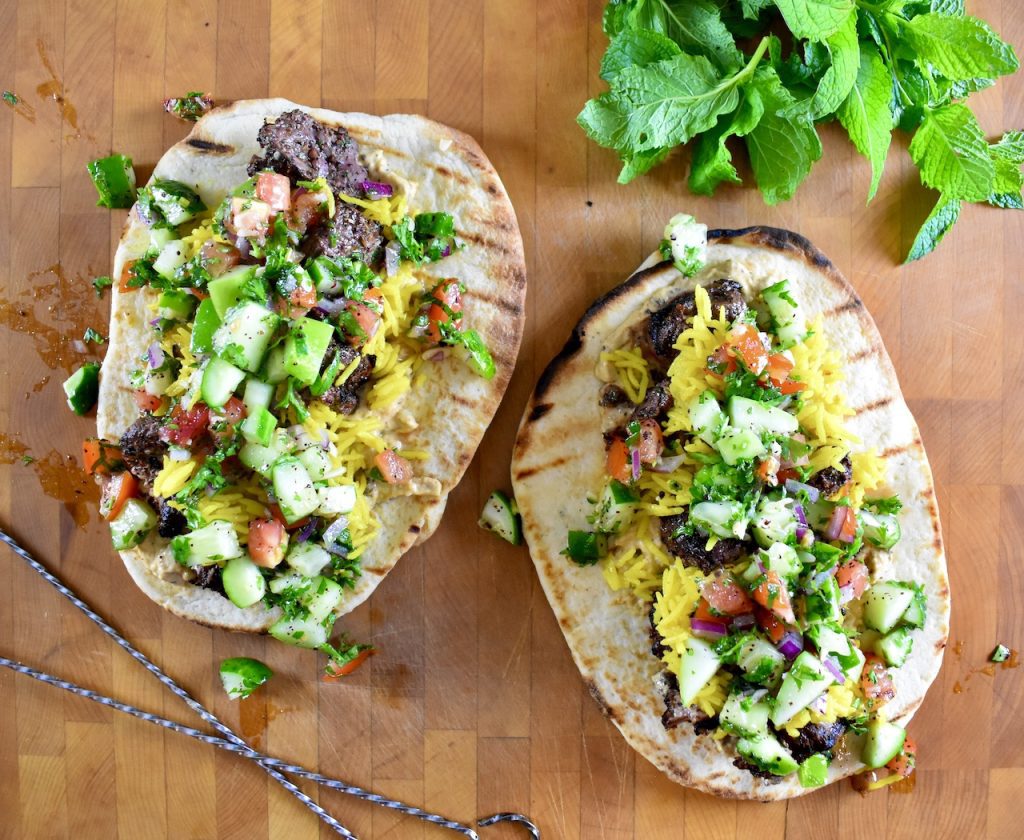 These wraps are not only showstopper gorgeous, they are incredibly tasty as well! 
When I was still a teenager, I would make something similar to this with lamb, store-bought baba ganoush (ganouj), rice, and lettuce. I always really enjoyed that meal and I wanted to update it with some wild game and homemade elements. 
Use venison (or lamb) cut from the sirloin, loin, or round, though sirloin is the best cut for this by far. 
Try to have all of the elements prepped so you can just construct the wraps when the venison comes off the grill. 
Prep Time

1 hr

Cook Time

1 hr

Total Time

2 hr

Yield

4 hefty wraps
Cuisine

Course

Cooking Method
Ingredients
For the Venison
1lb (454g) venison sirloin, loin, or hindquarter, cut into large bite sized cubes
1 teaspoon (2g) ground cumin
1 teaspoon (2g) ground coriander
1 teaspoon (2g) sumac
1 teaspoon (2g) Aleppo chili flakes
1/2 teaspoon (3g) kosher salt
1/2 teaspoon (1g) black pepper
2 cloves garlic, minced
2 tablespoons (7g) minced parsley
2 teaspoons (10ml) olive oil
4 naan or pita breads
For the Baba Ganoush
1 small Italian eggplant (dark purple globe style)
1/2 teaspoon (1g) smoked paprika
1/2 teaspoon (1g) cumin powder
1 clove garlic
Juice from half a lemon
2 tablespoons (30ml) tahini
2 tablespoons (30ml) extra virgin olive oil
Salt and pepper to taste
For the Rice
1 tablespoon (14g) butter
1 small onion, minced
1 clove garlic, minced
1/2 cup (90g) long grain white rice
1 pinch kosher salt
1/2 teaspoon (1g) turmeric
1 tablespoon (4g) minced parsley
1.3 cups water
For the Salata Biladi
1 cucumber, chopped
2 tomatoes, chopped
1/4 red onion, chopped
1 clove garlic, minced
Handful parsley, chopped
Handful cilantro, chopped
Handful mint, chopped
Juice from half a lemon
Pinch of kosher salt
Big pinch sumac
Preparation
1
Mix together the cumin, coriander, sumac, chili flakes, salt, pepper, garlic, parsley, and olive oil into a paste. 
Toss the venison cubes in the paste so that they are completely coated. Let marinate for at least 1 hour to overnight. 
If using bamboo skewers to cook the venison, soak them in water. 
2
Get your grill going on medium high heat. 
Put the eggplant on the grill whole and cook it until the outside is charred and the inside is soft and collapsing. 
Set aside to cool. 
3
Meanwhile, cook the rice. 
Melt the butter in a pot over medium high heat and add the onion. Cook for 3-4 minutes, then add the garlic, salt, turmeric, and rice. 
Cook for another 2 minutes, stirring often, then add the water. Bring to a boil, cover with a lid, and reduce heat to low. 
Cook for 15 minutes, then let rest for another 10 minutes off of the heat. without taking off the lid. 
Add the parsley and fluff with a fork. 
4
When the eggplant has cooled, tear off and dispose of the charred skin. 
Add the soft flesh to a blender, food processor, or mortar and pestle along with the paprika, cumin, garlic, lemon juice, and tahini. Pulse until everything is chopped up and combined. 
Slowly add the oil, pulsing a few times to incorporate it. Taste, then add salt to taste. 
5
Skewer the venison meat onto metal or soaked bamboo skewers, then throw them on the grill over high heat. 
Add the naan breads or pita as well, and cook just until warmed through and a touch crispy on the outside. 
Grill for 5-10 minutes, or until crispy on the outside and medium rare in the middle. 
Set aside to rest for a few minutes. 
6
Make the salad by combining all of the salata biladi ingredients into a bowl and mixing well. 
7
To build the wraps, smear a generous amount of the baba ganoush (eggplant spread) onto each of the flatbreads. 
Take the meat off of the skewers and spit it all between the four wraps. 
Top with a spoonful of rice, then scatter some of the salad on top. 
Serve immediately. Enjoy!