Venison Shank Sliders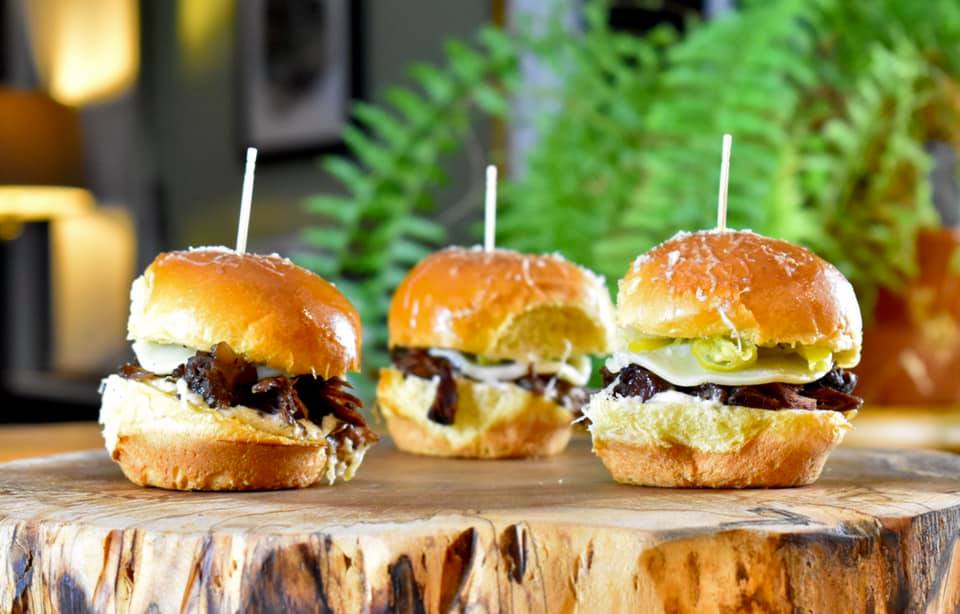 These venison shank sliders will blow your mind! 
Slow cooked shanks make for the perfect slider topping, adding huge flavour. The other toppings all work together to make an amazing appetizer, snack, Superbowl party food, or a full meal, which is how I enjoyed them. 
You could use venison, beef, or lamb for this and it would also work great with shredded neck or shoulder meat if you don't have shanks. You may just need to reduce the cooking time in step 1. 
Prep Time

10 min

Cook Time

4 hr 15 min

Total Time

4 hr 25 min

Yield

6 sliders

Serving Size

3 each
Ingredients
3 cups braised shank meat, shredded (see step 1)
6 small slider buns, brioche if possible
3 tablespoons mayonnaise
1.5 tablespoons prepared horseradish
Black pepper
6 pickled pepperoncini peppers, stemmed and chopped
6 slices of provolone cheese
1 tablespoon olive oil
1/4 cup Parmesan cheese, grated
Preparation
To braise shanks:
1
Take 2 venison shanks. They can be whole or cut osso buco style. 
Season generously with salt and pepper. 
Put some oil in a Dutch oven and heat over high. Add the shanks and sear, turning every 5 minutes or so, until a golden brown crust forms on all sides. 
Add 6 cups venison stock or water and scrape up any bits that stuck to the bottom of the pot. 
Put into a 275°F oven for 4 hours, or until the meat can easily be shredded with a fork. 
Save the liquid for gravy or soup! 
For the Sliders
3
Mix the mayo and horseradish in a bowl. Add a generous amount of black pepper. 
4
Slather both sides of the buns with the mayo. 
Pile on the shredded venison shank, splitting it even between the buns. 
Add a slice of cheese onto each bun. I used a glass to cut the cheese slices into pieces that fit on the slider better, but if you like it extra cheesy, leave them as is. 
Top with the chopped pepperoncini, then close the buns. 
5
Pour a tablespoon or so of olive oil in a little bowl. 
Use a bbq or pastry brush to brush the oil onto the tops of the buns. 
Sprinkle with the grated Parmesan cheese. 
6
Put the sliders on a sheet pan and into the oven for 10-15 minutes, or until the buns are golden and the cheese has melted. 
Serve immediately. Enjoy!