Oven-Fried Pig Tails with a Sweet and Spicy Sauce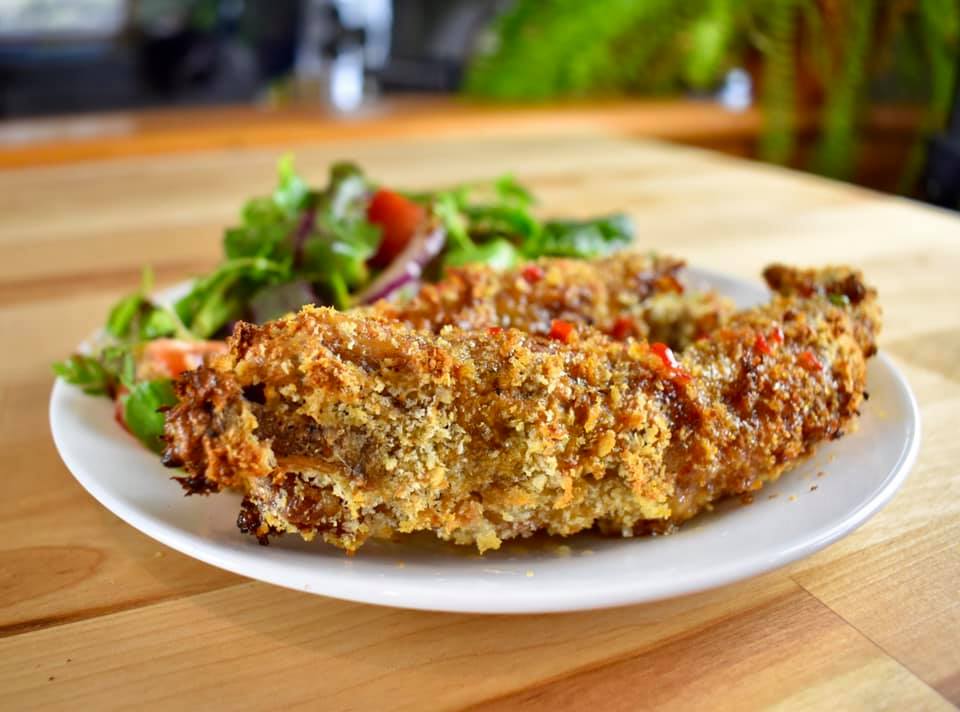 These oven-fried pig tails get braised, coated in panko breadcrumbs, and then baked in the oven until super crispy. Doused in a sweet and spicy sauce, they're incredible. Pig tails have vertebrae-like bones through the centre, and to eat them, you gnaw on the surrounding meat off of the bone. If you're a fan of chicken wings or pork ribs, then these pig tails are for you!
Prep Time

30 min

Cook Time

3 hr 30 min

Total Time

4 hr

Yield

2-4 servings, depending on size

Serving Size

1-2 pieces
Ingredients
6 pig tails
1 onion, peeled but left whole
2 bay leaves
2 whole star anise
6 whole black peppercorns
1/4 cup (60ml) cooking sherry, white wine, or Shaoxing wine
3 tablespoons (45ml) light soy sauce
1 tablespoon (15ml) cider vinegar
3 tablespoons (15g) brown sugar
1 teaspoon (3g) chopped red chili, no seeds (or use 1/2 teaspoon dried chili flakes)
1 cup (135g) all purpose flour
Salt and pepper
2 large eggs
2 cups (130g) panko breadcrumbs (or regular)
Preparation
1
Add the pig tails, onion, bay leaves, anise, peppercorns, sherry/wine, and soy sauce to a large pot.
Pour in enough water to completely cover everything by an inch or two (2-5cm). 
Bring to a boil, then reduce to a simmer, skimming off any gunk that floats to the top. 
2
Keep simmering uncovered for about 3 hours, or until the liquid has mostly evaporated and the pigtails feel tender. If the liquid evaporates well before the 3 hour mark, add more water. 
Remove the pig tails from the liquid and set aside to cool. 
3
Preheat the oven to 425°F (220°C, gas mark 7), or 400°F (200°C, gas mark 6 with fan) with convection if you have it. 
4
Use a slotted spoon to remove the spices from the braising liquid. Discard the spices. 
Add the vinegar, sugar, and chili to the braising liquid and bring to a high simmer.
Keep cooking it until it has reduced to a sticky sauce, about 1/4 cup's worth (65ml).
Take off the heat and set aside for the time being. 
5
Take out 3 plates. 
Put the flour on one and mix in a pinch of salt and pepper. 
Crack the eggs on another and beat them until smooth. 
Dump the panko on the last plate. 
6
Roll each pig tail in flour, then coat it in egg, then dip it in the panko, being sure to get breadcrumbs on the entire surface. 
Move the breaded pigtails to a baking sheet with a wire rack to keep them elevated (not necessary, but this will help with crispiness). 
7
Put the tails in the oven for about 30 minutes, or until golden and crispy. Be sure to keep an eye on them past the 15 minute mark so they don't burn. 
Serve with a tart salad and drizzle the crispy tails with the chili sauce. Enjoy!