Cajun Maque Choux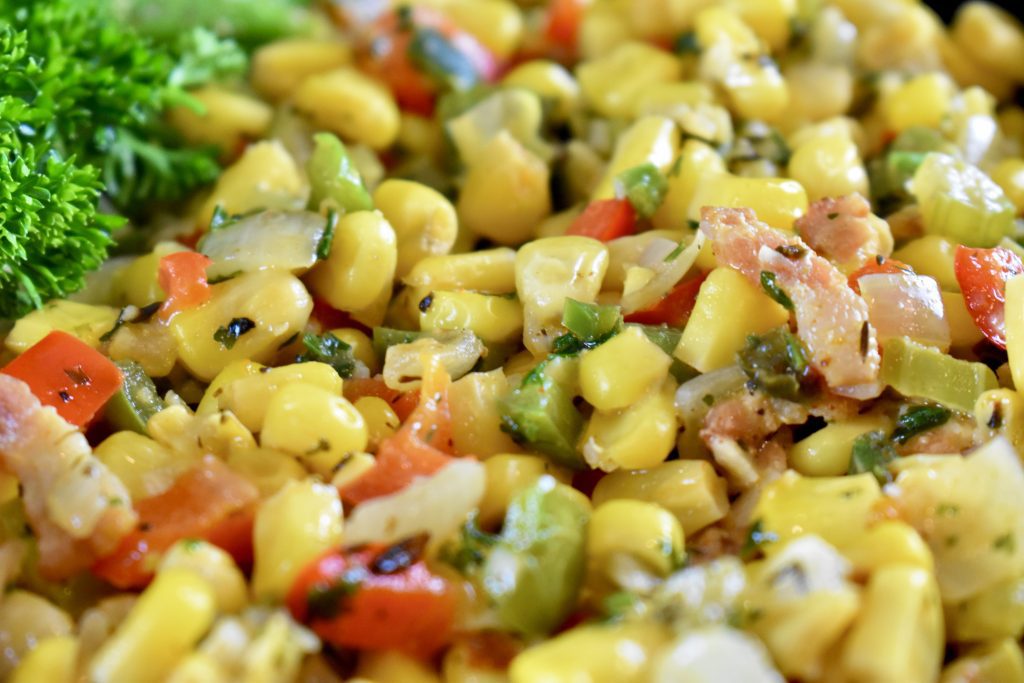 Maque choux is a Cajun take on succotash, an indigenous dish. It is great as a side (try serving it with my Cajun garlic butter goose bites) or, you could add grilled shrimp or chicken breast strips to turn it into a fun summer meal. 
Prep Time

15 min

Cook Time

20 min

Total Time

35 min

Yield

4 servings as a side
Ingredients
2 slices bacon, cut into thin batons
2 cups (500ml) canned corn
1/2 green bell pepper, finely chopped
1/2 red bell pepper, finely chopped
1/2 jalapeño, de-seeded and minced
1 stalk celery, finely chopped
1 small onion, finely chopped
2 tablespoons (8g) fresh parsley, minced
1/4 teaspoon (1.5g) kosher salt
1/4 teaspoon (0.5g) black pepper
1/4 teaspoon (0.25g) dried thyme
1 tablespoon (10g) Cajun seasoning
1/4 cup (60ml) cream
1/4 cup (60ml) chicken stock (or just use 1/2 cup 125ml) cream or 1/2 cup (125ml) chicken stock total)
Preparation
1
In a large skillet or frying pan, fry bacon batons over MEDIUM heat until they begin to get crispy, about 5-7 minutes.
2
Add corn, peppers, jalapeño, celery, onion, garlic, and parsley and cook for about 10 minutes, stirring regularly.
3
Add the salt, pepper, thyme, and Cajun spice and cook for another minute.
4
Add the cream and chicken stock, reduce heat to LOW and cook for about 2 minutes, or until the liquid begins to thicken.
5
Once thickened to a creamy texture, take off of the heat and serve. Enjoy!