Cajun Garlic Butter Goose Bites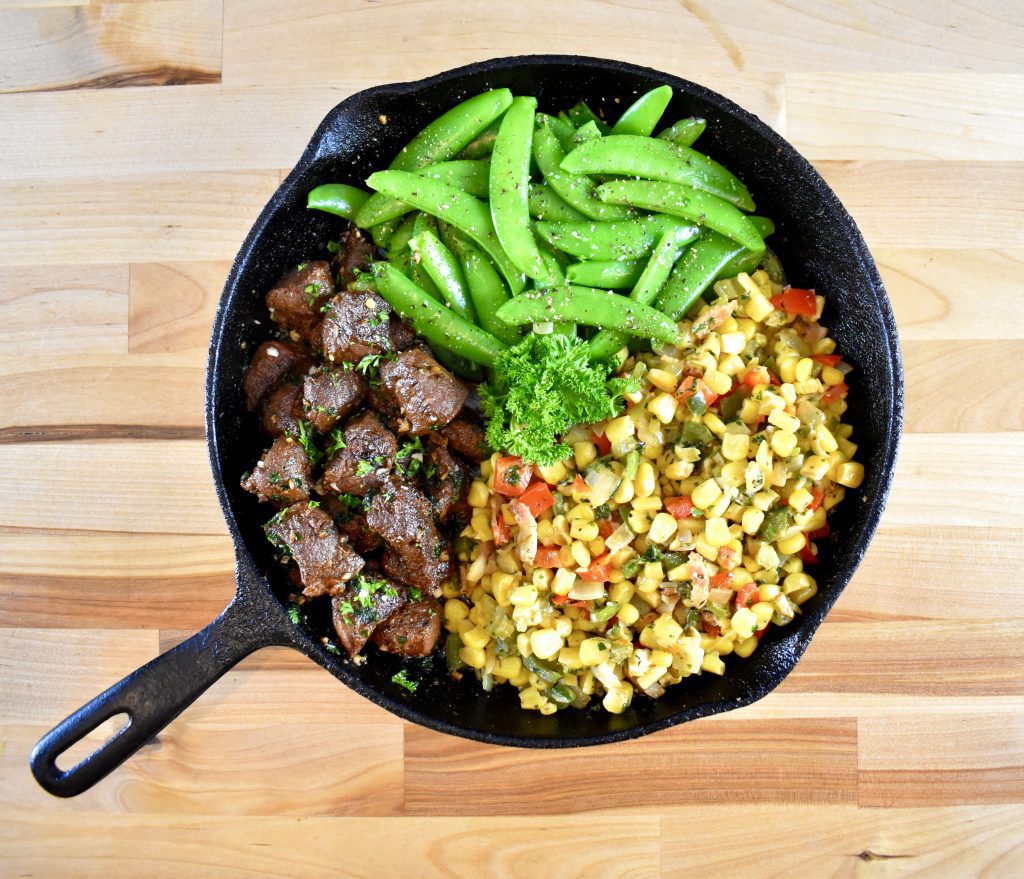 This is a quick, easy, and delicious recipe that will put dinner on the table in under 30 minutes. The spicy garlic butter pan sauce laced with Cajun spices works magically with cubed goose breast, though you could use beef or venison backstraps, striploin, or sirloin for this as well. Serve with the Cajun staple maque choux since it's delicious, easy to prepare, and provides the perfect amount of sweetness to counterbalance the spicy richness of the goose. I also served blanched sugar snap peas with a spritz of lemon juice on the side for some crunch. Be sure you don't overcook the goose breast, once it's past medium done, it develops a grainy texture and undesirable flavours.
Feel free to use your favourite Cajun seasoning blend, and be sure to hit everything up with some Louisiana hot sauce at the end if you want to kick it up a notch!
Prep Time

14 min

Cook Time

6 min

Total Time

20 min

Yield

Serves 4
Ingredients
For the Goose Bites
1 large or 2 medium goose breasts (skin on or off)
Kosher salt
1 tablespoon (10g) + 1 teaspoon (3g) Cajun seasoning
1 tablespoon (15ml) vegetable oil (optional, see instruction #1)
3 tablespoons (25g) garlic, minced
2 tablespoons (28g) butter
1 tablespoon (4g) fresh parsley, minced
Preparation
1
If your goose breast(s) have skin, remove it and chop it into small pieces. Put into a dry skillet or frying pan and cook over MEDIUM heat until the pieces render our their fat and become crispy, about 10 minutes or so. Remove the crispy bits and eat them with Cajun seasoning as a snack. Set aside the skillet to cook the goose bites in later. If the breasts don't have any skin, disregard this step and use vegetable oil to cook the breasts instead.
2
Cut the goose breast(s) into small bite-sized cubes, no bigger than 1".
3
Season generously with a pinch of salt and 1 tablespoon of the Cajun spice. Use your hands to toss the cubes in the seasoning, making sure they get completely covered. 
4
Heat up the skillet containing the goose fat, OR add 1 tablespoon of vegetable oil to a skillet over HIGH heat.
5
Add the seasoned goose cubes and let sear for about 1 minute. If things look like they're burning, reduce the heat a little bit. Toss the cubes around and cook for another 4 minutes or so. You want seared outsides and medium rare to medium insides. I won't tell anyone if you pop one or two in your mouth to check their doneness!
6
Once done, remove the goose cubes from the pan and transfer to a plate.
7
Reduce heat to MEDIUM. Add the butter and garlic to the pan and cook for 1 minute.
8
Take off the heat, and then add the goose cubes, ½ of the parsley and the other teaspoon of Cajun spice. Toss so everything gets completely coated in the sauce.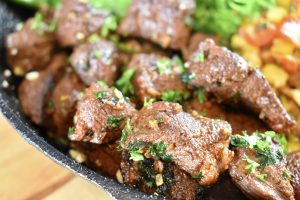 9
Garnish with the rest of the parsley. Enjoy!