Canada Goose Steak and Eggs with Chimichurri Hollandaise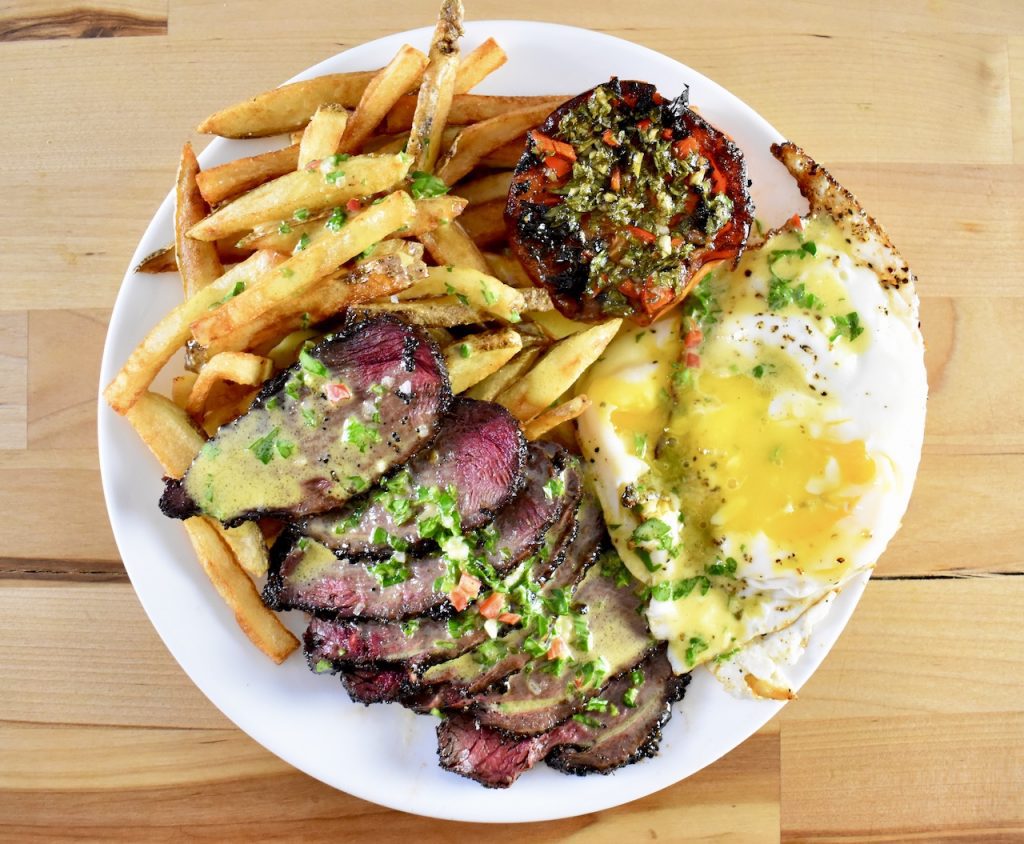 This Canada goose steak and eggs with chimichurri hollandaise sauce is perfect for breakfast, or dinner… or breakfast for dinner!
The coffee rubbed goose goes fantastically with the chimichurri hollandaise and works just as well as beef steak, as long as you cook it rare to medium rare. If you don't have goose, you could use beef sirloin or striploin for this recipe instead. 
This is actually quite an involved recipe. You could simplify it by replacing the homemade sauces with store-bought and baking or roasting the potatoes instead of making french fries. 
Prep Time

1 hr 30 min

Cook Time

30 min

Total Time

2 hr

Yield

2 large servings
Cuisine

Course

Cooking Method

Special Equipment
Ingredients
1 large Russet potato (or 2 medium)
1 large Canada goose breast (or 2 small breasts)
2 tablespoons finely ground coffee
1 tablespoon brown sugar
Kosher salt
1/2 teaspoon black pepper
1/2 teaspoon ground chili powder
1/2 cup fresh parsley, minced
2 cloves garlic, minced
1 red chili, minced
1/2 teaspoon dried oregano leaves
1/2 cup olive oil
2 tablespoons + 1 tablespoon red wine vinegar
Vegetable oil or lard for frying
1 tablespoon duck/goose fat or vegetable oil
1 tomato
1/2 cup butter, melted
3 egg yolks
1 teaspoon Dijon mustard
2-4 large eggs
Preparation
1
Cut the unpeeled potatoes into french fries, put into a bowl and cover with cold water. 
Let sit for about an hour. 
2
Meanwhile, trim the goose breast of any silver skin. 
Combine the ground coffee, brown sugar, 1 teaspoon of kosher salt, pepper, and chili powder in a small bowl. 
Rub all over the goose breast. Set aside for the time being. 
3
To make the chimichurri sauce, combine the parsley, garlic, red chili, 1 teaspoon kosher salt, oregano, olive oil, and vinegar in a bowl. 
Set aside. 
4
Preheat the oven to 400°F (200°C, gas mark 6).
5
Drain the potatoes and let them dry off for a few minutes.
Heat a couple of inches of vegetable oil in a pot or high sided skillet to 300°F (150°C).
Add the potatoes to the oil and cook for 5 minutes. Remove from the oil and allow to drain on paper towels. 
6
Heat the duck/goose fat or oil in an oven proof skillet over medium high heat. 
Add the goose breast on the skin side and cook for 3 minutes. Flip and cook for another 3 minutes, then transfer to the oven until the internal temperature reads 130°F (55°C), about 10 minutes for a large goose breast. 
Remove from oven, put it on a plate or cutting board and let rest for 10 minutes. 
Cut the tomato in half and put it cut side down into the hot skillet. Let it sizzle for a couple of minutes. 
Turn it over and top it with some of the chimichurri sauce.
7
Melt the butter in a pot or in the microwave. 
Add the yolks, 1 tablespoon of vinegar, mustard, and 1/4 teaspoon of salt to a blender and blend on medium. Slowly drizzle in the melted butter until the sauce is emulsified. 
Pour into a bowl.
Stir in 2/3rds of the chimichurri sauce.
Keep warm. 
8
Heat the frying oil back up to 400°F (200°C).
Add the half cooked french fries to the hot oil and fry until golden. 
Remove from the oil and season with salt immediately. Let drain on paper towels. 
9
Fry 2-4 eggs however you like them. I cooked mine over-easy for this dish. 
10
Slice the goose breast into thin slices. 
Split the french fries between two plates, lay on the sliced goose breast, add the eggs and tomato, and drizzle everything generously with the chimichurri hollandaise. 
Serve immediately. Enjoy!