Creamy Miso Mushrooms on Toast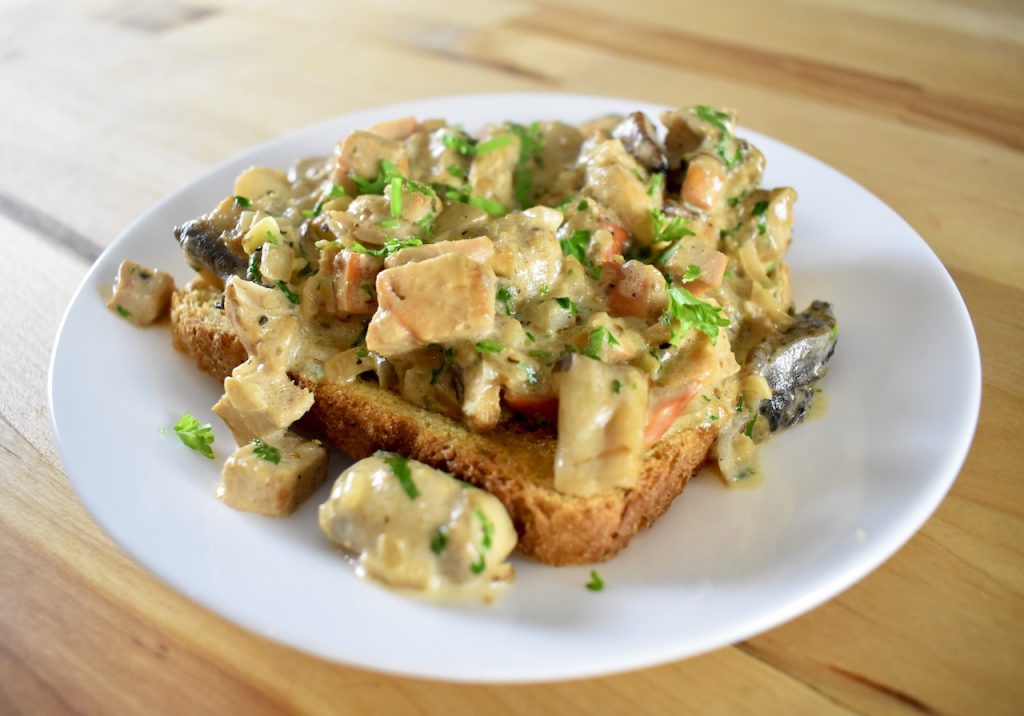 These creamy miso mushrooms on toast are sure to please. A mix of wild or store bought mushrooms get cooked down with cream and miso paste then spooned onto toast for a light meal or an indulgent snack. 
I used chicken of the woods, hen of the woods, agaricus, shaggy mane ink caps, velvet shanks, and oyster mushrooms to make mine, but you can use any mix of mushrooms, including regular old white button if that's all you can get your hands on. It is best to use a mix for contrasting shapes, flavours, and textures though! 
Prep Time

10 min

Cook Time

15 min

Total Time

25 min

Yield

4 servings

Serving Size

1 Piece of Toast
Cuisine

Course

Cooking Method

Suitable for Diet
Ingredients
12 oz (350g) mixed wild or store-bought mushrooms, all cut into small bite-sized pieces
2 tablespoons (30ml) vegetable oil
Kosher salt and freshly cracked black pepper
1 large or 2 small shallot(s), chopped
2 cloves garlic, minced
2 tablespoons (30ml) white wine, vermouth, or sherry
1 tablespoon (15ml) soy sauce 
1 tablespoon (14g) butter
1 tablespoon (17g) white miso paste
1 cup (250ml) half and half cream
1 tablespoon (4g) fresh parsley, minced
Preparation
1
Add oil to skillet over medium high heat. Add mushrooms and season with salt and pepper. 
Sear for 2 minutes without disturbing, then stir, letting the mushrooms let out all of their liquid. 
Cook, stirring, for another 5 minutes. 
2
Add the shallots and garlic and cook for 2 more minutes, stirring regularly. 
Add the wine/vermouth/sherry and soy sauce. Cook for 1 minute. 
Add the butter. 
Mix the miso paste into the cream, beating it to make it dissolve, then add them to the pan. 
Add 1/4 cup (60ml) water and half of the parsley. 
Turn down the heat to low and simmer for 3-5 minutes, or until thickened. 
3
Meanwhile, toast 4 slices of bread. 
Once the mushroom mixture has thickened, spoon it onto the pieces of toast. Garnish with the rest of the parsley and serve immediately. Enjoy!