Car Camping in Algonquin Provincial Park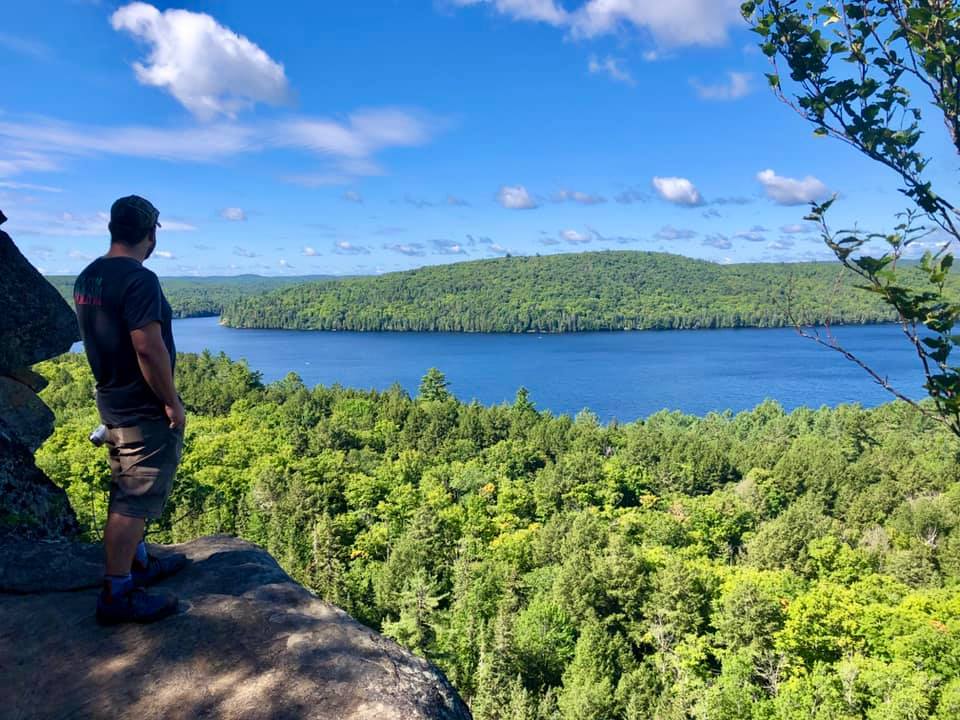 "Anyone who has known Algonquin Park will be disappointed when they get to Heaven" - Ralph Bice
Located in north-central Ontario, Canada, Algonquin Provincial Park is 7,653 square km (2,955 square mi) in size and is Canada's oldest provincial park. The park separates northern and southern Ontario, which can be seen in its forest types, riding the transition from northern boreal forest to southern deciduous. The park was established in 1893 to provide protection and regulation to the land from logging and farming. It is now a National Historic Site of Canada, and is home to a huge diversity of plant and animal species, as well as trails, car camping, canoe camping, and backpack camping sites.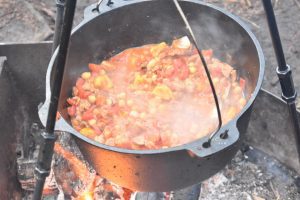 Since COVID so rudely interrupted all of our remaining travel plans for the year, we figured we'd do some local traveling for a change of scenery and made our way to Algonquin for some easy peasy car camping. Since we were just car camping, and not backpacking or backcountry camping, we could afford bringing some luxuries in terms of food and cooking tools for gourmet eating!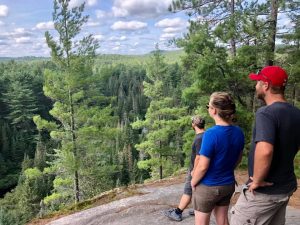 First day we arrived, met up with some long lost friends, and set up camp in Kearney Lake campground at quite possibly the only good site(?). We then immediately set out for some little hikes; Two Rivers and Whiskey Rapids.
After having worked up a little appetite I set to work making a dish inspired by an Epicurious recipe. Grilled spiced salmon salad, with fresh corn, garden tomatoes, sweet onions, and fresh basil in an olive oil and lemon dressing.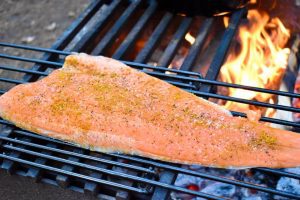 This dish took very little work, simply grill the salmon and boil the corn over the fire, while chopping the vegetables. Break up the salmon fillet, cut the corn off the cob, toss it all in a bowl and serve! It was a great dish for the first night as salmon doesn't have much lasting power in a cooler.
Bringing a little grill along camping is always a good idea. This keeps your food off the campsite's grate (who knows what's on there?) and also allows you to remove the whole thing to the table, making for less chance of droppage!
After dishes, it was time to catch up more with our friends around the campfire and have a few wobbly pops!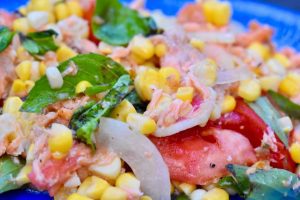 After a fitful sleep (first night in a tent is never great), we were ready to face the day. We started the day off right with a misty morning walk on the Spruce Bog boardwalk, where we did NOT see a moose, but lots of cool wetland plants.
After a big coffee and some of Beth's delicious peach cobbler upon our return to the campsite, we lugged our canoes over to the launch and went exploring around Kearney Lake, checking out every nook and cranny and eventually having a lunch of fire roasted eggplant (prepared the night before) dip with pitas on a comfy rock jutting out of the lake.
After another hike on the Big Pines trail, where we saw lots of… big pines (and a massive beaver!), it was time to get dinner going. Cue a massive rain storm! 🌧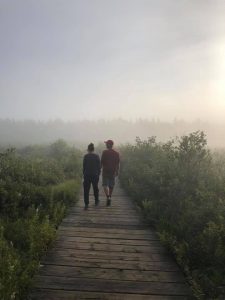 Luckily it stopped long enough to get a fire going and cook a big pot of Moroccan lamb and apricot tagine with ras el hanout scented couscous.
The lamb shoulder was cut small and browned in the Dutch oven, after which carrots, onions, garlic, dried apricots, chickpeas, tomatoes, and spices were added. It cooked down into a beautiful thick stew that went perfect with the couscous which was quickly made on the camp stove.
Couscous is such a good camping food. Simply heat up some water, add it to the same amount of couscous with some seasonings, and presto! You've got a side! It's great if you don't have a ton of time or fuel to cook with, if you want a simple side to an extravagant dinner, or if you'd rather focus on the… liquid side of things than in cooking a complicated meal.
Shortly after dinner, the clouds let loose again and we sat under cover, yelling to each other over the cacophony of pounding rain and worryingly adjacent blasts of lightning and thunder. What a night!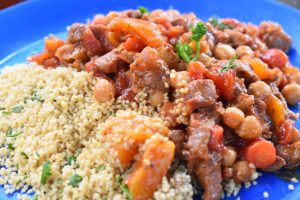 After a fitful sleep (second night in a tent is never great) we were once again ready to face the day. Well after a couple cups of coffee and a hearty egg and sausage wrap breakfast that is.
We decided to spend the morning canoeing the Lake of Two Rivers, and it's lazy little connection to Pog Lake, which we thoroughly enjoyed as it was sheltered from the wind. On the journey we saw some fun feathered wildlife and some… interesting examples of canoe fishing.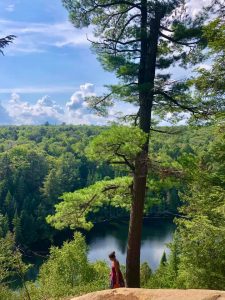 Unfortunately the end of the canoe trip meant it was time for our friends to depart back home. To take the sting out of their egress, we replaced them with new friends, who, when they arrived, got to set up their tent on the only dry patch (left by the recently departed tent) on the campsite!
We got right back into it with a couple little hikes at Hardwood Lookout and Hemlock Bluff, where we encountered a ludicrous amount of freshly sprouted mushrooms. Once back, it was time to eat again, so the fire got started back up and we hung the Dutch oven on the trusty tripod.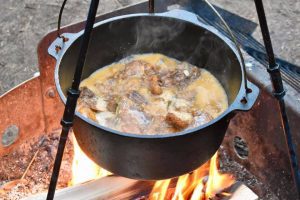 Dinner was Filipino adobo chicken legs with coconut rice (minus the charred instead of toasted coconut topping… whoops!) and steamed green beans.
Adobo is a brilliant Filipino dish where meat is cooked down in a sauce of vinegar and soy sauce, with bay leaves and peppercorns, until the sauce is luscious and sticky. Cooked over the fire, it incorporates some natural smokiness which made it extra tasty!
The night turned stormy once again and we found ourselves under the canopy emptying the extra 'just in case' bottles we brought with us until our tired legs lead us to our respective tents for the night.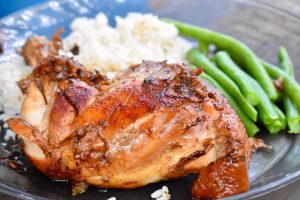 After a fitful sleep (you guys getting the point yet? My thermorest actually started exploding in the middle of the night and had to be tossed out of the tent, leaving me to sleep on the ground for the rest of the night!) and a breakfast of coffee, homemade maple nut granola, and fresh fruit, we were ready for more hiking!
We decided to do a morning hike to Booth's Rock on our friend Stephan's recommendation and it didn't disappoint! A relatively easy climb lead to big beautiful vistas overlooking beautiful Algonquin Park in all its glory!
Afterwards a quick drive to Opeongo Lake was in order to replace my sleeping pad, so we took advantage of the surrounding beauty and had lunch on the edge of the lake. Lunch was a 'Thai Niçoise' salad made with hard boiled eggs, canned tuna, and veggies in a spicy peanut dressing. A tasty protein packed meal, perfect for some post-hike reinvigoration!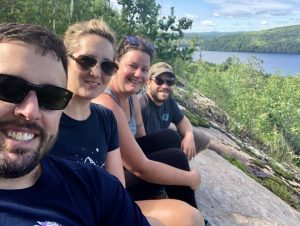 We attempted a visit to Kearney Lake's beach for the afternoon, but as the temperature plummeted, our wet bathing suits and chattering teeth demanded we head back home for some warm nourishment.
Nourishment came in the form of excellent cocktails made by Mel, and a soul (and body) warming pot of Japanese pork curry (karē raisu), cooked over the fire.
Curry was brought over to Japan by the British around 1900 and has since become one of the most popular home cooked foods there! Usually made with store bought instant 'blocks' it tends to be thicker and sweeter than most curries from elsewhere; think: comforting thick stew lightly spiced with curry. It's usually served over udon noodles, or rice, as I did here.
Since it comes in handy instant blocks, it makes for an easy and refreshingly different camping food that's great to eat when the weather gets a little cooler.
Talking about cooler, the temperature dipped to 4°C (39°F) overnight, making for a chilly August camping trip!!!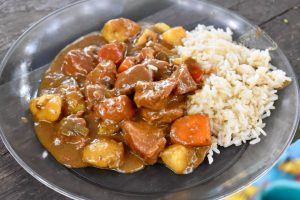 Our last full day in the park! After a cold and fitful sleep (4°C in August? Really?), our friends departed back home and we were left to our own devices.
After a quick coffee and some raisin cinnamon bannock bread made on the camp stove in a cast iron pan (pre-mixed, easy to make, and essential in every camping trip!), we set out for yet another hike.
We started off with the Bat Lake hike, which just may have been our favourite! We had the whole thing to ourselves and got to see lots of birds, cool mushrooms, and picturesque mini waterfalls.
After that lovely walk, we decided to find somewhere pretty for lunch, so we did the Beaver Pond hike and found a nice lookout to park ourselves for awhile. Lunch was simply some cheese, kielbasa, and crackers enjoyed in the sun overlooking the efforts of generations of industrious landscaping beavers.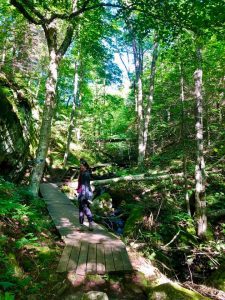 After lunch we took advantage of the solitude and spent the rest of the day relaxing and reading at the campsite, watching a calamitous turf war between several red squirrels. Who needs Netflix?
For supper, I skipped out on low and slow cooking and went for mixing a bunch of stuff in a bowl instead… much less burdensome for my lazy state of mind! We ate an Italian style antipasti salad with leftover naan bread to sop it up.
The salad consisted of spicy salami, mozzarella cheese, Parmesan cheese, pickled eggplant, pickled hot peppers, giardinara, canned artichokes, cherry tomatoes, sliced peppers from my garden, minced garlic, sweet onion, oregano, chili flakes, olive oil, and lemon juice. Most of it was premixed into a jar before we left and kept in the cooler, making this an epic, but easy camping meal!
Knowing that it was going to pour rain from midnight into the afternoon, we packed up everything but the tent, had a nice big fire to burn the rest of our wood, had a last fitful sleep, and hightailed it out of there first thing in the morning.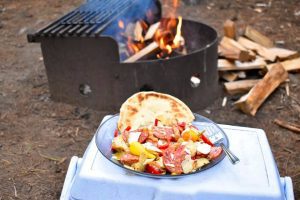 So concluded our awesome little car camping trip, hope you enjoyed my ramblings and were inspired to kick your camp cooking up a notch!