Chanterelle and Apricot Flatbread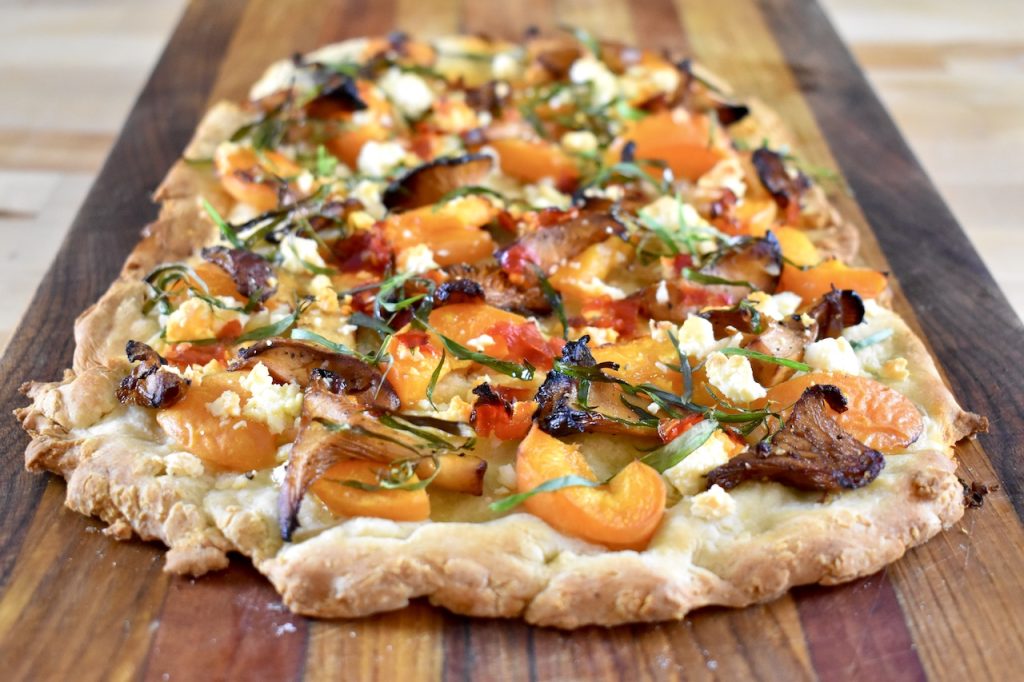 When harvesting wild chanterelles, I often find myself comparing the smell of them to apricots. It is such a pleasant smell that it got me thinking, why not pair them together?
I figured a flatbread or pizza would be the perfect thing to present them together on, and the herbaceous and licoricey tarragon, funky and salt feta, and oily and spicy chili paste, all add their own special flavours to the party. 
Basil or cilantro would work in place of tarragon, and buffalo mozzarella, creme fraiche, burrata, or ricotta could replace the feta (though you may want to add a little salt if you do). 
The chili paste isn't super necessary, but it does add so much to this dish, so I hope you track some down and use it. 
I loved how the apricots and mushrooms played together in this preparation and I'm excited to do some more experimenting with them!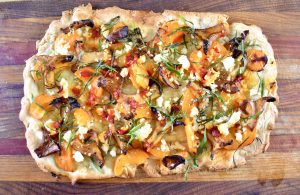 Prep Time

2 hr

Cook Time

15 min

Total Time

2 hr 15 min

Yield

1 Pizza, 2 servings
Cuisine

Course

Cooking Method

Suitable for Diet

Special Equipment
Ingredients
For the Dough
1 3/4 cups (220g) 00 flour (pizza flour) or all purpose flour
1.5 teaspoons (8g) kosher salt
3/4 teaspoon (2.75g) instant yeast
1/2 cup+ warm water
1 tablespoon (15ml) olive oil
For the Toppings
3.5oz (100g) fresh chanterelle mushrooms, sliced if large
1 teaspoon (5g) butter
1 teaspoon (5ml) olive oil
2 fresh apricots, pitted and sliced
2-3 tablespoons (30-50g) crumbled feta or ricotta cheese
1 tablespoon (15ml) Calabrian chili paste (optional)
3 sprigs tarragon, leaves stripped from the stem
Preparation
1
Stir together the flour, salt, and yeast in a large sturdy bowl. 
Add the olive oil and slowly add the water, stirring it into the flour with your hands. 
Keep stirring the water in until the flour forms a ball of dough. You may need to dribble in some extra water to hydrate all of the flour. 
Grasp the edge of the bowl with your off hand and knead the dough in the bowl with your dominant hand, flipping and pressing it until it becomes smooth and elastic. 
Grease the bottom of the bowl with a touch of oil. Leave the dough ball in the bowl, covered with a damp towel or plastic wrap, somewhere warm for 90 minutes or until the dough ball doubles in size. 
2
Preheat oven and pizza stone to 475°F (240°C, gas mark 9) on convection. 
If you don't have convection, increase heat to 500°F (260°C, gas mark 10). 
3
Melt the butter in a pan over medium high heat and sauté the chanterelles in it for about 5 minutes. Let cool. 
4
Take the pizza stone out of the oven. 
Shape the dough by flopping it on your knuckles like a pizzaiolo, pressing it with your fingers on a floured surface, or press it onto an upside down bowl so it drapes over and is an even thickness the whole way across. 
The dough can be shaped any way you like. 
Put the dough onto the pizza stone. 
5
Brush the olive oil onto the dough. 
Top with the apricots, mushrooms, feta, chili paste (flick tiny spoonfuls at the dough), and the leaves from two of the sprigs of tarragon. 
Put into the oven for 15 minutes. 
6
Keep an eye on it so that it doesn't burn. Since ovens vary in temperature, you may need to cook it for longer. 
Once browned on the bottom and lightly charred and crispy on top, take it out of the oven and sprinkle the rest of the tarragon leaves over it.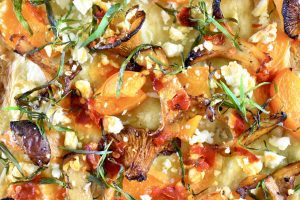 7
Cut into pieces and serve. Enjoy!