Sichuan Springtime Stir Fry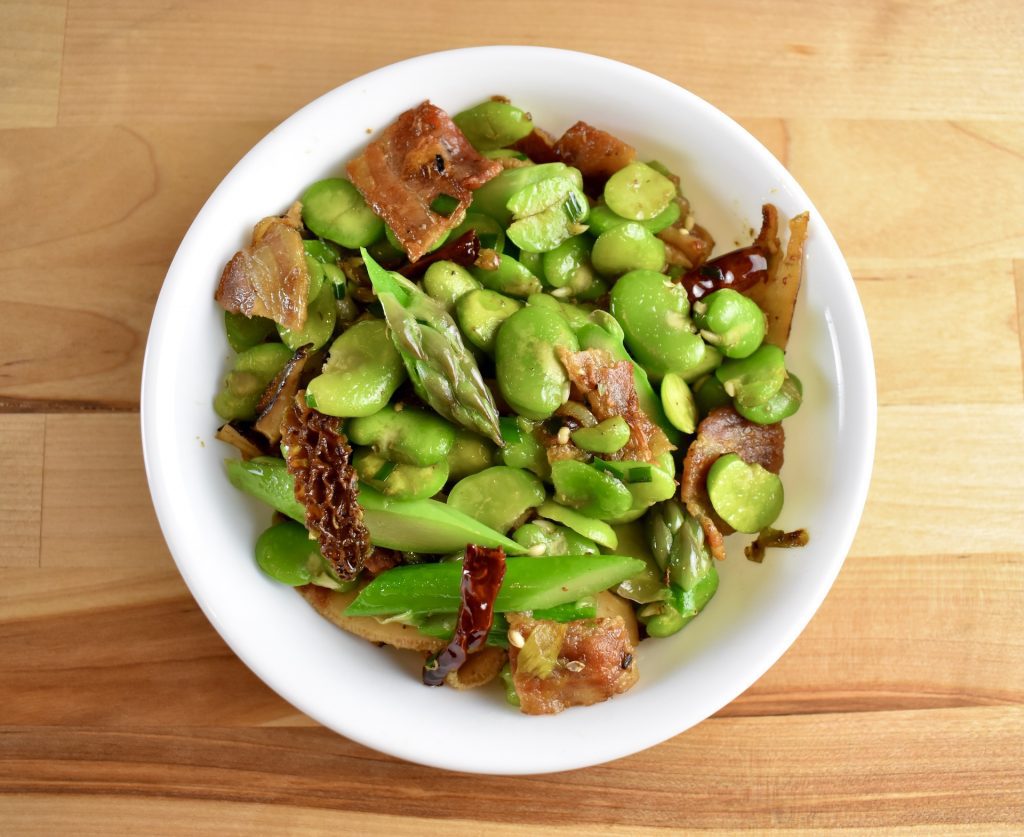 This spicy Sichuan style stir fry is the perfect dish to celebrate the spring. Bursting with big flavours and springtime treasures like fava beans, asparagus, and wild spring mushrooms, this dish will make an excellent main, or could be made as part of a larger Chinese style meal. 
To make it vegetarian, replace the bacon with thin slices of smoked tofu, and use vegetable oil to stir fry the mushrooms and vegetables. 
Prep Time

20 min

Cook Time

30 min

Total Time

50 min

Yield

2 servings as a main, or 4 as part of a larger Chinese style meal with rice and multiple dishes
Cuisine

Course

Cooking Method
Ingredients
6 slices bacon
2.2 lbs (1 kg) fava beans in their pods
6 spears asparagus
2 cloves garlic, sliced thinly
3 dried Sichuan chilies, de-seeded, or 1/2 teaspoon chili flakes (less if you don't like it too spicy)
2 scallions/green onions, sliced on a bias
1 cup (approx. 75 g) wild spring mushrooms, like oysters, morels, pheasant's backs, or a combination thereof, sliced
1 teaspoon (2g) ground Sichuan peppercorn
1 teaspoon (5ml) sesame oil
1 tablespoon (15ml) soy sauce
1 tablespoon (15ml) Shaoxing wine
Pinch of kosher salt (to taste)
1 tablespoon chopped garlic chives (optional)
Preparation
1
Fry bacon in skillet until crispy. Remove and drain on paper towels, leaving the grease in the pan. Chop into bite-sized pieces.
2
Meanwhile, follow these instructions to prepare fava beans, reserving the blanching water to blanch the asparagus. 
Trim the bottom ends off of the asparagus and drop into boiling water for 2 minutes. Immediately transfer to cold water to stop them from cooking. Once cool slice it on the bias into bite-sized pieces. 
3
Add 2 tablespoons (30ml) bacon grease from the skillet to a wok (or you can use the same skillet you cooked the bacon in).
Bring to medium high heat and add the garlic slices, scallions, and chili peppers. Cook for 2 minutes, stirring often. 
4
Add the chopped bacon, fava beans, and mushrooms and cook for another 5 minutes, stirring often.
5
Add the Sichuan peppercorn, sesame oil, soy sauce, Shaoxing wine, and garlic chives and cook for 1 minute. 
Add the asparagus and taste for seasoning. Add salt if necessary. Cook for 1 more minute, then pull off of the heat and serve immediately. Enjoy!