Chettinad Style Pike Steaks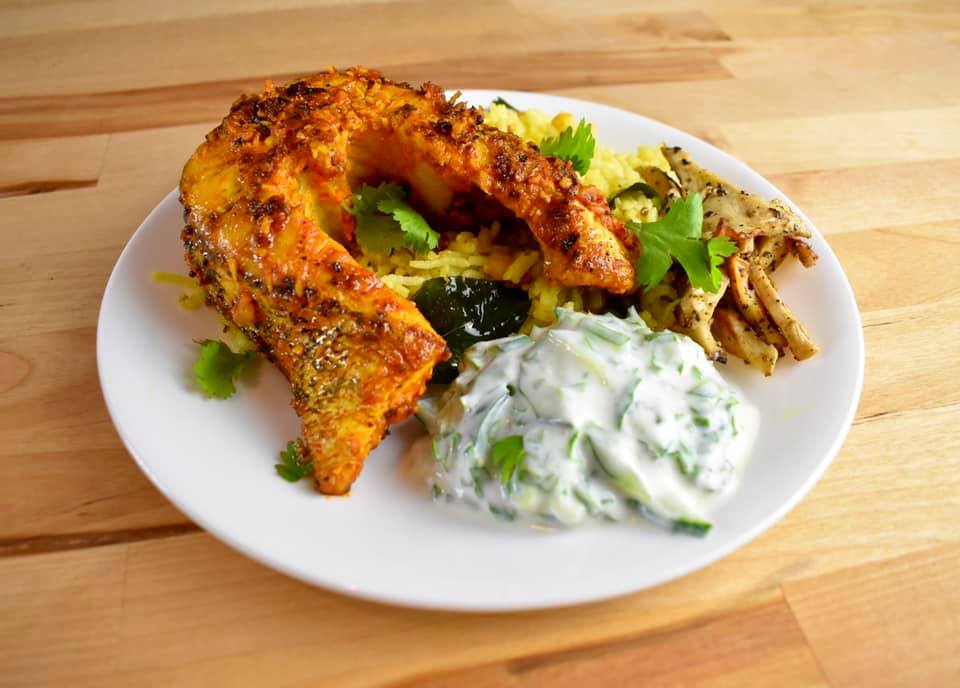 Chettinad is famous for its spicy masalas and the paste spread on these fish steaks is no exception! 
This is a wonderful way of preparing any fish big enough to steak out. The original version from southern India is usually done with a type of mackerel, but I find 6+lbs (2.7+kg) northern pike to be an excellent substitution. They do have the infamous 'Y' bones in them though, so I find the best way to eat them is to eat with your hands and dig in with your fingers, making your way around the bones. Remember the 'Y' bones sit at 10:00 and 2:00 if you're facing the fish steak.
Double this recipe if you'd like to make more than two steaks. Serve with basmati rice and raita, a cooling yogurt salad. 
Prep Time

10 min

Cook Time

15 min

Total Time

25 min

Ready in

90 min

Yield

2 fish steaks
Ingredients
For the fish
2 pike steaks
1/2 large, or 1 small onion, finely minced
1/2 tablespoon (3g) whole fennel seeds
1 tablespoon (3.5g) Kashmiri chili powder, or hot paprika
2 teaspoons (2g) turmeric powder
1/2 teaspoon (1.7g) black pepper
1/4 teaspoon (1.5g) kosher salt
1/2 cup (40g) unsweetened grated coconut
Juice from 1 lime
Vegetable oil
For the raita
1/4 English cucumber
1 small pinch of salt
1 cup (250ml) plain yogurt
1/2 cup (5g) fresh mint, cilantro, basil, sorrel, or other tender herbs
Preparation
1
Pat pike steaks dry with paper towel. 
2
Combine all of the ingredients except for the pike and vegetable oil and either put it in the blender and blend until smooth, or grind down into a paste with a mortar and pestle. 
You want the paste to be slightly chunky, but spreadable. 
3
Rub the paste onto both sides of the fish steaks and let sit for 30-60 minutes. 
4
Slice the cucumber into thin rounds, then stack the round and slice them into thin ribbons. 
Sprinkle a small pinch of salt over them and toss them in it. 
Let the cucumbers sit for 10 minutes.
5
After 10 minutes, take the cucumbers in your hand and squeeze them out over the sink. There should be a lot of liquid coming off of them. 
Mix the squeezed out cucumber into the yogurt, and add whatever chopped herbs you decided to use. 
Set the raita aside.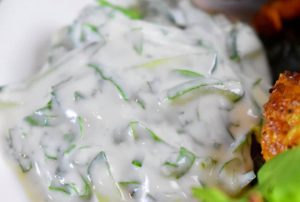 6
Once the fish has marinated, add 1/2 an inch (about 1 cm) of oil to a skillet or frying pan. 
Heat over medium high, then add the fish steaks, leaving the paste on them. 
Fry for about 6 minutes per side, trying not to disturb them too much so the paste doesn't fall off in the pan. 
7
Drain the fish steaks on paper towels and sprinkle with kosher salt. 
Serve with basmati rice and the raita. Enjoy!