Miso Soba Soup with Lake Whitefish and Velvet Shanks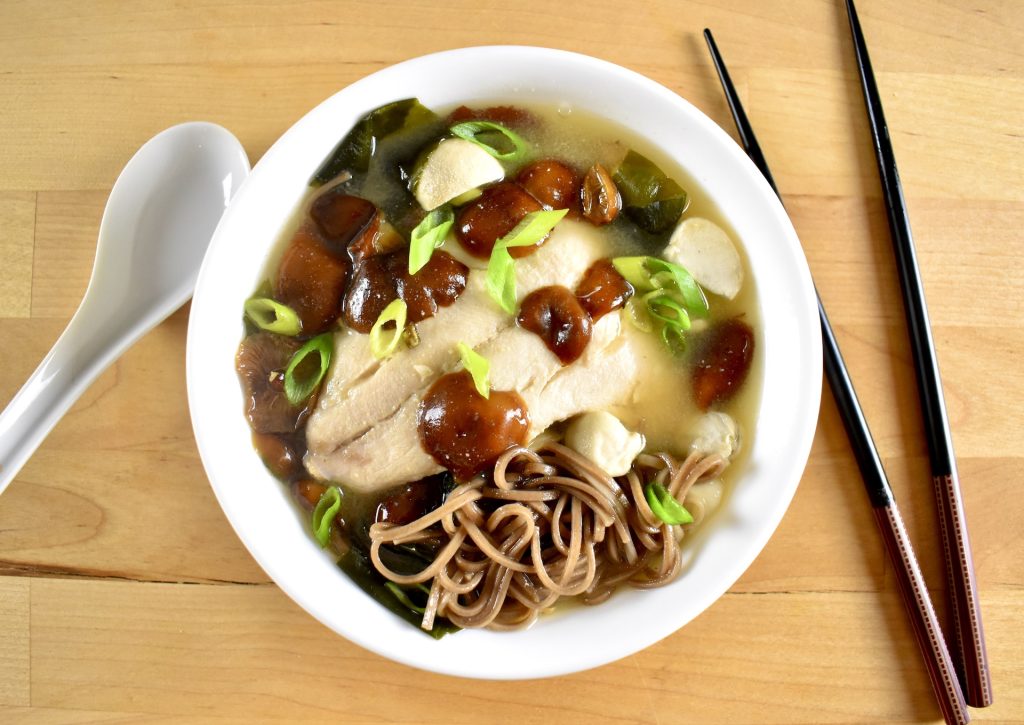 This is a great dish to use velvet shank (Flammulina velutipes) which is a wild enoki mushroom. 
This mushroom is not a beginner one however, as there is a deadly look alike called the funeral bell (Galerina marginata). 
One should always take spore prints of every single velvet shank mushroom, and take great care to identify properly using several sources.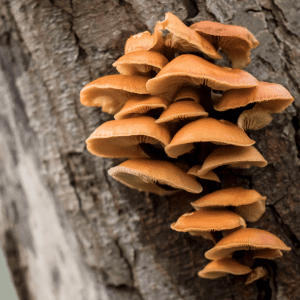 Store bought enoki mushrooms (though very different) would work fine in this recipe, as would any other type of fish, whether it be salmon, trout, or a white-fleshed fish. 
I do love how the sweetness of lake whitefish works in this recipe though! 
Prep Time

15 min

Cook Time

1 hr

Total Time

1 hr 15 min

Yield

4 Servings
Cuisine

Course

Cooking Method
Ingredients
For the Dashi
4 cups (1L) water
1 piece dried kombu seaweed 4-6″ (10-15cm) long
6oz (15g) katsuobushi bonito flakesOR4 cups (1L) water
4 teaspoons (12g) instant dashi granules
For the Soup
3 oz (85g) common puffball, cubed
3 oz (85g) velvet shanks, destemmed
4 tablespoons (60ml) white miso paste
2 tablespoon (10g) dried wakame seaweed
10oz (300g) boneless, skinless lake whitefish, cut into 4 pieces
14oz (400g) dried soba noodles
2 scallions, sliced
Preparation
For the Dashi
1
Pour the water into a pot then add the kombu seaweed. 
Let sit for 15 minutes (letting the kombu sit in the water overnight will result in a much richer dashi broth). 
Heat the pot over medium heat until you start seeing bubbles forming on the bottom. 
Remove kombu, then add the bonito flakes. Press them down with a spatula, but don't stir or mix them up too much. 
Simmer for about 1 minute, then take the pot off of the heat and let sit for another 5 minutes. 
Strain through a fine strainer, then the dashi is ready to use in the recipe. 
If using instant dashi, simply stir the granules into warm water. 
For the Soup
2
Heat the dashi up to a bare simmer (a couple bubbles every few seconds). 
Add the puffballs and velvet shanks to the water and cook for 10 minutes. 
Stir in the miso paste and add the wakame seaweed. Cook 5 minutes. 
3
Boil the soba noodles as per package instructions, then rinse under cold water. 
Split four ways into soup bowls. 
4
Nestle the pieces of fish into the broth and cook until the fish is cooked through and flakes easily with a fork, about 2-5 minutes. 
5
Add a piece of fish onto the noodles in each bowl, then ladle over the broth, wakame, and mushrooms. 
Top with a scattering of sliced scallions and serve immediately. Enjoy!