Lamb's Quarters Chochoyotes in Ancho Chili Sauce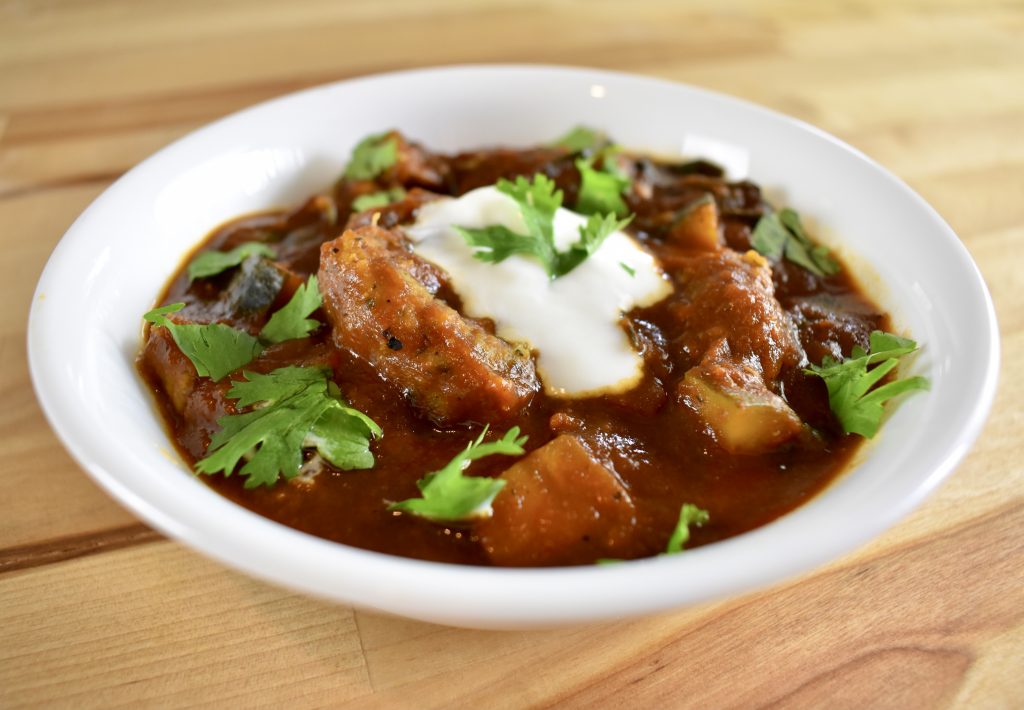 This delicious dish falls into a realm somewhere in between a sauce, a soup, and a stew. It's a non-traditional dish inspired by Mexican techniques and ingredients. 
Chochoyotes (cho-cho-yo-tays) are traditional Mexican masa (nixtamalized corn flour used for tortillas) dumplings that were being made long before Spanish invaders and colonizers arrived. 
I made mine with quelites (ke-lee-tays), the name for Mexican wild greens – lamb's quarters or goosefoot in this case. Feel free to use nettle, spinach, or any other wild or non-wild green. 
I then cooked them in a soupy sauce made from stewed ancho chilies and vegetables. Summer squash and some extra quelites add extra heft in the finished product. 
Dried anchos and masa harina can be found in any Latinx grocery, as well as many large-chain grocers. 
Prep Time

15 min

Cook Time

45 min

Total Time

1 hr

Ready in

1 Hr

Yield

4 servings
Cuisine

Course

Cooking Method

Suitable for Diet

Special Equipment
Ingredients
For the Dumplings
1 cup (handful) lamb's quarter leaves and tender stems, roughly chopped
3/4 cup (175ml) water
1 cup (124g) masa harina 
2 teaspoons (10ml) pork lard, schmaltz, duck fat, or vegetable oil
For the Sauce
2 whole dried ancho chilies 
2 medium tomatoes, roughly chopped
1 large onion, roughly chopped
2 cloves garlic, roughly chopped
1/2 teaspoon (0.5g) dried oregano (preferably Mexican)
1/2 teaspoon (1g) cumin powder
1/2 teaspoon (1g) smoked paprika
1/2 teaspoon (1g) black pepper
1 teaspoon (6g) kosher salt
1 small zucchini, or any summer squash, chopped
2 cups (large handful) lamb's quarter leaves and tender stems, chopped
Sour cream and chopped cilantro to serve
Preparation
For the Dumplings/Chochoyotes
1
Bring the water to a boil in a small pot. Add the handful of greens and a pinch of kosher salt and stir them in. Boil for about a minute. 
Pour the liquid and greens into a blender. Add the fat or oil, then let everything cool for 5 minutes. 
Blend on high for 1 minute, then set aside to let cool completely. 
2
When the liquid is cooled, add it and the masa harina to a bowl. Stir to combine.
You should have a shaggy pile of loose dough. Using your hands, knead it for about 30 seconds or so, until it forms into a ball that easily stays together. 
3
When the sauce is ready for the dumplings (STEP 8), pinch off a small piece of dough with your fingers. Shape it into a ball. Now take your index finger and press a dent into the top, flattening the ball and forming a basket-like shape, about an inch (2cm) in diameter.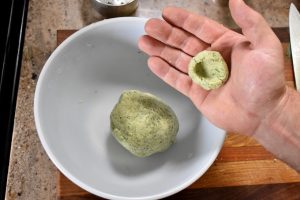 Drop it into the cooking sauce and repeat until the dough is used up. 
For the Sauce
4
Heat up a pot over medium-low heat and put the two ancho chilies in it. 
Roast them for 2 or 3 minutes per side or until they smell toasty and chocolately. 
5
Pour 3 cups of water over the chiles. Add the tomatoes, onion, garlic, spices, and salt. 
Bring to a simmer, and cook for 20 minutes. 
6
Pluck out the chilies, remove the stems, then throw them back in the pot. 
Dump the contents of the pot into a blender. Let cool before blending (blending hot liquid can cause dangerous explosions). 
Blend on high until very smooth. 
7
Add the liquid back to the pot. Add the zucchini and lamb's quarters and bring to a low simmer. 
8
The sauce is now ready for your dumplings (STEP 3). Add them to the pot and make sure they're covered in sauce. 
Gently stir every once in a while, being sure not to let the dumplings stick to the bottom and burn. 
Be very gentle while stirring so as not to break apart the chochoyotes. Some of the masa will leach into the sauce, thickening it. 
9
Cook gently for 15 minutes.
To serve, ladle into bowls and top with sour cream and chopped cilantro. Enjoy!