Collard Green Veggie Rolls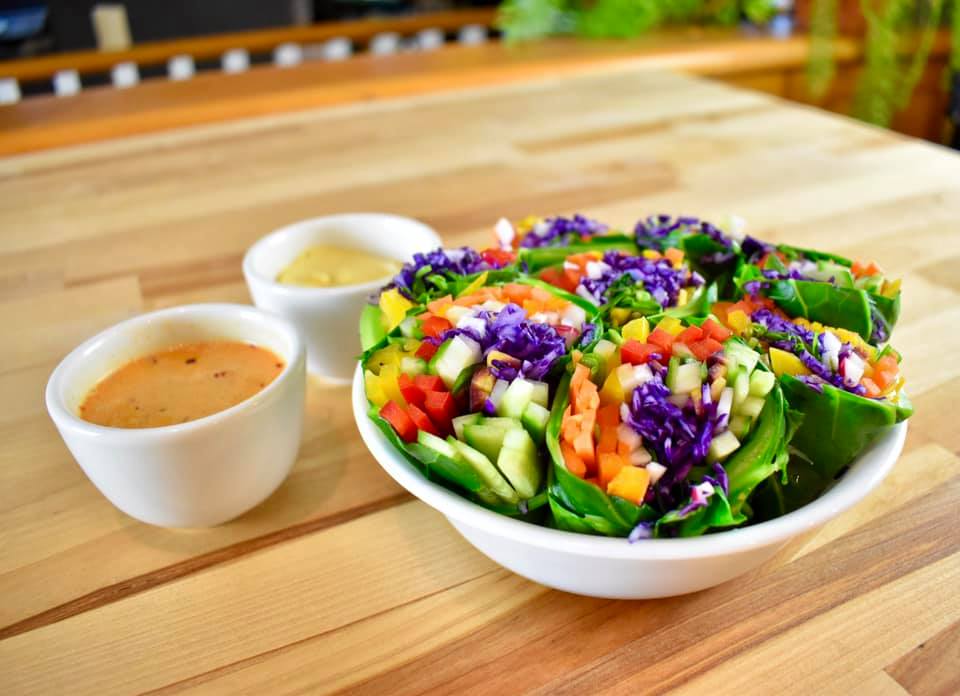 This is a very loose recipe, as these collard rolls can be stuffed with pretty much anything. I did them here with raw veggies, but you could swap out any of the veggies, add seared firm tofu, seasoned soft tofu, chicken breast, seared king oyster or puffball mushrooms, flaky white fish, salmon, tuna, canned fish, shrimp, etc, etc, etc. Serve them with your favourite dip or salad dressing, or make the ones that I give instructions for below. 
Prep Time

20 min

Cook Time

1 min

Total Time

21 min

Yield

12 half rolls
Ingredients
For the Rolls
6 large collard green leaves
1 cup shredded purple cabbage
3 radishes, julienned*
3 small rainbow carrots, peeled and julienned
1 golden beet, peeled and julienned
1/2 red bell pepper, peeled and julienned
1/2 yellow bell pepper, peeled and julienned
1/2 orange bell pepper, peeled and julienned
1/4 cucumber, julienned
1/2 small zucchini, julienned
2 green onions, julienned
Golden Tahini Dip
1/4 cup (60ml) tahini
1/4 cup (60ml) plain yogurt
1 tablespoon (15ml) lemon juice
Small pinch of kosher salt
1/2 teaspoon (1g) curry powder
1/2 teaspoon (1g) turmeric powder
Water to loosen
Sichuan Creamy Peanut Dip
1 tablespoon (15ml) peanut butter
1 teaspoon (5ml) soy sauce
1 tablespoon (15ml) Lao Gan Ma chili crisp (or other chili oil)
1/4 cup (60ml) 50/50 cream to loosen
Preparation
For the Rolls
1
Bring a pot of water to the boil. 
Submerge the collard leaves in the boiling water for 45 seconds, then remove and run under cold water to stop them from cooking. This will make the leaves more pliable for rolling. 
2
Now trim the stems off of the collards. To do this, take a sharp knife and cut an upside down 'V' about 2 inches (5cm) from the base of the leaf with the point of the 'V' meeting in the main rib of the leaf. You will end up with a leaf with the bottom notch cut out and no stem left. 
Make sure all of your vegetables have been cut and placed in nice neat little piles.
3
Now lay the leaf down with the top point facing you and the cut notch facing away. It doesn't really matter which side you have facing up, just try to choose a side then stick with it for the rest. 
Place the julienned vegetables (a small amount from each pile) in the middle of the leaf, lying perpendicular to the centre rib.
Fold over the side edges towards the middle, they should drape over the edges of the veggies. Now roll the point closest to you towards the far end, being sure to keep the sides tucked in. Roll tightly.
Now cut in half (there should be a bit of a gap in the roll from the notch you made removing the stem, make your cut through this gap) and stack the rolls in such a way that the loose edges are trapped and can't unroll.
If you're having a hard time getting them to stay rolled up, you can pin the roll with a toothpick. 
How to Roll
4
I didn't take pictures of the process when I made these, but here is a replication with some handy purple kale stems as the stuffing, just to show you how I rolled them.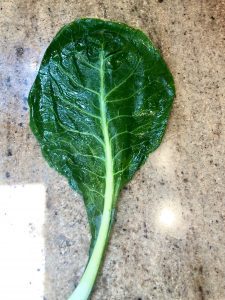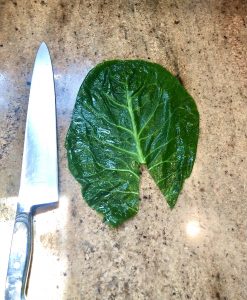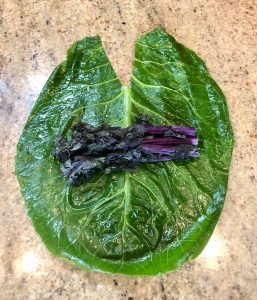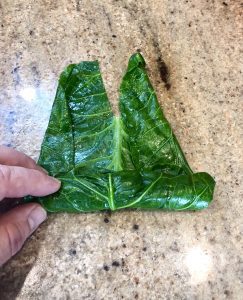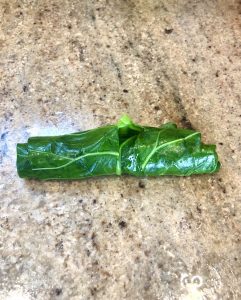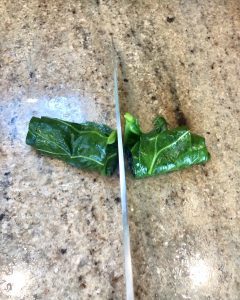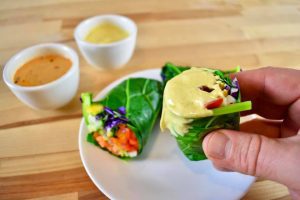 For the Tahini Dip
5
Combine all of the ingredients except for the water, stirring well to incorporate everything. Now add water in small amounts while stirring, until the dip is at a desirable loose consistency. 
For the Peanut Butter Dip
6
Combine the first three ingredients, mixing well, then add cream, stirring, until the dip reaches a desirable loose consistency.
*Julienned = cut into thin matchsticks