Duck Liver Frisée Salad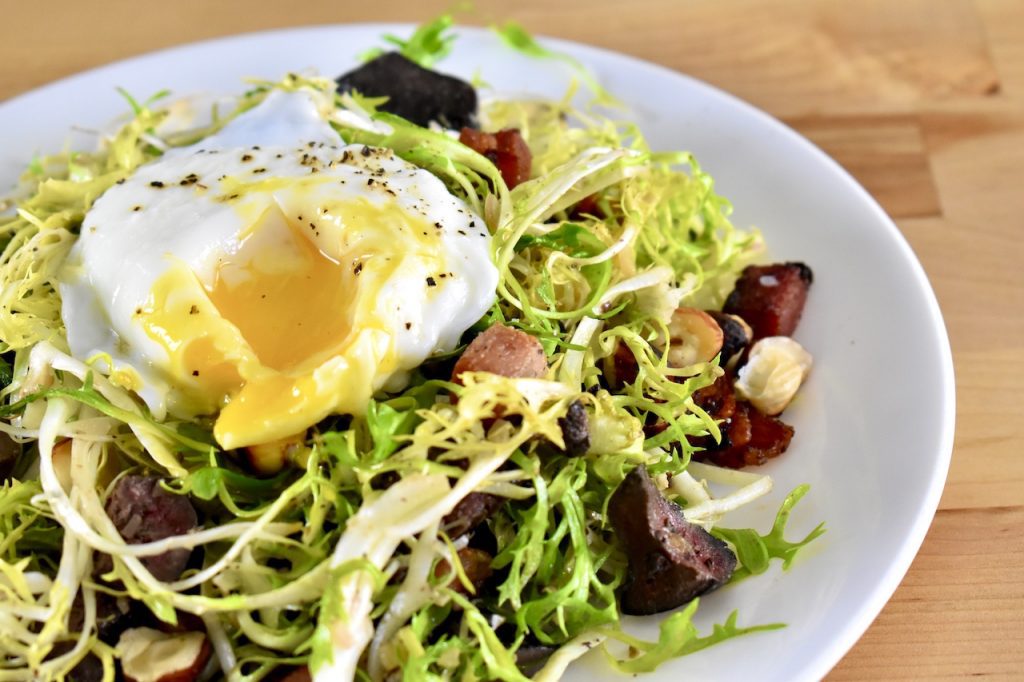 This wonderful salad makes for a nice lunch or light dinner. 
Relying heavily on rendered bacon fat, which cooks everything and appears in the dressing, this salad comes close to a classic salade Lyonnaise, but with a few differences. 
I've added crisped up duck livers for extra protein and richness, as well as toasted hazelnuts for a nutty crunch. 
This recipe is perfect for if you come home from hunting with a couple ducks or geese and want to make something small with the livers right away!
Prep Time

15 min

Cook Time

20 min

Total Time

35 min

Yield

2 servings as a meal
Ingredients
6oz (175g) pancetta or bacon, cut into small cubes or strips
1/2 cup hazelnuts, whole or cut in half
6oz (175g) duck or goose livers
Kosher salt and black pepper
2 cloves garlic
2 eggs
2 tablespoons (30ml) red wine vinegar
1 teaspoon (5ml) Dijon mustard
1 shallot, minced
1 head frisée, torn into bite-sized pieces
Preparation
1
Add the pancetta or bacon to a dry pan over medium heat. Fry them until they render their fat and get crispy, about 10 minutes. Set them aside, reserving the rendered fat in the pan. 
2
Add the hazelnuts to the bacon fat over medium low heat. Toast them for about 5 minutes, or until they begin to turn golden and smell nice and toasty. 
Set them aside, again, reserving the fat in the pan. 
3
Season the livers generously with salt and pepper. 
Increase the heat under the pan of fat to medium high. Add the livers and sear 2 minutes per side, or until the outsides are crispy and the insides are rosy pink. 
Set them aside to rest for 5 minutes, reserving the fat in the pan. 
Chop the livers into small pieces. 
4
Peel the garlic and smash the cloves with the flat of your knife. Add them to the bacon fat over medium low heat and cook them for about 5 minutes, or until they're golden and crispy. 
Remove, reserving the fat, and chop. 
5
Bring a pot of water to a very low simmer. 
Crack eggs into a sieve one at a time, then transfer to a small bowl or ramekin, then slide them into the water. 
Cook for 5 minutes, then remove with a slotted spoon and set aside. 
For more instructions on poaching, check out this article. 
6
Add the vinegar, mustard, shallot, and chopped garlic to a large salad bowl. 
Pour the remaining bacon fat through a strainer into the salad bowl. You could use olive oil instead if you wish. 
Add a pinch of salt and pepper, then whisk until the dressing emulsifies. 
7
Add in the frisée, livers, hazelnuts, and bacon and toss everything in with the dressing. 
Top with a poached egg to serve. Enjoy!