Coltsfoot Pasta with Honey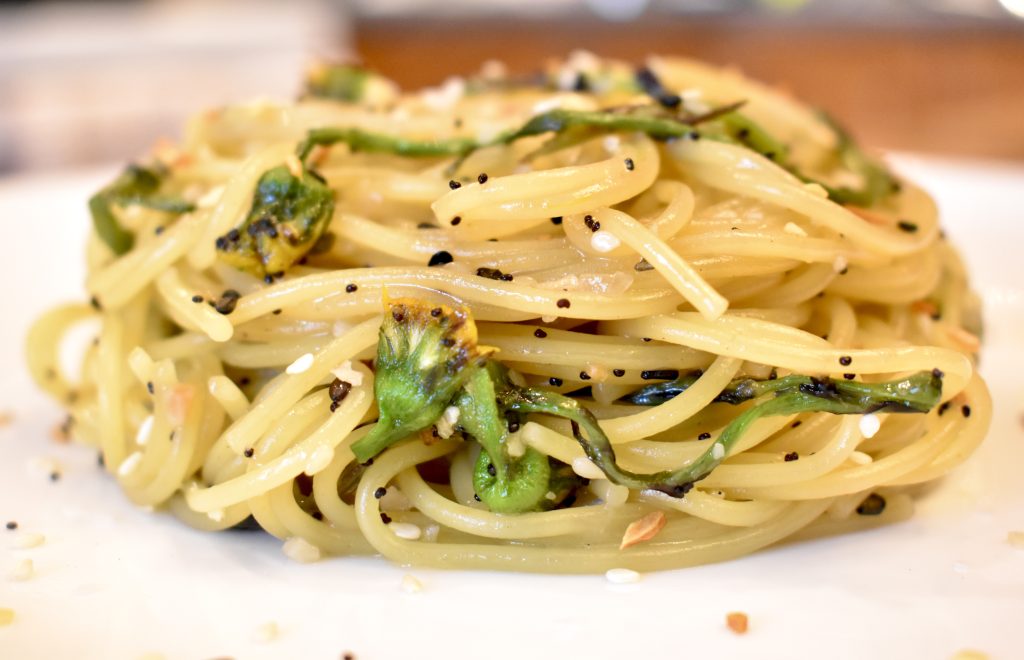 This coltsfoot pasta with honey mixes the springtime wild edibles with honey, butter, and everything bagel spice for a tasty pasta dish!
Coltsfoot (Tussilago farfara) should be harvested in the spring when the stems and flowers emerge before the leaves show up. Simply cut the stems at the ground to harvest. Coltsfoot can usually be found near running water.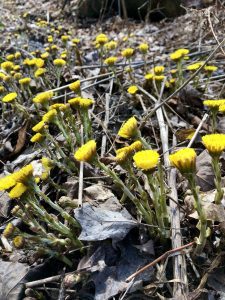 WARNING:
Senecionine and senkirkine, two potentially dangerous alkanoids, are present in coltsfoot in relatively high quantities. 
There have been two alleged deaths connected with coltsfoot, both of which have since been debunked since the death-causing plant wasn't actually coltsfoot, but was thought to be. 
Still, there could potentially be liver damaging properties to the plant, so harvest and eat at your own discretion. Be sure to always correctly identify and use several sources to learn about plants before harvesting and eating. I eat this plant once or twice a year and find the risk level acceptable. 
Prep Time

5 min

Cook Time

10 min

Total Time

15 min

Yield

2 servings as a meal, or 4 as part of a larger meal
Cuisine

Course

Cooking Method

Suitable for Diet
Ingredients
1 good handful of coltsfoot stems/flowers (choose fresh, long and thick stems with fresh looking flowers), well-washed
4.5oz (125g) or a small handful spaghettini noodles (thin spaghetti)
Kosher salt
1 teaspoon (5ml) sesame oil
2 tablespoons (30ml) honey
1 tablespoon (14g) butter
2 tablespoons (20g) everything bagel spice OR toasted sesame seeds
Pinch flaky salt
Preparation
1
Wash coltsfoot stems well. 
2
Fill a pot halfway with water, add a pinch of salt and bring to the boil. 
Add the coltsfoot stems and cook for 2 minutes. 
Drain and run under cold water to stop them from cooking. 
3
Fill the pot back up with water, add a big pinch of salt and bring to the boil. 
Add the spaghettini noodles and cook until just al dente (soft on the outside but a bit hard on the inside). 
4
In a separate skillet over medium high heat, add the sesame oil. 
Transfer the noodles and 3/4 cup of the pasta cooking water to the skillet and bring to a strong simmer. 
Add the honey, butter, everything bagel spice/sesame, flaky salt, and the blanched coltsfoot. 
Cook, tossing the ingredients together, until the liquid has mostly been absorbed.
5
Transfer to plates or bowls and garnish with a touch more honey, everything spice, and flaky salt. Enjoy!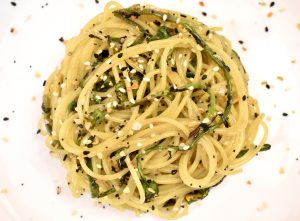 Notice how I didn't have you scroll through pages of mundane nonsense to get to the recipe? Notice that there were no annoying pop-ups or ads? That was on purpose!
I want finding and using my recipes to be easy for you, not frustrating. That does translate into a lot of lost income for me though. If you made this recipe and loved it, would you consider "buying me a coffee" and donating a buck or two through the Buy Me a Coffee app? It will help me keep pumping out recipes like this one!