Egyptian Duck Liver Sandwiches (Kebda Eskandarani)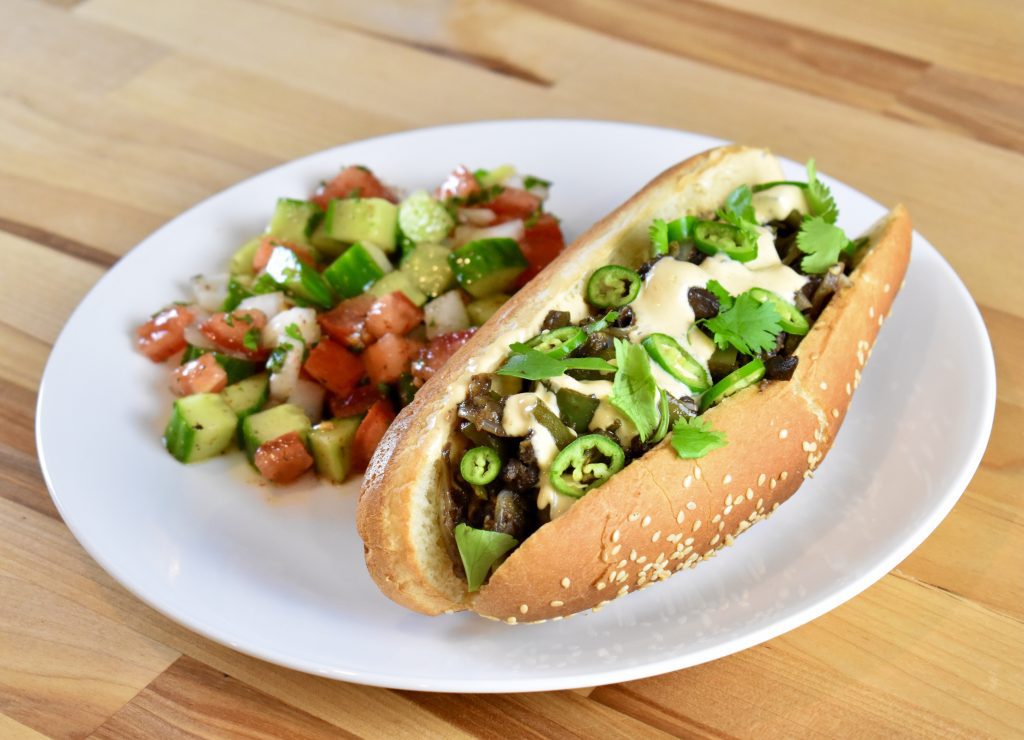 Traditionally made with water buffalo liver, this sandwich is Egyptian street food at its finest. Although it can be found in most Egyptian cities, it originally hails from the port city of Alexandria, which it's named after. The chopped liver gets marinated in a spicy sauce, then sautéed with chilies, peppers, and onions. It then gets stuffed into a long roll and drizzled with a special Egyptian-style tahini sauce. This delicious sandwich will change the mind of anyone still on the fence about enjoying liver!
These sandwiches make for a great quick lunch or can be served with salata baladi, a simple Egyptian salad, for a nice balanced supper. Feel free to increase or decrease the amount of chilies in the recipe to suit your own heat tolerance.
This recipe can be made with the liver from any animal, but tastes particularly good with wild duck livers. I like to store livers from the venison and waterfowl I harvest in 1/2lb bags in the freezer so I can easily make small recipes with individual bags, or take out more bags to make larger recipes.
Prep Time

15 min

Cook Time

15 min

Total Time

30 min

Ready in

2 hrs 30 min

Yield

4 sandwiches
Ingredients
For the Marinade
1 lb (454g) duck or goose livers (or any liver, though taste may vary)
3 tablespoons (45ml) white or white wine vinegar
1 teaspoon (2g) ground cumin
1/2 teaspoon (1g) Aleppo pepper or chili flakes
1/2 teaspoon (1g) ground coriander
1/2 teaspoon (0.25g) dried mint
1/2 teaspoon (1g) cinnamon
1/2 teaspoon (1g) black pepper
1/2 teaspoon (1g) kosher salt
5 cloves garlic, finely minced
For the Sauce
4 tablespoons (60ml) tahini
2 tablespoons (30ml) plain yogurt
1 tablespoon (15ml) lemon juice
1 tablespoon (15ml) white or white wine vinegar
1/4 teaspoon (0.5g) ground cumin
1/4 teaspoon (0.5g) black pepper
1/4 teaspoon (0.5g) kosher salt
1/4 teaspoon (1.5ml) harissa paste or chili flakes
Warm water to loosen
For the Filling
1 tablespoon (15 ml) butter or vegetable oil
1 green bell pepper, chopped
1 onion, sliced
2 green chilies or jalapeños, de-seeded and finely minced
2 tablespoons cilantro or parsley stems, minced
1/4 cup (60ml) water
4 sausage rolls or sesame seed buns
Cilantro or parsley leaves to garnish
Sliced chilis to garnish (optional)
For the Salad
1 cucumber, cut into small cubes
1 tomato, cut into small cubes
1/2 onion, cut into small cubes
2 tablespoons parsley, minced
1 tablespoon (15ml) lemon juice
2 tablespoons (30ml) olive oil
Salt and pepper to taste
Optional spices:
1/4 teaspoon (0.5g) ground cumin
1/4 teaspoon (0.5g) Aleppo pepper or chili flakes
1/4 teaspoon (0.5g) ground sumac
Preparation
1
Chop livers into ½"x ½" (1cmx1cm) pieces.
2
Combine marinade ingredients and toss the liver pieces into it. Marinate in the refrigerator for 1-2 hours.
3
Combine tahini sauce ingredients, except for water, mixing well. The sauce will slowly harden until stirring becomes difficult. Add warm water in small splashes, stirring it in, until the sauce loosens back up. You want it at a consistency where you can drizzle it off of a spoon. Set aside for the time being.
4
Melt the butter or oil in a large frying pan or skillet over medium high heat. Add the onions, peppers, chilies, and cilantro stems and cook for about 5 minutes. Add the liver with all of the marinade and stir everything together.
5
Sauté liver, stirring every minute or so. After about 5 minutes, take a piece out and cut it in half to check for doneness. What you are looking for is a slight blush of pink left in the middle. You want to avoid overcooking the liver, as it can become grainy and poor tasting. Keep cooking the liver mixture until this doneness is achieved, checking as many pieces as you need to. Once it looks done, add the ¼ cup of water, stir it in, and take the pan off of the heat. Check for seasoning and add salt if necessary.
6
Combine all of the salad ingredients and toss to combine.
7
Slice open the buns on one side and slather with some of the tahini sauce. Load up each bun with ¼ of the liver mixture. Drizzle some more tahini sauce on top, then garnish with cilantro leaves (and sliced chilies if you like it even spicier!).
8
Serve immediately with the salad as a side. Enjoy!