Senegalese Goose Leg Ndambe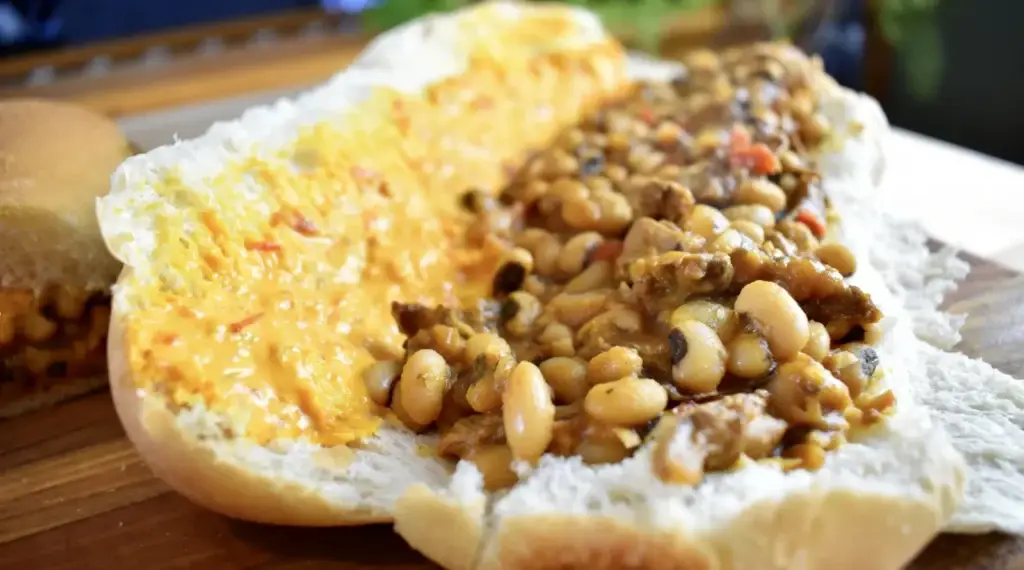 Ndambe (pronounced NAM-bey) is a type of bean stew found in the country of Senegal, in west Africa. The spicy stew, most often made with black-eyed peas, gets spread onto baguettes along with mayo and hot sauce and is served as street food in Dakar and other Senegalese city-centers. The sandwich goes by the same name as the stew and makes for a filling and delicious breakfast, lunch, or dinner, though it's most often eaten for breakfast.
Every vendor has his or her own recipe for the spicy red stew, some with sweet potato, some without, some vegetarian, some with chunks of beef. I made mine with an often-overlooked cut of meat: goose legs. The legs from Canada geese tend to be relatively tough, so they need a long cooking time. Alternatively, you could make this with duck legs, venison, or wild pig.
Dried black-eyed peas only take an hour or two to soak, but if you're really running short on time, feel free to use the canned version, just reduce the final cooking time by half. The chili mayonnaise that goes on this sandwich is super addictive and could be spread on pretty much anything with tantalizing results. If you don't have the right ingredients for it though, feel free to stir some hot sauce into mayonnaise and use that instead.
African red palm oil can be purchased at any Afro-Caribbean grocery store.
Prep Time

1 hr

Cook Time

1 hr 30 min

Total Time

2 hr 30 min

Yield

4 Servings
Cuisine

Course

Cooking Method
Ingredients
For the sandwich:
1 cup (250g) dried black eyed peas
1 tablespoon duck/goose fat or vegetable oil
1 goose leg (drumstick and thigh)
2 onions
1/2 teaspoon (2g) kosher salt
2 bay leaves
4 cups (1L) goose stock or water
1 tablespoon (15ml) red palm oil or vegetable oil
1/2 red bell pepper, minced
2 cloves garlic, minced
1 tablespoon (15ml) tomato paste
2 teaspoons (4g) smoked paprika
1/2 teaspoon (2g) black pepper
1 tablespoon (15ml) white vinegar
2 soft baguettes or 4 sub buns
For the chili-mayo
1 tablespoon (15ml) red palm oil or vegetable oil
1 shallot, finely minced
1 clove garlic, finely minced
1 Scotch bonnet chili, seeded and finely minced
1 tablespoon (15ml) tomato paste
1 small tomato, chopped finely
1 pinch kosher salt
3 tablespoons (45ml) mayonnaise
Preparation
For the filling:
1
Soak the black-eyed peas for 1 hour and up to 2 hours. Drain and discard the liquid.
2
Heat up the fat or oil in a Dutch oven or large pot over MEDIUM-HIGH and sear the goose leg on both sides until browned. Remove from pot.
3
Chop the onions, setting aside half of one onion. Add the rest of the onions to the pot and sauté for about 5 minutes or until they begin to develop some colour.
4
Sprinkle with the salt, and add the bay leaves, soaked beans and the goose leg back into the pot. Add 4 cups of water or stock and stir everything together. Bring to a boil, then reduce down to a low simmer.
5
Simmer for 1 hour, or until the beans are nice and tender.
6
While the beans are cooking, heat up the palm oil in a separate skillet over MEDIUM heat.
Add the remaining onion and red bell pepper and cook for 2 minutes.
Add the garlic and tomato paste and cook until the tomato paste begins to caramelize, about 3 more minutes.
Add the paprika, pepper, and vinegar, stirring it all together.
Take off the heat, and set aside for the time being.
7
After an hour, fish out the goose leg, discard the skin and bones, chop the meat into small pieces and add it back to the pot. Fish out the bay leaves and discard. Add the contents of the skillet to the pot of beans.
8
Stir everything together then give it a taste. Add more salt if necessary.
Keep cooking on LOW heat until the majority of the liquid has evaporated; you want the consistency to be relatively dry so it doesn't soak through the bread.
For the chili-mayo:
9
Using the same skillet as before, heat the palm oil over MEDIUM-LOW heat.
Add the shallots, garlic, and chilies and cook for 5 minutes. Add the chopped tomato, tomato paste, and salt, and cook for another 5 minutes. Take off heat and let cool.
10
Once cool, mix together with the mayo in a small bowl.
Putting it all together:
11
Warm up the baguettes, then split them open.
Slather the chili-mayo onto one side, then scoop on a generous amount of bean filling onto the bread.
Close the baguettes, then cut them in half. Serve half a baguette per person.
12
Serve with a simple salad of tomatoes, red onions, and/or avocado dressed in lime juice. Enjoy!