Cream of Chanterelle Soup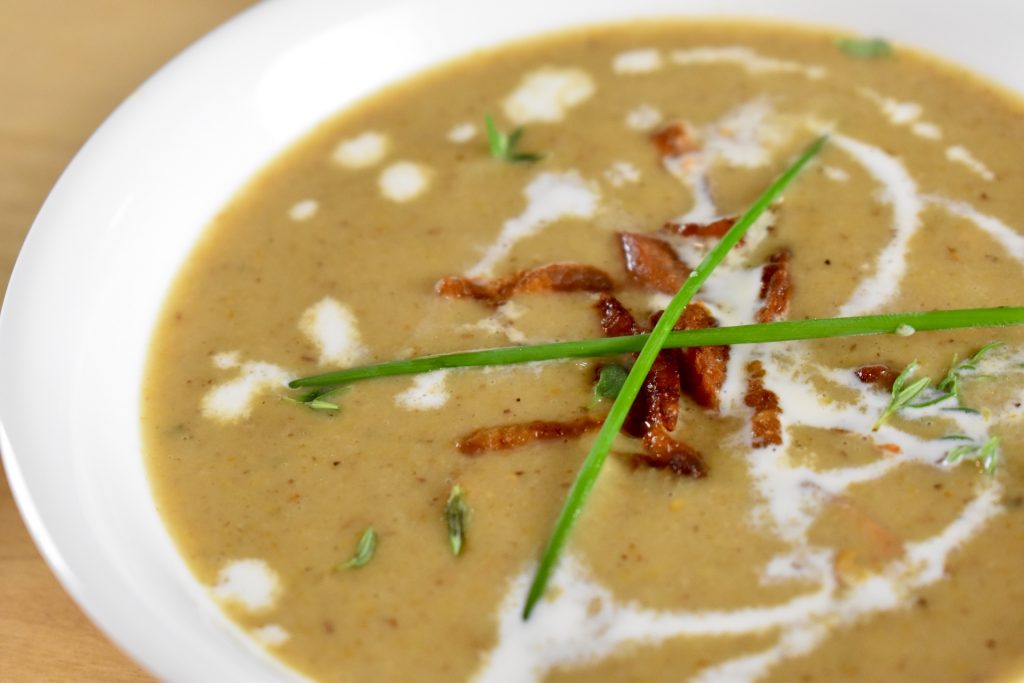 This beautiful creamy, golden soup is made from beautiful golden chanterelle mushrooms that I harvested from the wild. If you're not able to find any of these tasty mushrooms in the wild, they can sometimes be found in gourmet stores, farmers markets, or even upscale grocery stores like Farm Boy or Whole Foods when in season. They can also be found relatively readily in their dried form. You could reconstitute them in water and use them for this recipe, but it won't be quite the same. This recipe could also be made with other types of mushroom, but the colour won't be as golden, and will likely come out more brown or grey, though the taste should still be great.
I used half and half cream for this recipe, but you could use any type of milk or cream, just realize that milk will leave it watery, while whipping cream will leave it extra-thick.
Since you don't actually see any whole mushrooms in the finished product, this soup is great for when you find chanterelles that are still fresh, but are looking a little rough or raggedy. Sometimes a deer walks through a patch and messes them up a bit. 
Serve this as an appetizer to an elegant dinner, or as a meal with nice thick pieces of buttered whole grain toast. 
Prep Time

10 min

Cook Time

45 min

Total Time

55 min

Ready in

1 Hr

Yield

4 servings
Cuisine

Course

Cooking Method

Special Equipment Needed
Ingredients
1 strip thick-cut bacon (or 2 strips regular bacon), cut into thin batons/matchsticks
10oz (300g) chanterelle mushrooms, or mushroom pieces, cleaned
2 shallots, sliced
2 cloves garlic, chopped
4 sprigs of thyme (plus more for garnish)
1 bay leaf
1/4 cup (34g) all-purpose flour
Kosher salt
Freshly cracked black pepper
1/4 cup (60ml) sherry (or white wine, brandy, or vermouth)
3 cups (750ml) chicken or mushroom stock, or water
2 tablespoons (28g) butter
2 teaspoons (10ml) good quality soy sauce
1 teaspoon (5ml) sherry vinegar (or white wine or cider vinegar)
1/8 cup (30ml) cream (I used half and half)
Preparation
1
In a medium pot, cook bacon batons over medium-high heat until the fat has rendered out and the bacon is crispy, about 10-15 minutes. 
2
Meanwhile, separate about a handful of chanterelles and cut them into 1/2″ (1cm) cubes. Set aside, you will use this later for a garnish. 
3
Once the bacon is crispy, use a slotted spoon to remove it from the pot, and set it aside, leaving the fat in the pot. 
Add the mushrooms (except for the ones you set aside) to the bacon fat and cook over medium-high heat for 5 minutes, stirring occasionally. 
Add the sliced shallots, garlic, thyme sprigs, and bay leaf. Cook for 5 minutes or so, until the garlic begins to brown.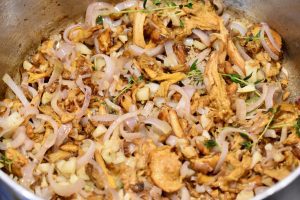 4
Add in the flour, a generous pinch of kosher salt, and a few grinds of black pepper. Cook for another 2 minutes, stirring often. Everything will begin sticking to the bottom of the pan. This is okay, just try not to let it burn. 
Add in the sherry and deglaze the pan, using the liquid to scrape up any bits stuck to the bottom of the pan. 
5
Now add the stock or water, and stir everything to incorporate. Make sure there is nothing left stuck to the bottom of the pan. 
Bring to a simmer and cook for 10 minutes, uncovered.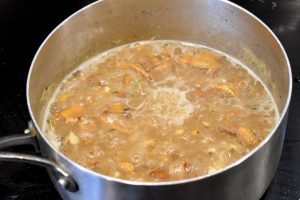 6
Pluck out the thyme sprigs and bay leaf, then transfer the soup to a blender (alternatively, leave it in the pot and use an immersion blender). 
Wait for it to cool (hot liquids can explode out of blenders, causing injury and mess!) for at least 15 minutes, then blend on high until very smooth. 
7
While the soup is cooling in the blender, add 1 tablespoon (14g) of the butter to a cast iron pan or a frying pan. Melt it over medium-high heat, then add the chopped chanterelles you set aside earlier.
Cook until browned, about 5-8 minutes, then turn off the heat.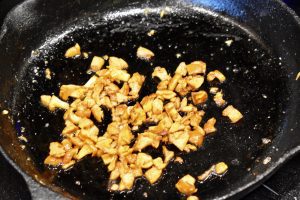 8
Rinse out the pot you used to cook the soup, then add the soup in the blender back to the pot. 
Bring to a very low simmer and add the soy sauce, vinegar, and the other tablespoon (14g) of butter, gently stirring it all in. 
9
Now you should taste for seasoning. You will be adding cream to this, so you want the soup to taste slightly over-seasoned. Add more salt and pepper if necessary. 
Stir in the chopped and sautéed mushrooms, then take off the heat. 
Stir in the cream, and check for seasoning once again. 
10
To serve, ladle the soup into bowls, then split the bacon between them, sprinkling the batons into a pile in the middle of each bowl. Sprinkle with thyme leaves, then drizzle over a bit of cream. You can garnish with whole or chopped chives as well, if you want. Serve with buttered whole grain toast. Enjoy!