Swabian Potato Salad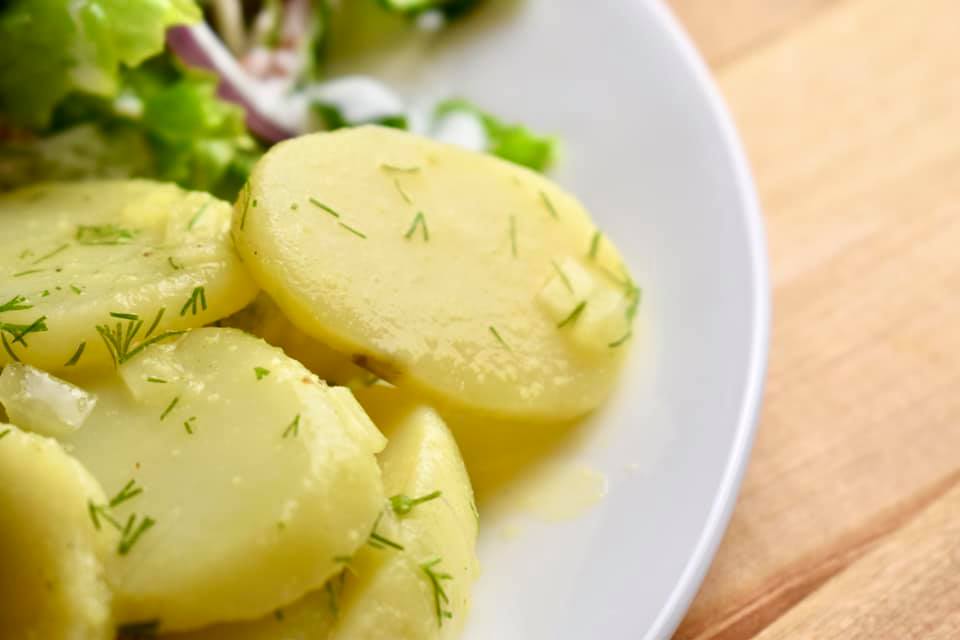 This warm Swabian potato salad hails from southern Germany and is made by marinating boiled potatoes in a sweet and sour sauce. It is often served around Christmas in Germany, but can be enjoyed any time of year and goes particularly well with German sausages or schnitzel. The longer it sits in the marinade, the more flavourful it will be! 
Ready in

1-2+ Hrs

Yield

Side dish for 4
Ingredients
Approx. 1.5 lbs (0.7 kg), or 5-6 medium waxy potatoes (like Yukon Gold, or red-skinned)
1/2 cup beef or wild game broth
2.5 tablespoons white vinegar
2 teaspoons good german mustard (or smooth Dijon)
1 tablespoon white sugar
1/2 teaspoon kosher salt
1/8 teaspoon ground white pepper
1/2 small white or yellow onion, finely chopped
Handful of fresh dill or chives, chopped
Preparation
1
Wash the potatoes, but don't peel them. 
Put them into a medium pot and cover with water by 2 inches (5 cm) or so. 
Add a pinch of kosher salt to the pot and bring to a boil.
Reduce to a roiling simmer, then cook until the potatoes are fork tender (but not mushy), about 10-15 minutes. 
2
Meanwhile, in a medium pot, add the broth, vinegar, mustard, sugar, salt, and pepper. 
Bring to a boil, wait 10 seconds, then take off the heat. 
Transfer to a large bowl, add the onions and set aside. 
3
Drain the potatoes, dump them onto a cutting board, then let them cool until they're easy to handle. 
Use a butterknife or your fingers to peel the potatoes. 
Slice them into 1/4 inch (0.5 cm) slices then transfer the slices to the beef broth mixture. 
4
Add the chopped herbs to the bowl and gently toss everything, so the potato slices get completely covered by the sauce. 
There sauce should be very soupy and plentiful. This is okay, since you will serve the potatoes with a slotted spoon, leaving the majority of the sauce behind. 
5
Let the potatoes sit in the marinade for at least 1 hour. If they are all submerged under the liquid, you could even marinate them in the fridge over night. The longer they sit, the more flavourful they will be. 
Serve the potatoes with a slotted spoon, leaving the majority of the liquid behind. Enjoy!