Creamy Wild Blackcap Dessert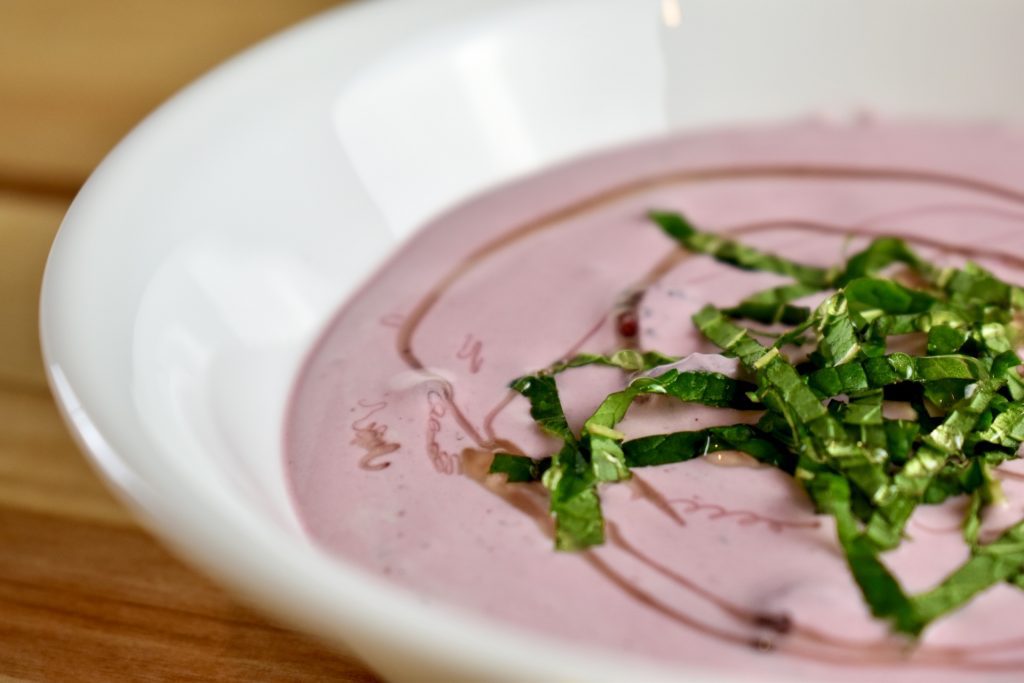 Funnily enough, this dessert was the result of a failed experiment. I read about mason jar ice cream online and thought to make some with my freshly harvested black raspberries which I worked very hard for. 
It was a disaster. Like many people online said (I should have read the reviews before, not after!) the ice cream was a really off-putting consistency and not at all worth eating. 
Dejected, but not wanting to waste all of my hard work, I let the ice cream melt in its jar in the fridge so I could at least put it on cereal or salvage it in some way. 
The resulting thick cream was now amazing! Eaten like a pudding for dessert, it had yogurt and ice cream and cheesecake vibes, and was super delicious. 
I'm not sure if the freezing and thawing had anything to do with the end product, but I included it in the method to stick true to what I did. 
Serve this dessert with a smattering of fresh mint and honey, or a dollop of blackberry, raspberry, or sour cherry jam for an amazing post-dinner treat! 
Prep Time

20 min

Ready in

24 Hrs

Yield

4-6 servings
Cuisine

Course

Cooking Method
Ingredients
1/2lb (225g) freshly picked berries (black caps, raspberries, blackberries, mulberries, strawberries, etc.)
2 tablespoons (25g) white sugar
16oz (473ml) carton whipping cream
1 teaspoon vanilla extract
Small pinch of salt
Preparation
1
Put the berries into a large mason jar or container (with a tight fitting lid) and toss in the sugar. Let sit for 15 minutes to macerate. 
2
Add the cream, vanilla, and salt. Cover the jar tightly and shake the jar constantly for 5 minutes. The liquid should nearly double in volume. 
3
Put the jar in the freezer for at least 3 hours or overnight (this step may or may not be necessary, see introduction). 
Remove the jar from the freezer and put it into the fridge to fully thaw out. 
4
Give the jar a final shake, them pour into bowls. Top with fresh mint and honey, a dollop of jam, or crumbled cookies. Enjoy!