New Orleans Dirty Rice with Wild Game Livers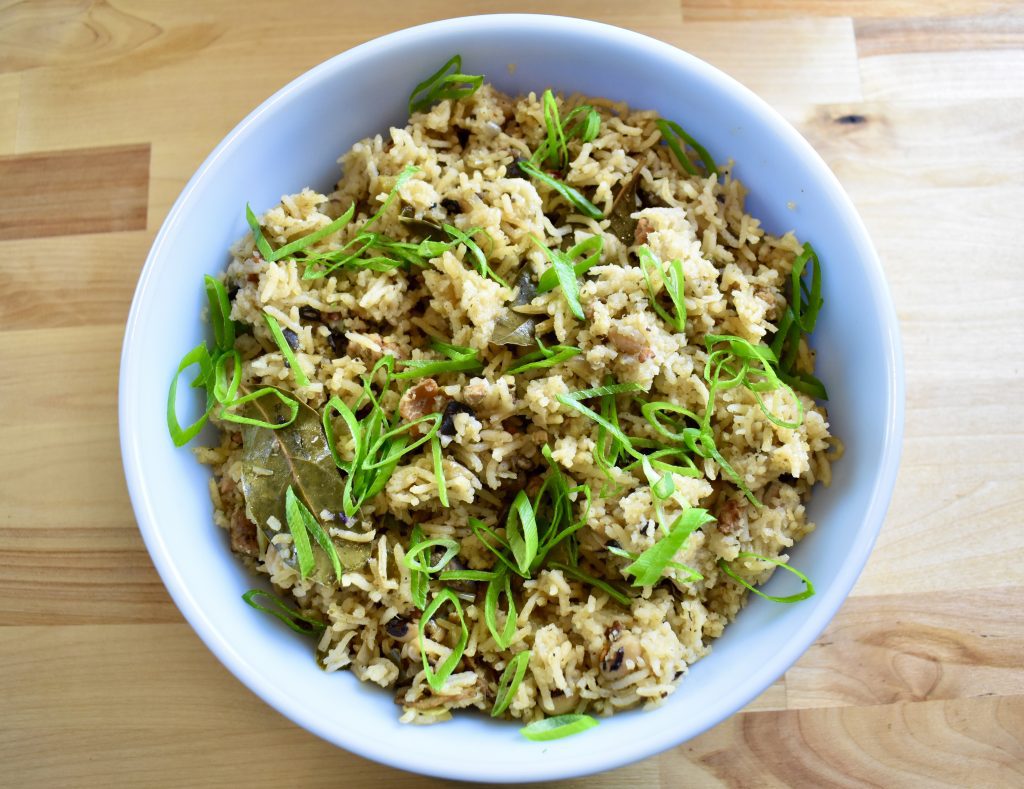 This dish has Creole origins but has become a staple all over Louisiana. The name comes from the way the livers colour the rice. This is a great dish to use up any wild game livers, particularly from waterfowl, that you have been saving up. It is also a great dish for those who aren't too fond of liver, as the livers get chopped up into small pieces and the dish isn't overpowered by them. Taking a cue from a Bon Appétit recipe, I added black eyed peas to my dirty rice, because rice and beans always go great together. If you don't have any wild game livers, feel free to use chicken livers instead!
Prep Time

10 min

Cook Time

30 min

Total Time

40 min

Yield

4 servings, plus leftovers
Ingredients
3 slices bacon
1/4 lb (115 grams) ground meat*
1 goose liver or 2 duck livers*
1/2 green pepper, diced
1 small onion, diced
2 ribs celery, diced
2 cloves garlic, minced
2 bay leaves
2 tablespoons cajun seasoning
Kosher salt and cracked black pepper
1 cup cooked black eyed peas (or 1 can)
1 cup white long grain rice
2 cups water or wild game stock
2 green onions, sliced on the bias
Preparation
1
Chop bacon into large pieces.
Finely chop the liver into small pieces. 
2
In a medium to large pot, fry bacon pieces on medium high heat until they begin to crisp. 
Add ground meat and livers and continue to cook, stirring often, until everything begins to brown and get crispy. 
3
Add in the celery, pepper, and onion and cook for another 5 minutes. Add the garlic and cook for another 3 minutes, making sure the garlic doesn't burn. 
Add the bay leaves, spice, a pinch of salt and pepper, the black eyed peas and the raw rice. Cook for 1 minute, stirring everything together well. 
4
Add the water or stock and stir, scraping the bottom of the pot to deglaze it. 
Bring to a boil, stir, then reduce to low and cover the pot. 
5
Cook for 20 minutes, then remove from heat and let sit for another 10 minutes. 
Fluff with a fork and recombine all of the ingredients. Taste for seasoning and add salt if needed. 
6
Garnish with sliced green onions and serve with Louisiana style hot sauce. Enjoy!
Original Bon Appétit recipe: Dirty Rice with Black Eyed Peas
*Use ground wild game, pork, beef, chicken, or turkey
*If you do really like the flavour of livers, feel free to add more to the recipe