Curried Venison Hunter's Pie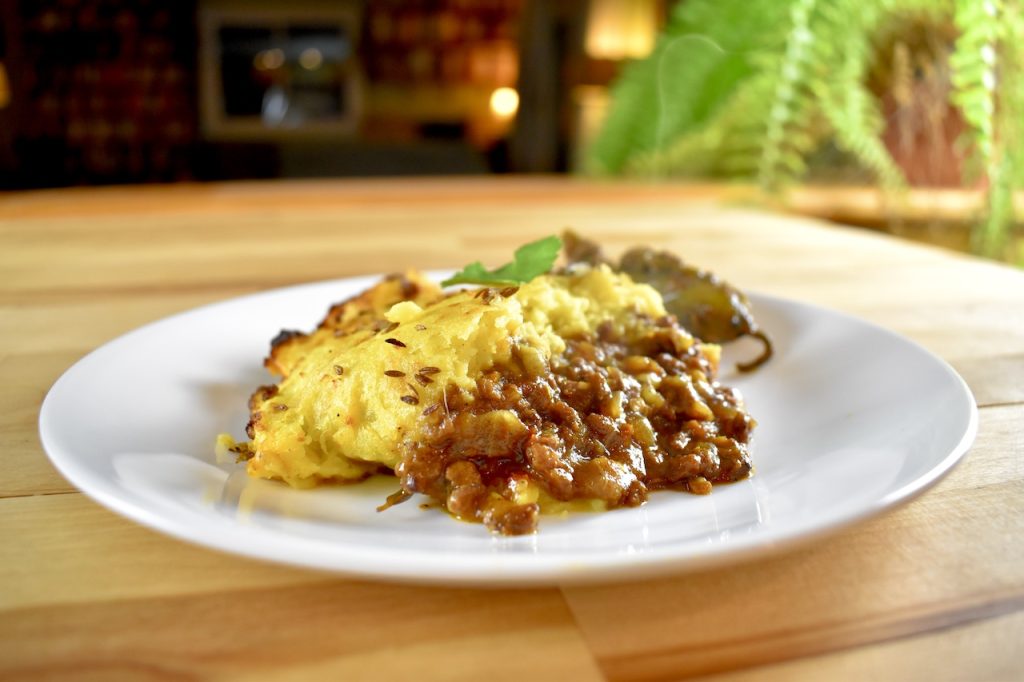 This recipe is based off of the traditional shepherd's pie dish, but with many (excellent) modifications.
First of all, I swapped out the traditional lamb for ground venison, which has a delicious flavour of its own and adds a wild element to the dish.
Since ground lamb makes shepherd's pie, and ground beef makes cottage pie, it only makes sense that ground venison makes a hunter's pie, wouldn't you agree?
I completely revamped the spicing strategy on this dish as well, going with an Anglo-Indian approach with predominantly Indian spices and aromatics, which worked fantastically. 
For a simpler version of this dish, feel free to cook the ground meat with curry paste, and add a little curry spice to the potato topping to season it and turn it yellow. 
Following the recipe as-is will result in something quite special though! 
Prep Time

30 min

Cook Time

1 hr 30 min

Total Time

2 hr

Yield

4-6 servings
Ingredients
For the Meat Base
1lb (454g) ground venison
2 tablespoons (30ml) oil or lard
1 red onion, chopped
1 large carrot, peeled and chopped
2 tablespoons (30ml) tomato paste
1 large tomato, chopped
3 cloves garlic, minced
1 thumb ginger, peeled and minced
1 red or green chili, minced
1 tablespoon (6g) curry powder
1 tablespoon (6g) garam masala
1 teaspoon (4g) kosher salt
1 teaspoon (3g) black pepper
8 curry leaves (optional)
3 cups (750ml) venison or beef stock
2 teaspoons (6g) cornstarch
2 tablespoons (30ml) water
For the Potato Topping
6 medium russet potatoes, peeled and cut into large pieces
Kosher salt
1/2 cup (250ml) heavy cream
2 tablespoons (28g) butter
1/4 cup (125ml) sour cream
2 teaspoons (4g) chaat masala (optional)
1 teaspoon (2g) turmeric powder
For the Chhonk
2 tablespoons (28g) butter or ghee
1 teaspoon (2g) whole cumin seeds
1 pinch flaky salt
8 curry leaves (optional)
Preparation
1
Preheat oven to 400°F (200°C, gas mark 6).
2
Add oil or fat to skillet over high heat. Add the ground venison and cook without disturbing until well-browned on one side, about 4-5 minutes. Flip and repeat on the other side before breaking it up into smaller bits. 
Add the onions, carrots, tomato paste, and chopped tomatoes and reduce heat to medium high. Cook for 5 minutes, stirring often. 
Add the garlic, ginger, chili, curry, garam masala, salt, pepper, and curry leaves and cook for another 2-3 minutes. 
Add the venison stock and cook at a simmer until liquid is reduced by about 2/3rds, or about 30 minutes. 
Mix together the cornstarch and water in a small bowl and stir it into the meat mixture. Cook for another minute or two until the liquid has thickened into a gravy, then take off of the heat.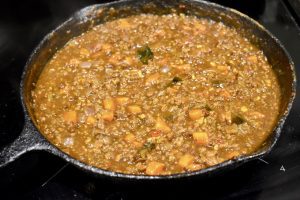 3
Meanwhile, add the cut potatoes to a pot and cover with cold water and a big pinch of salt. 
Bring to a boil, then reduce to a strong simmer. 
Cook until potatoes are fork tender. Drain the water, then put the pot of potatoes back over the heat, shaking the pot, until all of the water left over evaporates and the potatoes look dry. 
Melt the butter and heat up the cream in a pot or in the microwave, then add them and the sour cream to the potatoes. Add the spices as well. 
Mash until nice and creamy. 
4
Either transfer the meat mixture into a casserole dish, or leave it if it's in an oven safe pan like cast iron. 
Gently spread the potato mixture on top of the meat mixture, making sure you cover everything. 
Transfer the dish to the oven and cook for 15 minutes. 
5
Meanwhile, melt the butter or ghee for the chhonk in a pot over medium heat. Add the cumin seeds, salt, and curry leaves and cook until you hear the seeds begin to pop. 
Take the pie out of the oven and pour the butter mixture over the top. 
Put it back in the oven for another 15 minutes. 
6
If you'd like a crispy and slightly charred top, turn the broiler on for the last 5 minutes of cooking, watching that the pie doesn't burn!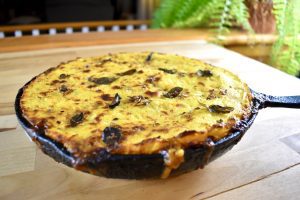 7
Let cool briefly, then scoop out onto plates to serve, I served mine with Indian style pickles. Enjoy!