Filipino Goose Bistek Tagalog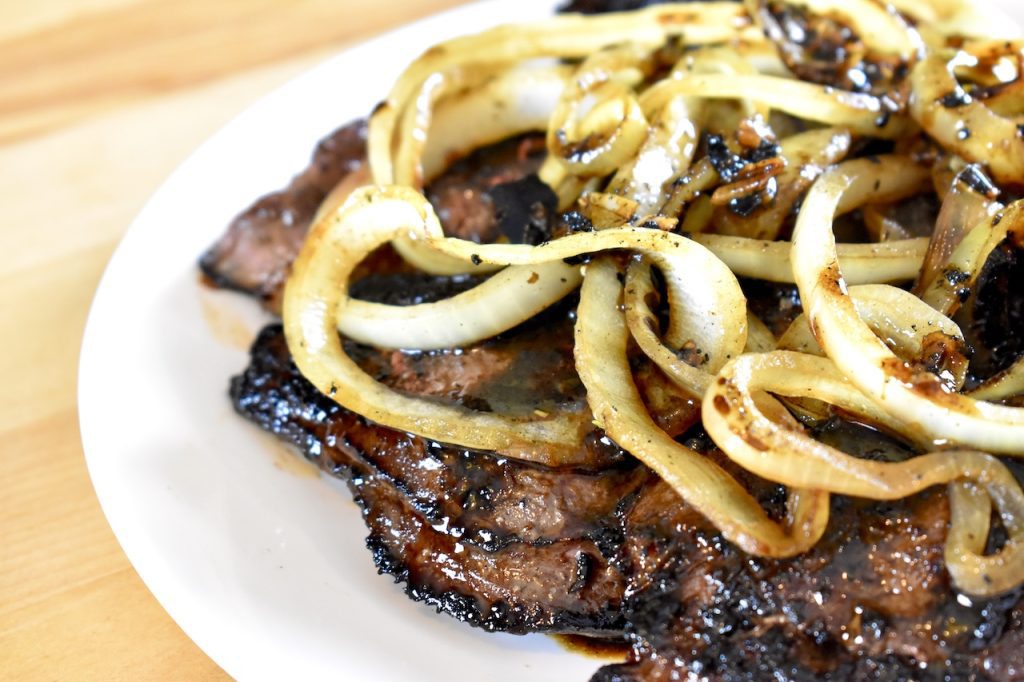 This Filipino goose bistek tagalog replaces the usual beef ribeye with pounded slices of wild Canada goose breast to great effect. 
Serve with siningag (Filipino fried garlic rice) and a simple salad. 
Prep Time

2 hr 30 min

Cook Time

30 min

Total Time

3 hr

Yield

4 servings with rice and salad
Ingredients
1 large goose breast, skin on or off
1/2 cup (125ml) calamansi soy sauce OR soy sauce mixed with 2 tablespoons (30ml) calamansi, lemon, or lime juice
1/4 teaspoon (1.25g) baking soda
1 teaspoon (3g) cornstarch
1 tablespoon (12g) brown sugar
1 tablespoon (15ml) neutral oil
2 tablespoons (30ml) goose fat OR oil
2 large onions, cut into rings
2 cloves garlic, minced
1 good pinch black pepper
Preparation
1
Slice the goose breast lengthwise into 4 pieces, skin on, or off. 
Pound the pieces thin with a rolling pin or meat mallet. 
Mix the soy, baking soda, cornstarch, sugar, and oil in a flat container and add the pieces of goose, making sure they get completely coated in the liquid. 
Marinate in the fridge for 2-4 hours. 
2
Melt the goose fat in a cast iron pan over high heat. 
Cook the onion rings until slightly charred, but not cooked all of the way through, about 4-6 minutes. 
Remove and set aside. 
3
Add more goose fat if the pan looks dry. 
Add the goose steaks 2 at a time, being sure to reserve the marinade. Cook until charred, but still pink in the middle; 2 minutes per side tops! 
Remove the steaks and set aside. 
4
Reduce heat to medium and add the marinade to the pan. 
Add the garlic and a generous amount of black pepper, cook for 2 minutes or until slightly thickened. 
5
Serve the goose steaks topped with onions and drizzled in the cooked marinade. 
They are best served with siningag (Filipino garlic rice) and a salad. Enjoy!