Shrimp Salad and Cucumber Canapés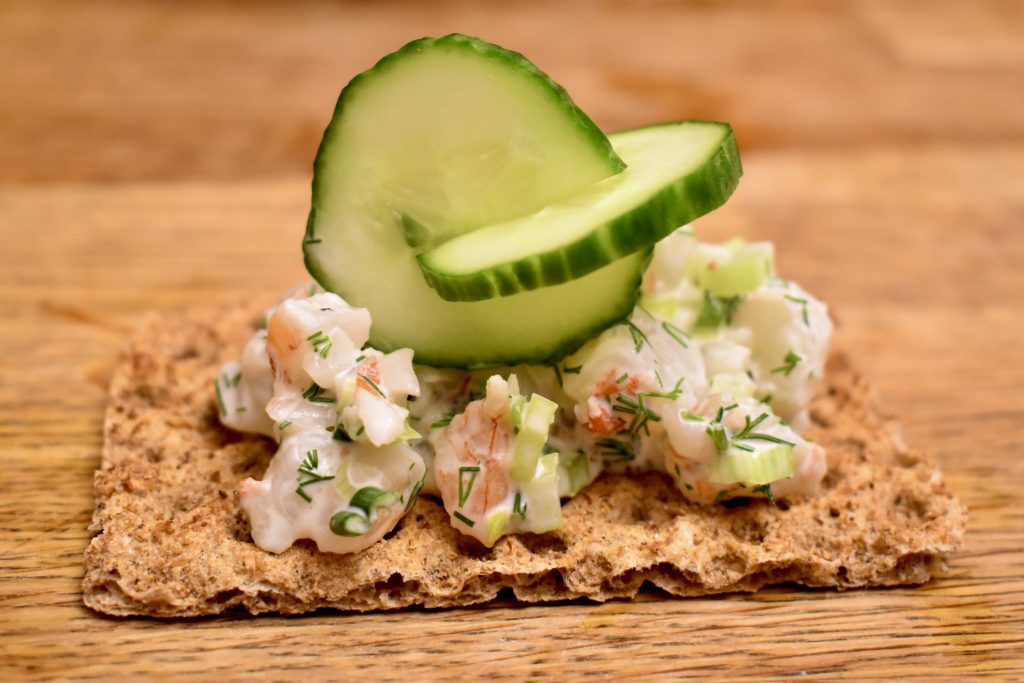 These shrimp salad and cucumber canapés make for amazing little appetizers or party food, but watch out, they go quick!
Serve them on rye crackers, rusks, or little rye toasts. 
Prep Time

10 min

Cook Time

5 min

Total Time

15 min

Yield

12 canapés
Ingredients
10oz (350g) raw shrimp, peeled and deveined
1 smallish stalk leafy celery, minced
2 scallions, minced
2 tablespoons fresh dill fronds, minced
2.5 tablespoons (40ml) mayonnaise
1 tablespoon (15ml) yogurt or sour cream
2 tablespoons (30ml) lemon juice
1/2 teaspoon (0.5g) black pepper
1/2 cucumber, sliced
12 rye crackers
Preparation
1
Bring a pot of water to the boil. Take it off the heat and add the shrimp, stirring once. 
Let steep until just cooked through, about 2-5 minutes, depending on the size of your shrimp. 
Once ready, pour the water out and refill with cold water to stop the shrimp from cooking. 
Once cool, pour off the cold water. 
2
Roughly chop the shrimp. 
Add chopped shrimp and the celery, scallions, dill, mayo, yogurt/sour cream, lemon juice, and black pepper to a bowl and mix well. 
3
Split the shrimp salad evenly between the crackers. Top with a jaunty slice of cucumber. 
To make a garnish like mine in the picture, make an incision halfway up the slice of cucumber, repeat with another slice. Slide the two slices over each other at the incisions. 
Serve immediately, or refrigerate the salad until ready to use, then top the crackers. Enjoy!