Filipino Venison Shank Kare Kare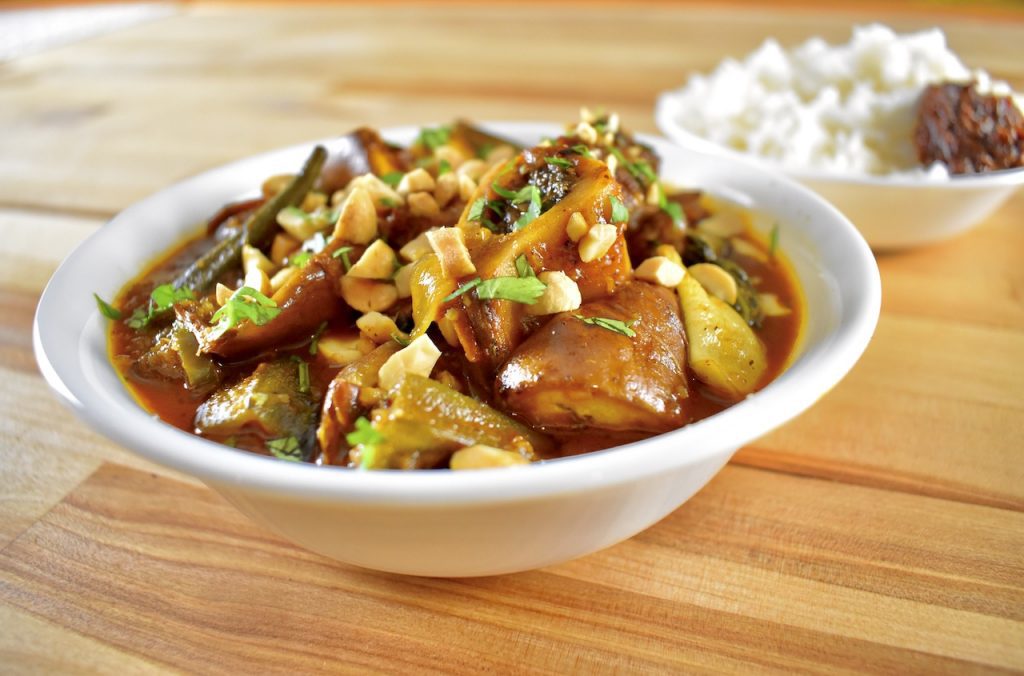 This Filipino venison shank kare kare is a wild take on a dish from the Philippines traditionally made with oxtails braised in peanut sauce. Doing venison shanks like this will guarantee you never grind or throw them out again! 
I took a few liberties with the traditional recipe and made it more into a stew than meat and vegetables dressed in the sauce like it is often served. 
The meat is fall off the bone tender, and you'll get to extract the marrow from the bones, which is both delicious and satisfying. 
The ground toasted rice gives the stew flavour and thickens it, but you can replace it with a slurry made from cornstarch and water if need be. 
Bagoong is a savoury and funky Filipino shrimp paste that is always served with this dish. It can be found at most Asian grocery stores. Get it if you can, but it's not absolutely necessary. You'll find annatto seeds and achiote paste at Asian grocers or Latin markets. 
Prep Time

30 min

Cook Time

4 hr 30 min

Total Time

5 hr

Yield

4-6 Servings
Cuisine

Course

Cooking Method

Special Equipment

Mortar and pestle
or Spice grinder
Ingredients
1 large or 2 small venison shanks, cut osso buco style
Kosher salt
2 tablespoons (30ml) + 1 tablespoon (15ml) vegetable oil or wild lard
2 onions, chopped
2 cloves garlic, smashed + 2 cloves garlic, minced
6 cups venison stock or water
2 bay leaves
1/4 cup annatto seeds or 1/4 cup (60ml) of achiote paste/annatto oil
2 tablespoons white rice
1/4 cup (60ml) smooth, unsweetened peanut butter
2 teaspoons (1oml) fish sauce or patis
12 green beans or okra pods, trimmed
1 Chinese eggplant, cut into large cubes
4 baby bok choy cut in half
Chopped peanuts and chopped cilantro for garnish (optional)
Bagoong shrimp paste to serve (optional)
Preparation
1
Preheat oven to 300°F (150°C, gas mark 2).
2
Salt the shank pieces generously.
Heat 2 tablespoons of the oil or lard in a Dutch oven over medium high heat. 
Add shank pieces and sear on all sides, browning them well, about 15 minutes. Moderate the temperature to avoid burning. 
Add 1 chopped onion and the smashed garlic (peel and smash flat with the blade of a knife) and cook for 5 minutes, stirring often. 
Add the venison stock or water and bring it to a boil, scraping up any of the browned bits stuck to the bottom of the pot. 
If using annatto seeds, tie them up in a piece of cheesecloth, or in a tea ball and add it to the pot. If using the paste or oil, add it directly. Add in the bay leaves. 
3
Cover the pot and put into the oven for 4 hours, or until the meat is ready to fall off of the bone. 
4
Meanwhile, add the rice to a dry pan over medium heat. Toast the rice until it is beginning to turn golden and you can smell its toasty aroma. 
Transfer to a mortar and pestle or spice grinder and grind until it looks like gritty flour. Set aside. 
5
Once the meat is tender, add 1 tablespoon of oil to a skillet or frying pan over medium heat. 
Add the other chopped onion and cook for 5 minutes. Add the minced garlic and cook for 2 more minutes. 
Ladle several ladlefuls of the braising liquid from the Dutch oven into the pan (a cup or two's worth, doesn't really matter). Add the peanut butter, fish sauce, and ground rice. Stir until everything thickens. 
Add it all back into the Dutch oven with the meat and mix it in well. 
6
Add the beans/okra, eggplant, and bok choy to the Dutch oven and bring to a simmer over medium heat. 
Cover and cook for 10 minutes, or until the vegetables are softened. 
7
Serve with white rice and the bagoong shrimp paste. Garnish with cilantro leaves and chopped peanuts if desired. Enjoy!